The Story ⚡
Inkblot Productions, Nigeria's foremost film production company, has announced its collaboration with the renowned, award-winning director Biodun Stephen to write and direct its new title – Big Love, one of its four films slated for theatrical release in 2023.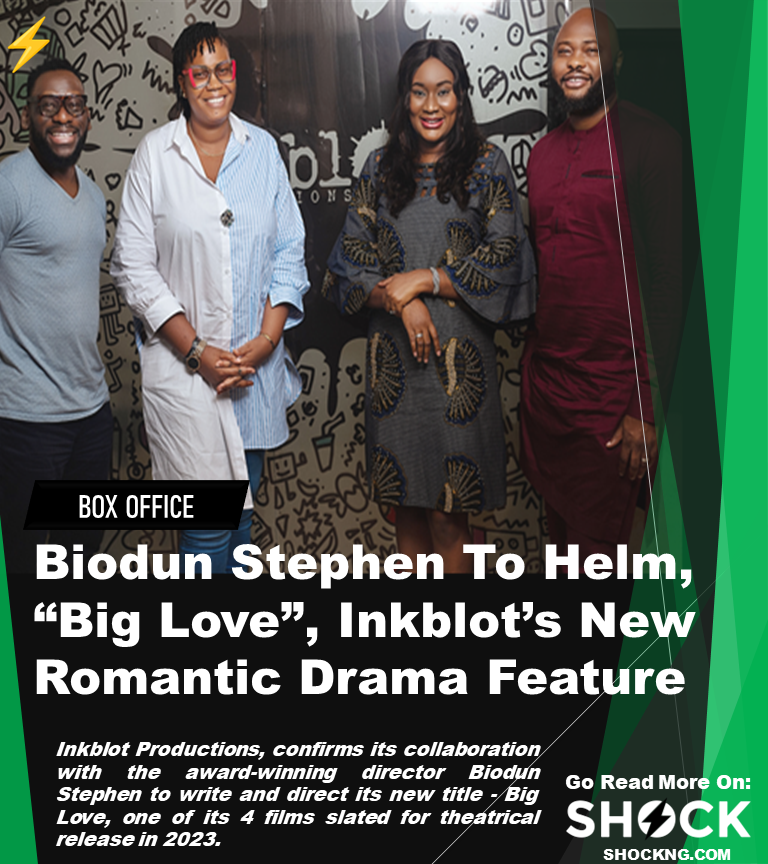 Speaking of the exciting partnership, co-founder of Inkblot Productions, Zulumoke Oyibo expressed the company's delight in the upcoming project. "Biodun Stephen is one of Nigeria's most celebrated directors with a distinct voice that constantly finds her audience.
We are excited to have her on board for our upcoming movie," she said. "This is a significant partnership for us and one that will undoubtedly yield exceptional results", she added.
A romantic drama, Big Love explores the eruption of love between Adil, a young and passionate man chasing his dreams and Adina, a focused and independent woman making ends meet at a graduate training camp. Adina's fears and a secret threaten their budding love.
Big Love is written, directed and produced by Biodun Stephen. Her feature film, Breaded Life, was well-received at the cinemas and was a continental hit on Netflix. The film was also nominated at the 2022 Africa Magic Viewers' Choice Awards in the Best Actress in a Comedy and the Best Movie in West Africa categories.
"Inkblot Productions is at the forefront of African cinema, and I am excited to be working with them on this new project," said Stephen. "I believe that together we can create a truly groundbreaking film."
Big Love is set to begin production in Lagos in the coming weeks and is billed for a July 2023 theatrical release. The film will be co-produced by Keme Bedford – Love in a Pandemic (2023), King of Boys and New Money.
Inkblot Productions is a Nigerian film production company that strives to provide viewers with the best possible movie-watching experience. They are the producers of Netflix hit, Far From Home and The Wedding Party 1 and 2, which occupy the 2nd and 3rd positions in the list of highest-grossing Nigerian movies of all time.
Biodun Stephen is an award-winning director and the founder of Shutterspeed Projects – an integrated film and media content production firm with a plethora of experience in the industry.
A cast announcement is expected from the team in the coming weeks.