The Story⚡
Lonzo Nzekwe's Orah to open the 12th edition of AFRIFF to keep with the festival's theme of "Indigenous 2.0 Global".
Tell Me More
The Africa International Film Festival (AFRIFF) has announced its 12th edition happening from the 5th to the 11th of November 2023 in Lagos, Nigeria. In keeping with the festival's tradition, AFRIFF's founder and festival director, Chioma Ude, has announced the film Orah as its opening night movie, a bold step to drive home its theme for the 2023 edition, Indigenous 2.0 Global, before the participating Nigerian and International movie enthusiasts who will grace the festival's annual opening gala night.
Orah is written and directed by acclaimed Nigerian/Canadian filmmaker, Lonzo Nzekwe (Anchor Baby). Produced by Nzekwe, Floyd Kane (Diggstown), and Amos Adetuyi (The Boathouse), the film was shot in Canada and the Federal Republic of Nigeria in late 2022.
Speaking in anticipation of the festival, Chioma Ude said,
"Filmmaking is evolving rapidly in Africa with Nigeria at the forefront of the renaissance and this year's edition is designed to continue to reiterate the opportunities for African films and storytelling to reflect 'global' perspectives for the sustained success of more local films globally. We intend to continue to empower our storytellers to explore ideologies and techniques that connect with the larger global audience. Orah is positioned as the open night movie to drive this expectation."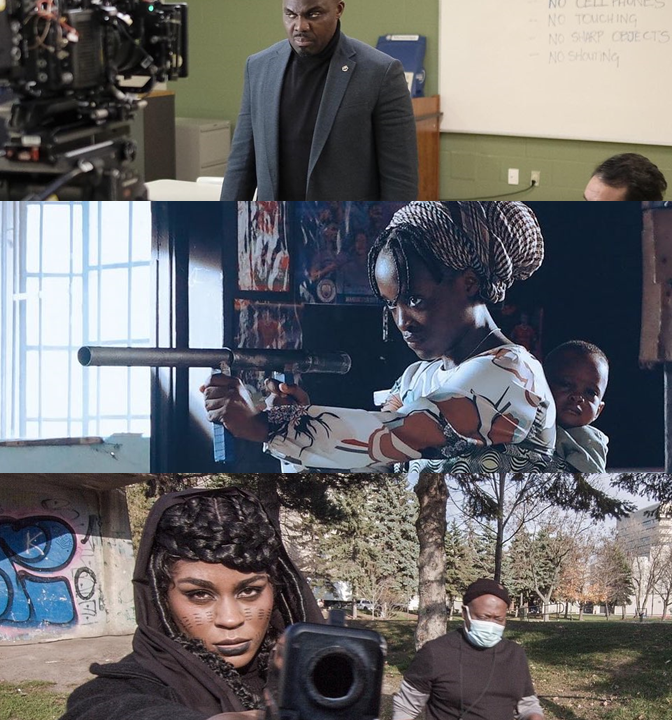 A character-driven crime thriller, Orah showcases the story of a female taxi driver in Toronto embarking on a revenge tour to avenge the death of her son who is brutally murdered by a high-profile Nigerian criminal in a drug trafficking operation. Nzekwe describes how the movie became a revenge movie drama when in real life his brother was murdered in 2016 by a stray bullet fired by a corrupt police officer with the notorious Special Anti-Robbery Squad (SARS) in Nigeria.
"That's when the revenge angle became more intense. I had to travel to Nigeria to get to the root of how my brother was killed. That's when the rage I had inside and the pain I saw on my mother's face led to revenge thoughts to get my pound of flesh. I realised the only way to deal with that was to channel it through a film. I poured everything into my script," Nzekwe said.
Starring Oyin Oladejo as Orah Madukaku (Star Trek-Discovery), additional cast include Lucky Onyekachi Ejim (Kim's Convenience) as Bami Hazar; Agape Mngomezulu as Tariq Hazar (The Parker Andersons); Morgan Bedard (Hard Rock Medical) as Eli Pope; Somkele Iyamah-Idhalama (Titans) as Lace; Oris Erhuero (We Were Once) as Agent Garuba; O.C. Ukeje (Brotherhood) as Agent Uche Odi; Femi Lawson (Because We Are) as Jimoh Sholola; and Christopher Seivright (Take Note) as Vincent Bailey.
Developed over the course of 11 years, director and screenwriter Lonzo Nzekwe was very grateful to finally begin shooting with the talented cast and crew assembled and honoured to be able to shoot part of the film in Nigeria which plays such a key role. He shared during principal photography. In Nzekwe's words, "I set out to create a tragically gripping and gratifying crime thriller with a gritty look that gives the audience a visceral, authentic experience into the life of our hero and her journey to avenge the death of her son. The exceptional talent of the actors cast in each role truly brings the story to life.
Not only does the script offer a strong and smart female role model in the lead role, the supporting characters are well-rounded with traits of real, everyday people drawn from diverse ethnic backgrounds and walks of life. I hope that Orah's themes of justice versus revenge, redemption, freedom, corruption, and family separation will have a lasting impact on its viewers and inspire them in a positive way. As a Nigerian-born Canadian filmmaker, I felt I was uniquely qualified to tell this story of an illegal immigrant who was smuggled into Canada and sold into sex trafficking at age 15 by her uncle."
The film was shot in and around Sudbury, Ontario in the fall of 2022 with additional principal photography taking place in Lagos, Nigeria in December 2022. With cinematography for Orah by Ricardo Diaz (Subjects of Desire), production design by Mark Kowalsky (Frat Pack), costume design by Chantel Bedward (Stupid For You), editing by Marc Roussel (Guillermo del Toro's Cabinet of Curiosities), and music by Felipe Téllez (Tomorrow).
Orah is produced by Circle Blue Entertainment and Freddie Films in association with IronFlix Inc., with the participation of Telefilm Canada, the Northern Ontario Heritage Fund Corporation (NOHFC), and ONCreates Film Fund. Level Film is the Canadian distributor.
Key Background
The Africa International Film Festival (AFRIFF) is an international film showcase in Nigeria's biggest city, Lagos. It presents a complete immersion into the world of filmmaking with participation from all over Africa and the Diaspora. Founded in 2010 by Ms Chioma Ude, an ardent film lover and entrepreneur, the festival is positioned to be the biggest annual appointment for African filmmakers in the region, celebrating the best African films and stories.
The programming of the festival is themed around African films, filmmakers, and African cinematic impulses making the rounds in the international film circuit in categories such as feature, shorts, student shorts, documentaries, and animation.
This year's edition of the festival will have eleven jury members headed by Stephen 'Dr.' Love, the producer of one of Netflix's most viewed movies of the year, They Cloned Tyrone, with Nigerian-British actor John Boyega in the lead. Stephen is joined by Emmy-nominated Nigerian-British writer-producer, Abby Ajayi (How to get Away with Murder, Inventing Anna); Nigerian film producer, Greg Otudayo; Zimbabwean award-winning author and winner of 2023 African Peace Prize, Tsitsi Dangarembga; and Lebanese-French actress and director, Wafa'a Céline Halawi. Others include Geneva Wasserman, Entertainment and technology expert and SVP of Scripted Development at Dentsu, the Japanese media juggernaut, Cuban-American film producer and Afro-Latino voices in film mentor, Ranada Shepard; renowned Hollywood producer and Head of Inventions Studios, Nicholas Weinstock; multi-talented film acquisition expert and Head of content at MultiChoice, Busola Tejumola; Nollywood royalty and seasoned actress Kate Henshaw, and Nigerian economist and filmmaker Desmond Elliott.
In Summary
The 12th edition of AFRIFF will hold in Lagos from the 5th to the 10th of November, 2023. The Globe Awards with be held on the 11th of November.