The Story ⚡
Serial film investor Adebola Williams is yet again about to make a name for himself with the new drama flick 'Eko Miami'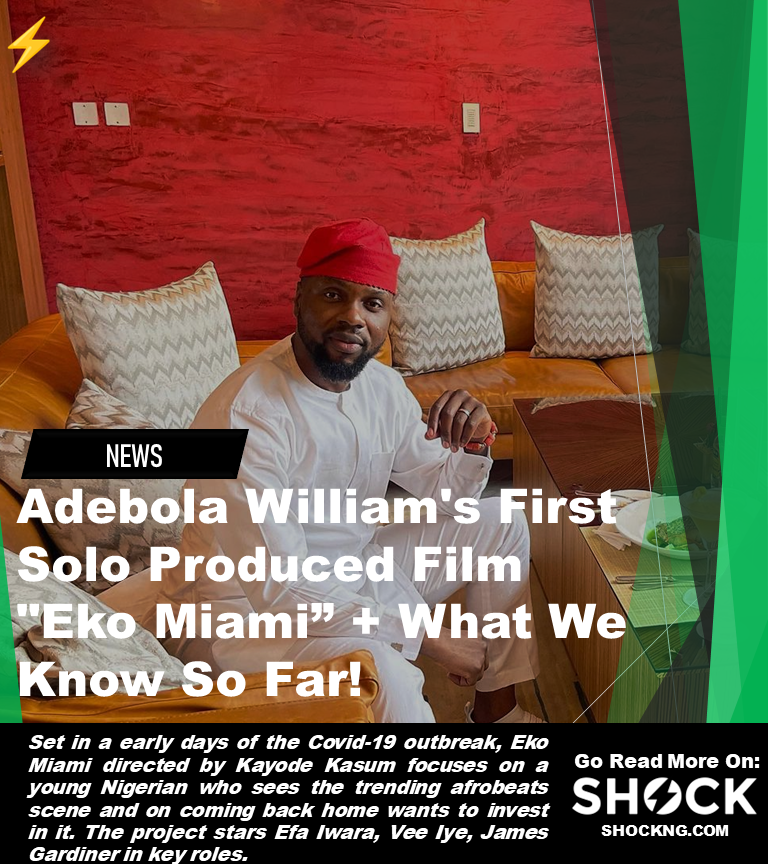 Tell Me More
Eko Miami paints the tale of a guy who leaves the UK and comes back to Nigeria to plan one of the biggest parties in Lagos, which births chaos. Set on the onset of the Covid-19 outbreak, Eko Miami focuses on a young Nigerian who sees the trending afrobeats scene and on coming back home wants to invest in it. Having earlier invested in setting up an event company and working on a mega party that was already trending on Twitter, Covid strikes, putting him, his investment, and his money in a fix.
This drama piece boasts a healthy mix of A-list and upcoming casts such as Sola Sobowale, Ireti Doyle, Toyin Afolayan, Toyin Abraham, Vee Iye, Kunle Remi, Uzor Arukwe, Akin Lewis, Taye Arimoro, Mimi Onalaja, Mary Colette, Taiwo Adeyemi, Efa Iwara, Etim Effiong, James Gardner and Deyemi Okanlanwon.
Asides from an interesting range of talented cast, this film is brought to life by creative director Kayode Kassum, writer Lani Aisida, and co-producers Ife Olujuyigbe and Seun 'Otunba' Oluyemi.
According to director Kayode Kasum, "Eko Miami has a lot of parties, its Gen-Z; it's the young vibe and all. But then again, the movie just reminds us that we survived Covid and the fact that we are still alive is not by accident. At the end of the day, the movie just makes you want to cherish being alive,"
'Eko Miami' is an AW Network Film production and it is interesting to note that this product is Adebola Williams' first solo film after he made a mark investing with Sugar rush, Gangs of Lagos, and Brotherhood, three of the most outstanding titles out of Nollywood.
Going by his precedence, Eko Maimi is one project that should be watched out for.
The release date for this new film is however yet to be determined.