The Story ⚡
Visa on Arrival is fast becoming a popular web series audiences are enjoying.
This makes the show the first official hit produced by Accelerate TV.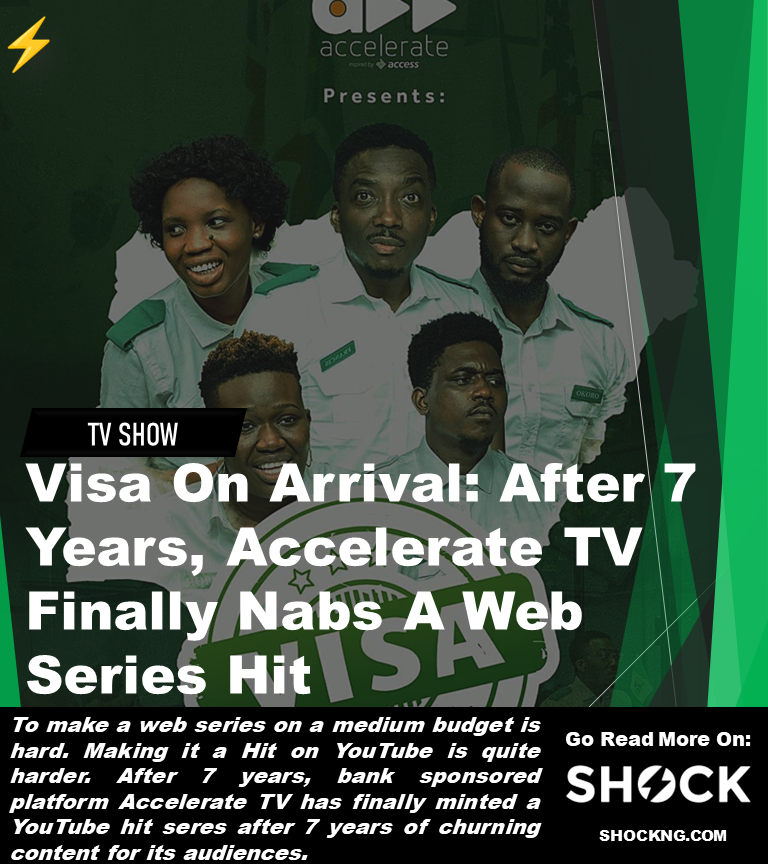 Tell Me More
Visa on Arrival is now in its 2nd season and so far, its viewership has outpaced any other Accelerate TV-produced web series slate.
Written by Bovi Ugboma, the title was launched in 2021 and follows the trials and tribulations Nigerians seeking visas at the passport office. The series is original in the sense that it mirrors what happens in real life. There is drama, comedy and interesting commentary about the lives of Nigerians.
Despite the key leads being popular comedians, you don't see them cracking jokes or trying hard to make the audiences laugh. Rather, the outrageous situations, remarks and even gestures elevates the comedy for audiences to enjoy.
This is the true brilliance of a comedy show and Visa on Arrival absolutely shines on this aspect.
See the below metrics to compare viewership with other flagship Accelerate TV titles.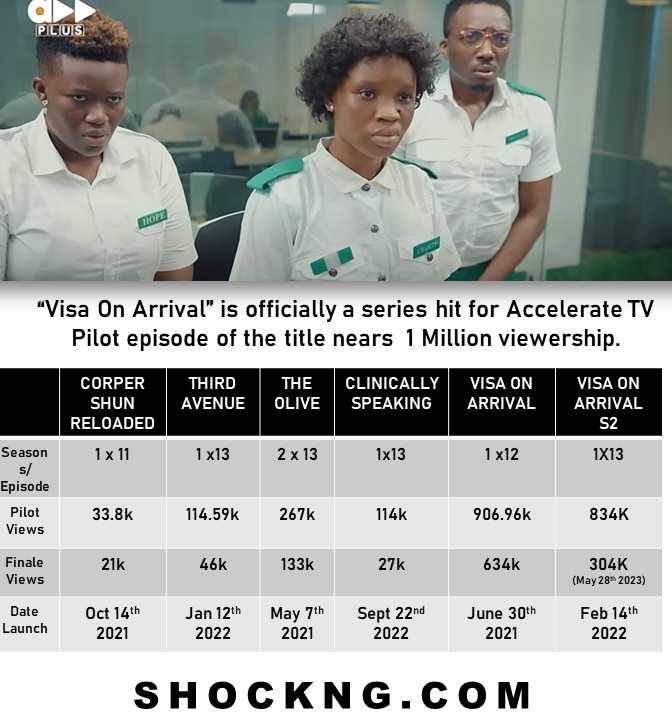 Here are web series projects from Accelerate TV Web Shows
Corper Shun Reloaded
Corper Shun is a Bolanle Olosunde Jenrola production, written by Olumide Kuti and directed by Tunde Olaoye. The synopsis reads
"We meet our peculiar 5 who begin their NYSC journey by reporting to the hyperactive Mr Alani."
The series stars Jide Kosoko, Ayo Mogaji, Lala Akindoju, Damola Olatunji, Efa Iwara, Etinosa Idemudia, Emmanuel Mordi, Chiagoziem Nwankama and Oyepelumi Alawoki.
Release Date 14th October 2021
Third Avenue
"Just when Tim thinks it couldn't get any worse with housing Leo, he gets a new unexpected housemate whose presence brings so much drama to the third avenue."
Third Avenue is directed by Tope Alake, produced by Bami Gregs and Esse Akwawa and executive producer is Colette Otusheso.
The series runs for 13 episodes and stars Lilian Afegbai, David Jones David, Jidekene Achufusi, Tope Olowoniyan, Bami Gregs, Josephine Nwaghata.
Release date 12th of January, 2022.
The Olive
Directed by Yemi 'Filmboy' Morafa and written by Cheta Chukwu and Dami Elebe, The Olive is a 13 episodes drama series that follows Anayo, a widower. The synopsis reads
A year after his beloved wife passes, Anayo revisits old memories and finds a little more.
The series stars Ibrahim Suleiman, Theresa Edem, Chico Aligwekwe, Emmanuel Onichabor, Angel Unigwe, Mike Folarin, Bolaji Ogunmola, Karibi Fubara, Derby Frankson, Segilola Ogidan, Faith Stanley, Phillips Francis, Harriet Akinola, and Joke Silva.
Release date May 7th, 2021.
Clinically Speaking
Directed by Michael 'AMA Psalmist' Akinrogunde, The first episode's synopsis reads
We meet PJ for the first time, assisting an appendectomy, she immediately breaks the fourth wall. Later, she examines Mrs Komolofe, a supposedly pious 56-year-old widow who happens to be pregnant. Dr. Chuks gives PJ a hard time about it. The gang (PJ, Rotimi, Nedu and Jasmine) and the lab technician, Sesan, have a hilarious time at lunch. Rotimi asks PJ to see a movie together. She declines. We also meet James, a sickle cell anaemia patient.
The film stars Gbemi Akinlade, Eso Dike, Shalewa Ashafa, Maurice Sam, Olubiyi 'OliEkun Olwatobiloba, Paul Utomi, Omotunde 'Lolo 1' David, and Enioluwa Adeoluwa.
Produced by Ese Akwawa, co-produced by Temilola Akinmuda, and written by Tomi Olugbemi, Clinically Speaking is a 13-episode series that was released on the 2oth of September 2022.
Visa on Arrival
Directed by Edem Victor, Produced by Ann Obaseki, and written by Bovi Ugboma, Visa on Arrival is a 12 episodes series that stars comedian Bovi, Warripikin, Warrigirl, and Taymesan. The synopsis reads
"We all need a break and travelling is sometimes the best escape. But now you don't have to worry about visa hassles, we have the best visa officers to help you on your way. Bovi, Warri Pikin, Taymesan and Warri Girl are here to help… Well, kinda."
Release date
Big Books of Lies
The brand new Accelerate Plus drama series Big Book of Lies starts with Book 1: Unbrided; A story about Agnes, the Nigerian queen of blogs, who throws a bridal shower for her wedding but is met with trouble, jealousy & spite by her frenemies. There's lots of drama, truth, humour & hurt in every scene & you can catch new episodes every Sunday on Accelerate Plus only
Produced by Xavier Ighorodje and directed by Stephanie Dadet, this film stars Debbie Frankson, Osarehia Oronsaye, Amanda Oruh,e Owumi Ugbeye, Glory Ebowe, Philips Asaya, Justin Ben, Kingsley Nwachukwu, Femi Durojaiye, Evaezi Ogoro, Tolu Odewunmi, and Uche Elumelu.
Big Books of Lies is not available on Youtube but on the Accelerate app.
Release date Feb 8, 2023.
Just Friends
Created by Victor Sanchez Aghahowa, Just Friends follows two friends as they navigate their love lives.
Maro is about to have a romantic weekend with Jay, but she is in for a rude surprise. Jay's bevy of exes now turned friends leave Maro feeling confused. Will Jay and Maro stay just friends too? Just Friends premiers on Accelerate Plus on June 8th
The 13-episode romantic series stars Chy Nwakanma, Charles Etubiebi, Martha Ehinome, and Tolu Odewumi.
In Summary
Platforms like Accelerate Tv are essential in the economy of Nollywood. Despite budget limitations, they find a business model that grows filmmaking talent, tests out story structure and most importantly gives capacity to new acting faces looking for a breakthrough.
With the hit of Visa on Arrival, Accelerate TV can now justify its production spend and perhaps use this as a springboard for new shows.
Nollywood Platforms powered by bank entities have a hit show attached. Ndani TV has "Skinny Girl", Red TV has "The Men's Club"
What does Accelerate TV have? We finally have an answer – Visa on Arrival.