The Story⚡
From Yoruba Epics to Gangs thriller and even strong +18 titles – The taste of Prime video Naija consumers packs a strong punch.
However, if you are a Nollywood executive, film investor or industry enthusiast looking to dig deeper into this data. This piece is for you.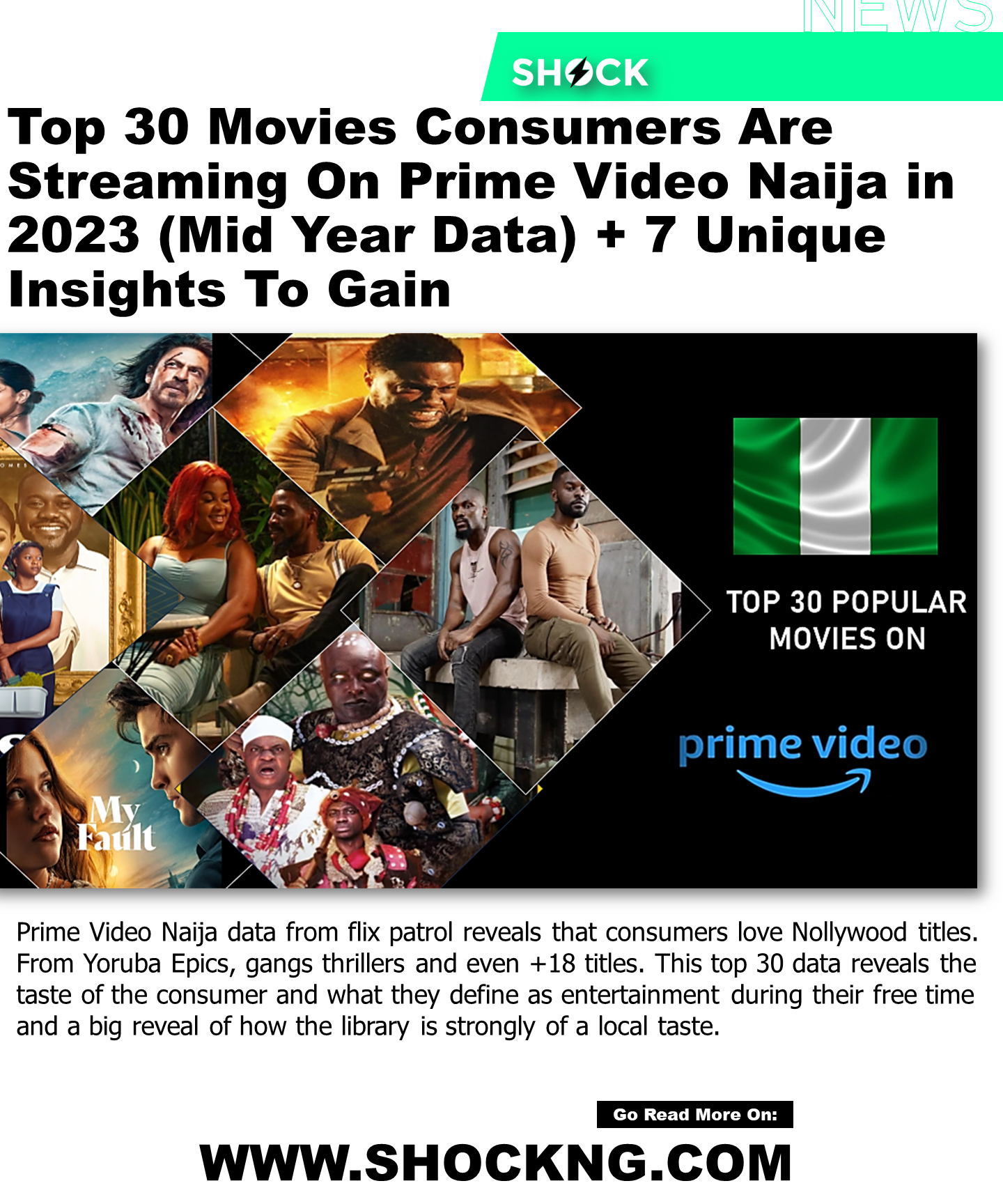 Tell Me More
Mid-year data sourced from streaming platform, Prime Video, revealed its top 30 titles for mid-year 2023. Here is a breakdown of the top 30 most-watched titles on the service between January and July.
The tracked data performance of titles helps to demonstrate where the taste of the consumer is currently at and where it will be positioned in the future, based on the information gathered.
But more importantly, this data also helps studio executives and writers make intelligent decisions about how to make their products more appealing.
Tracking and reviewing titles' data, especially titles made locally, enables the industry to measure performance, understand which parts of the projects have worked or failed and what steps need to be taken to meet consumer taste.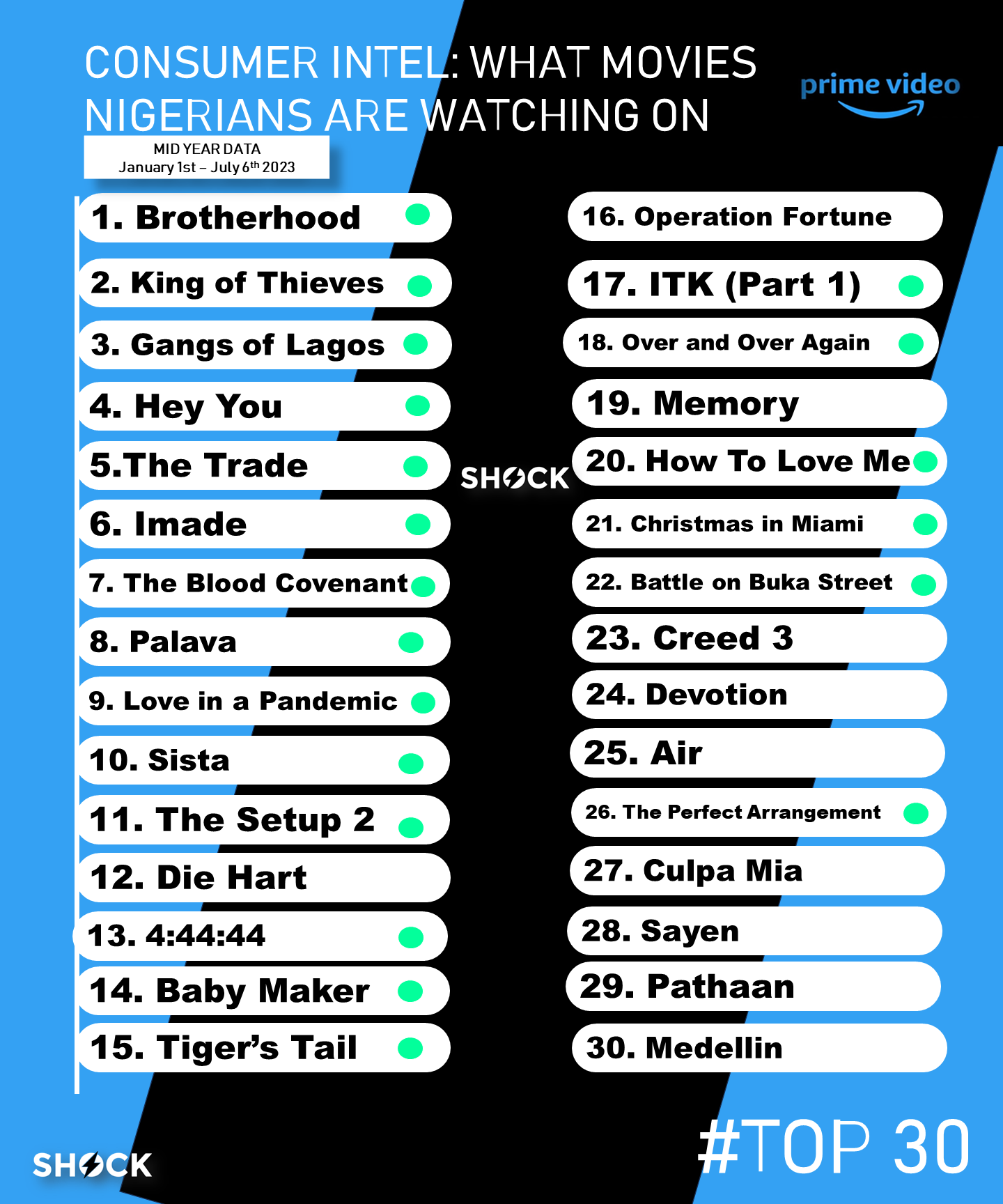 Analysis
Strong Local Demand: Nollywood titles recorded a great feat on the Prime Video platform, with 20 out of the 30 most watched titles being Nigerian titles, making it 66.67% of the entire chart.
2. Top of the table are Brotherhood, King of Thieves, and Gangs of Lagos. Although Gangs of Lagos is a global hit, the data revealed that Brotherhood and King of Thieves edge the title in demand.
3. The Value of Theatrical Releases: of the top 5 titles which are Brotherhood, King of Thieves, Gangs of Lagos, Hey You!, and The Trade, 4 titles of the 5 most watched films, had theatrical runs before going to the streamer. This is a strong pointer to the value of theatrical titles that end up on a streaming service.
4. Direct-to-Streaming Demand: Although theatrical titles do well on streaming platforms, direct-to-streaming products are not left behind. The newly released Sista which featured as a top 10 film, is one such example. Out of the 20 local titles on this list, there are 8 features that followed the route of direct streaming showing that performance might not necessarily be linked to making a debut at the box office.
5. Silent Hits: Other silent Nollywood hits that featured on this metric are Imade, 4:44:44, Baby Maker, Tiger's Tail, How To Love Me, and Over and Over Again.
6. Hollywood: Prime Video's metrics also revealed the biggest Hollywood hit for Nigerian streamers, Kevin Hart's Die Hart. Other Hollywood titles that made the cut are Operation Fortune, Memory, Creed 3, Devotion, and Air.
7. Language titles: In addition to this, four non-English titles were featured on Prime Video Naija's top 30 tables, Culpa Mia (Spanish), Sayen (Spanish), Pathaan (India), and Medellin (French).
Overall top 30 titles, plot details and trailer
30. Medellin
Medellin is a 2023 action-comedy movie directed and written by Franck Gastambide, co-written by Charles Van Tieghem starring Franck Gastambide, Ramzy Bedia, and Anouar Toubali. The synopsis reads
"To save his brother from the hands of narcos in Medellin, Reda gathers a team to raid the kidnappers in Colombia."
Released June 2, 2023.
29. Pathaan
Pathaan is a 2023 Indian Hindi-language action thriller film directed by Siddharth Anand and written by Shridhar Raghavan and Abbas Tyrewala. The film stars Shah Rukh Khan in the lead with Deepika Padukone, John Abraham, Dimple Kapadia, and Ashutosh Rana. It follows Pathaan, an exiled RAW agent who works with ISI agent Rubina Mohsin to take down a former RAW agent and traitor, who plans to attack India for a particular reason.
Release date 25 January 2023
28. Sayen
Directed by Alexander Witt and written by Patricio Lynch, Julio Rojas, Carla Stagno, and Paula del Fierro, Sayen features Rallen Montenegro, Enrique Arce Roberto García Ruiz, Camilo Arancibia, and many others
The movie synopsis reads
Sayen is hunting down the men who murdered her grandmother. Using her training and knowledge of nature, she is able to turn the tables on them, learning of a conspiracy from a cfeature-lengtht threatens her people's ancestral lands.
Release date March 3, 2023
27. Culpa Mia
Culpa mía is a 2023 Spanish romance film directed by Domingo González in his directorial feature length debut and starring Nicole Wallace and Gabriel Guevara. It is based on the Wattpad story by Mercedes Ron.
Release date June 8, 2023
26.The Perfect Arrangement
Directed by Chinaza Onuzo, written by Pelumi Olujoba and Chinaza Onuzo, The movie synopsis reads
A love triangle situation ensued when Tade began to fall in love with Chidi and Cheta, Chidi's brother and Tade's best friend
It features Melat Abera, Toba Aboyeji, Adunni Ade, Adebowale Adedayo, and many more.
Release date May 13, 2022
25. Air
Air is a 2023 American biographical sports drama film directed by Ben Affleck and written by Alex Convery. The film is based on true events about the origin of Air Jordan, a basketball shoeline, of which a Nike employee seeks to strike a business deal with rookie player Michael Jordan. It stars Matt Damon, Ben Affleck, Jason Bateman, Marlon Wayans, Chris Messina, Chris Tucker and Viola Davis.
Release date March 18, 2023
24. Devotion
Devotion is a 2022 American biographical war film based on the 2015 book Devotion: An Epic Story of Heroism, Friendship, and Sacrifice by Adam Makos, which retells the comradeship between naval officers Jesse Brown and Tom Hudner during the Korean War. Directed by J. D. Dillard and written by Jake Crane and Jonathan Stewart, the film stars Jonathan Majors as Brown and Glen Powell as Hudner, along with Christina Jackson, Daren Kagasoff, Joe Jonas, Nick Hargrove, Spencer Neville, and Thomas Sadoski in supporting roles.
Release date November 23, 2022
23. Creed III
Creed III is a 2023 American sports drama film directed, produced by and starring Michael B. Jordan from a screenplay by Keenan Coogler and Zach Baylin. It is the sequel to Creed II (2018), the third in the Creed film series, and the ninth overall in the Rocky film series. It also stars Tessa Thompson, Jonathan Majors, Wood Harris, Mila Davis-Kent, Florian Munteanu and Phylicia Rashad. In the film, the accomplished and recently retired boxer Adonis Creed comes face-to-face with his childhood friend and former boxing prodigy Damian Anderson.
Release date March 3, 2023
22. Battle on Buka Street
Battle on Buka Street is a 2022 Nigerian comedy drama film directed by Funke Akindele and Tobi Makinde. The film is jointly produced as a collaboration between Funke Ayotunde Akindele Network (FAAN) and FilmOne Studios.
The film had its theatrical release on 16 December 2022.
21. Christmas in Miami
Christmas in Miami is a Nigerian comedy film released on December 24, 2021, and directed by Robert Peters. The lead cast of the film include Ayo Makun, Kent Morita, John Amos, Nadya Marie, Barry Piacente, Catherine Olsen, Osita Iheme, Richard Mofe-Damijo and IK Ogbonna.
Release date December 24, 2021
20. How To Love Me
How To Love Me follows Emem who has been hatching up a perfect escape plan from her abusive husband gets news of her husband's involvement in a ghastly accident. After several months in the hospital, Uduak regains consciousness but not with his memory, Emem takes the opportunity to curate a perfect Uduak, until he regains his consciousness. Directed by Ekene Mekunye, the film stars Eri Umusu, Ik Ogbonna, Bassey Ekpo Bassey, and Yvonne Jegede.
Release date February 24, 2023
19. Memory
Memory is a 2022 American action thriller film directed by Martin Campbell from a screenplay by Dario Scardapane. It is based on the novel De Zaak Alzheimer by Jef Geeraerts and is a remake of the novel's previous adaptation, the Belgian film The Alzheimer Case. The film stars Liam Neeson as a brooding hitman with early dementia who must go on the run after declining a contract on a young girl; Guy Pearce, Monica Bellucci, Harold Torres, Taj Atwal and Ray Fearon also star.
Release date April 29, 2022
18. Over and Over Again
Directed by Seyi Babatope, Over and Over Again follows a young, successful businessman who lives and cares only for himself and is in the habit of treating people shabbily finds himself living the same day over and over again till he learns to be a better person. The film stars Syrian Martin, Stephanie Zibili, Williams Uchemba, Rachel Oniga, Blossom Chukwujekwu, and Nancy Isime.
Release date March 24, 2023
17. Introducing The Kujus
Directed by Biodun Stephen, Introducing The Kujus tells the story of siblings who have been at crossroads since their mother's death. It stars Bisola Aiyeola, Femi Jacobs, Ronke Odusanya, Timini Egbuson, Kunle Remi, Bimbo Ademoye, and many others.
Release date Novemver 27, 2020
16. Operation Fortune: Rise de Guerre
Operation Fortune: Ruse de Guerre is a 2023 spy action comedy film directed by Guy Ritchie, and written by Ritchie, Ivan Atkinson, and Marn Davies. The film stars Jason Statham, Aubrey Plaza, Josh Hartnett, Cary Elwes, Bugzy Malone and Hugh Grant. The film is about a spy, Orson Fortune , who must retrieve a stolen high-tech device before an arms dealer can sell it to the highest bidder.
Operation Fortune was released on January 4, 2023.
15. Tiger's Tail
Directed by Victor Okpala, Tiger's Tail follows Amara Nzewi, a recent UK graduate of Psychology, who has no idea she is stepping on the wrong toes when she starts a foundation to rehabilitate street boys but things get really ugly when she is kidnapped by ruthless gang leader, Tombra Tiger. The film stars Akintoba Adeoluwa, Iremide Adeoye, Desmond Agbo, Natacha Akide, and many others.
Release date July 22, 2022.
14. Baby Maker
Directed by Orimz, Baby Maker follows Nasa, a single and successful 31 year old lady, who is advised by her doctor to conceive as she has just recovered from a myomectomy procedure. She's pressured by this and resorts to having a child with her best friend Mofe through IVF, after failed Attempt at IVF, she tries to conceive the natural way. When Nasa eventually gets pregnant by Mofe, emotions arises and things get complicated between them, they are both saddened by this as they are at the verge of losing their long time and tight knit friendship.
Release date February 3, 2023
13. 4:44:44
An epic love story of a young couple's struggles in dealing with mental health issues and societal reactions to this situation. Based on true events, it's a story of strength, love, determination, laced with humor.
Directed by Izu Ojukwu, the film stars Chiwetalu Agu, Betsy Akan, Seun Akindele, Eric Iso Anderson, and many others.
Release date November 2022
12. Die Hart
Die Hart is an American comedy action-adventure television series . The series stars Kevin Hart as a fictionalized version of himself, with John Travolta, Nathalie Emmanuel and Josh Hartnett playing supporting roles in the first season.
Release date July 20, 2020
11. The Setup 2
Directed and written by Chinaza Onuzo, The Setup 2 follows a former drug smuggler who is hired by the US Government to work for them, leaving everything she loves behind. But when an activist group kidnaps her best friend's child, she is blackmailed into doing their bidding.It stars Grace Abah, Oyindamola Adewale, Lilian Afegbai, and many others.
Release date August 12, 2022.
10. Sista
A struggling single mother faces her worst nightmare when the father of her children comes into their lives and completely steals their attention all for himself. Directed by Biodun Stephen, the film stars, Deyemi Okanlawon, Kehinde Bankole, Bisola Aiyeola and many more.
Release date 23 June 2023.
9. Love in a Pandemic
A love story happens amidst one of the most unforgettable moments in human history, the Covid 19 Pandemic. the story of Bolanle who meets Alex, the man of her dreams but how does their new flame survive the uncertain world of a pandemic? Directed by Akay Ilozobhie, the film stars Femi Ajase, Harriet Akinola, Teniola Aladese, Eso Dike, Victor Eriabie, and many more.
Release date February 10, 2023
8. Palava
Directed by Niyi Akinmolayan, Palava is a 2022 Nigerian family comedy film produced by Inkblot Productions in conjunction with FilmOne Entertainment, released to Cinemas on 9 December 2022, the film stars Richard Mofe-Damijo, Bisola Aiyeola, Iyabo Ojo, Mercy Aigbe, Beverly Naya, Beverly Osu, Neo Akpofure, Chinedu Ikedieze, Segun Arinze, Eniola Badmus.
7. The Blood Covenant
Directed by Fiyin Gambo, The Blood Covenant follows the lives of Eddy, Jite and Osiano, three ambitious young men in their late twenties struggling to make it in life. Tired of being looked down upon, they embark on a relentless quest for the high life, chasing easy money, fast cars, and fame; willing to do whatever it takes no matter what it costs them. It stars Uzor Arukwe, Shalewa Ashafa, Tobi Bakre, Demi Banwo, Omowunmi Dada, and more.
Release date April 15, 2022
6. Imade
When Imade decides to look for a job to support her hardworking husband, she is met with a side of him she thought was long buried. Directed by Toyin Abraham, Imade stars herself, Lateef Adedimeji, Elizabeth Aderounmu, Adenike Adeshina, and more.
Release date January 26, 2023
5. The Trade
This is the story of a notoriously cunning kidnapper known only by name, who has ravaged the southern part of Nigeria for over a decade. 'Eric' undertakes a job that brings the law closer than ever before. Inspired by true events. Directed and written by Jade Osiberu, The Trade stars Blossom Chukwujekwu, Nengi Adoki, Chiwetalu Agu, Rita Dominic, Shawn Faqua, Ali Nuhu, Stan Nze, and many others.
Release date January 13, 2023
4. Hey You!
Hey You! is a 2022 Nigerian Romantic comedy film written and directed by Uyoyou Adia and produced by Victoria Akujobi under the Anthill Production Studio. The film stars Temitope Olowoniyan, Rotimi Salami, Miriam Peters and Seyi Awolowo. It follows the life of a young software engineer crumbled when he discovered that his crush is an adult film model.
Release date 29 July 2022
3. Gangs of Lagos
Gangs of Lagos is a Nigerian gangster crime thriller film produced and directed by Jade Osiberu, starring Tobi Bakre, Adesua Etomi, Iyabo Ojo, Demi Banwo, Chioma Akpotha, Damilola Ogunsi, Tayo Faniran, Zlatan Ibile, Bimbo Ademoye, Toyin Abraham, Yvonne Jegede, Yinka Quadri, Chike, Pasuma and a host of others. The film premiered on Amazon Prime Video on April 7, 2023, as the first Amazon Original Movie from Africa.
Gangs of Lagos is about a group of friends whose lives have revolved around crime and violence since their childhood in the Isale Eko area of Lagos, Nigeria.
2. King of Thieves
King of Thieves (Agẹṣinkólé) is a 2022 Nigerian thriller film produced by Femi Adebayo and directed by Tope Adebayo and Adebayo Tijani that tells the tale of the renowned town and prosperous kingdom of Ajeromi. It stars Odunlade Adekola, Femi Adebayo, Toyin Abraham, Broda Shaggi, Adebowale "Debo" Adedayo aka Mr Macaroni, Lateef Adedimeji, and Ibrahim Chatta. The Yoruba-language movie was produced by Femi Adebayo's Euphoria360 media and co-produced by Niyi Akinmolayan's Anthill Studios.
Release date April 8, 2022
1. Brotherhood
After years of fighting to survive on the streets of Lagos, two brothers fall on opposite sides of the law.
Brotherhood is a Nigerian crime-action thriller produced by Jade Osiberu and starring Tobi Bakre, Boma Akpore, Falz, Basketmouth, Sam Dede, Ronke Oshodi Oke, Toni Tones, Zubby Micheal, Mr Macaroni and host of others.
The film was released to cinemas on 23 September 2022.
In Summary
Going by these data metrics, it is without a doubt that Prime Video's Nollywood catalogue has greatly improved. In the past year, more than half of Prime Video's top 30 list have been Nigerian titles. This shows that Prime Video executives understand consumer tastes and have been able to create products to meet the demand.
In addition, this metric reveals the success the streaming platform has achieved on its output deals with Anthill Studios and original acquisitions with Gangs of Lagos.
Although the data proves that Prime Video has great content that pulls audiences, it will be interesting to see how the momentum holds for the rest of the year.