The Story ⚡
UK-based Nigerian filmmaker/distributor, Olayinka Quadri, is backing a film going to the big screens this September. "Ticket to Life" follows the journey of a young Nigerian lady in search of greener pastures, as she uncovers a haunting secret and must fight for her survival. Olayinka Quadri describes the film as " true to the Nigerian reality".
The success or failure of a film is directly influenced by its release date. With "Ticket to life" set to premiere on the 23rd of September 2022, it has a 50/50 chance at the box office seeing as it will be in fierce competition with "Brotherhood" and "The Woman King".
In this interview, Olayinka Quadri explains his confidence and conviction that "Ticket to Life" will be a ticket to the box office.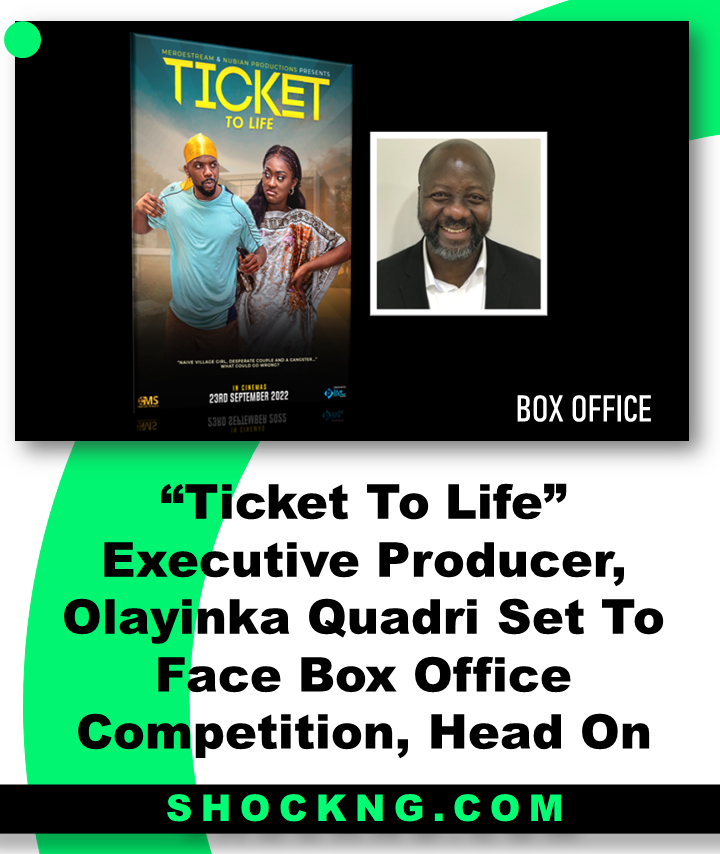 When and why did you decide to make a film and take it to the big screen?
The first time I thought of making a film was in the late 70s. I've always been creative and passionate about filmmaking. I wanted to study theatre originally but you know, Nigerian parents, my parents didn't find the profession funny. My father was an accountant.
So, the compromise was to study Business and Finance which I did. At one point, I also wanted to do music. Creatives are open to poetry, music and the likes. I used to write poems when I was in school but I ended up studying Business and Finance.
Over the years, I worked with a consulting firm, a journalism company and eventually I got to a point in life where I wanted more, I wanted to delve into my passion.
I love writing and critiquing movies. I feel Nollywood is better than it used to be.
It has motivated me to make movies. We didn't start with making movies for the big screen. Because I didn't go into filmmaking as a young person, my contribution as an adult is to create a platform where aspiring and talented filmmakers can showcase their works. We started Meroestream last year, it was supposed to be our contribution.
Africa is full of talent, and that's the drive for us but the problem we have is content. The quality content we found wanted to talk to Netflix instead of us. So, we decided to work on ourselves and create content.
What's the business model of Meroestream
The main thing is a subscription, you are told to pay a sum of money. When you tell people to pay for a subscription, the logic behind it is, that you get quality content if you want people to pay for your work. In my view, I prefer to pay for what I want to watch rather than subscribing for a month for what I don't necessarily want to watch.
Meroestream is about watching something specific. On another note, profit comes from serving people while doing the right thing. ÈNDSARS is a documentary on our platform. We have tried to market it on Facebook, Instagram, and Twitter as ads but they have rejected it.
I'm not sure that documentary will ever show in Nigeria. We are making a statement and the statement is "if you're talented and good at what you do, we want to support you". We are not making money from Meroestream, for us, it's a long-term thing.
We provide the technology and platform because that's our strength. We advertise content and do digital marketing to know if people will pay to watch that content. We provide that and in return, we take 20% of revenue generated on our platform and the content owner takes 80%.
No company in Nigeria offers that type of deal. It will take a while before people realise that our culture matters. The Indians don't watch any other things besides Bollywood.
The Koreans don't watch content asides from what they do, but Africans watch Korean and Indian films. Everyone watches Hollywood. I think a time will come when we realise we are doing better than other people and fully embrace other people and platforms like Meroestream.
Working in distribution, how do you find quality content and collaborators for your platform?
In my view, stamina matters. Just like in real-life scenarios, if you're getting beaten, you have to try to stand well. People have told us to yank off our films because of top movies, but we are ready to compete. We have worked on our platform over the years, and with time, people will appreciate what we have done. If you put your work on a platform like Meroestream, and it gets 100,000 views from 5 dollars per view if a filmmaker sees that, they would definitely come to us.
You can call us an "online cinema revenue" platform. That's the vision I have. It's just like the story of Afrobeat, the people that started and believed in it are no more but set a precedent and look at Afrobeat now, artists are making a lot of money.
For distribution, Meroestream runs both in Nigeria and the UK. I want more demand for our content here in Nigeria, we have to eat our own cookies.
Let's go straight to "Ticket to Life". Why did you choose the storyline and how did you find a filmmaker to work with?
"Ticket to Life" started as a different story entirely. Shout out to Tomisin Ayoade. Tomisin and her friend pitched a story to me. It was a beautiful one. We worked on it and came back a few months after to get started. It took nine to eleven months to get the script we wanted.
When we got a script we felt was good enough to work on, we reached out to a director and that's how we got Geshin Salvador. We sent our story to him and the shooting script he sent was mind-blowing! I knew from that moment that the movie would be a hit. Geshin is very good.
Like I said earlier, I write and critique films, and I love to read and write. But when Geshin worked on that script, I could see the film and work on the set. We were keen on a great and superb story with great casting. We have a director whose star will keep shining.
The execution is perfect.
I saw it and was proud to be part of the film.
I want to guarantee people who will see "Ticket to Life" that it's nothing like what you've seen in Nollywood. We aren't about big characters, we are about talent.
Sambasa's performance in "Ticket to Life" is 11/10. We have a fantastic project.
Then there's a lady, Debby Emokpaire; she's a bundle of talent.
I see this project as a challenge, and you don't succeed in life by running from challenges. If we run from challenges it means we aren't confident in our product. We have great casting and story, and we are confident that people will see this movie.
Do you think Nollywood is growing?
Nollywood is growing but is it the right growth? Do we need sugar daddies from America to promote our culture? I would love it if this growth is happening through Rok studios Iroko TV, Meroestream or other African platforms. But, there are Africans abroad who watch our content. We are on the journey of being exploited. I don't know how much Netflix pays.
If 5 million people are giving Netflix £10 every month, how much of that is coming into our industry? I'm here because it's the right place to be even though we need to do more for ourselves. We can't be dependent on these people. I've been in meetings where people don't see you as equal. You have to prove yourself every day.
In terms of demand for the film, do you want more demand in the UK or Nigeria?
We'll be doing a showcase in the UK, we are running a cinema in Nigeria, another cinema in the UK. The demand we get in the UK will determine the exposure and how it gets to Meroestream.
Looking forward to your outing, thanks for your time
Thank you.