The Story ⚡
The Blood Covenant directed by Fiyin Gambo for Inkblot Studios hit theatres on April 15th.
So far, the title has grossed N9.74 million in ticket sales during its debut weekend and N17.28 Million after 7 days.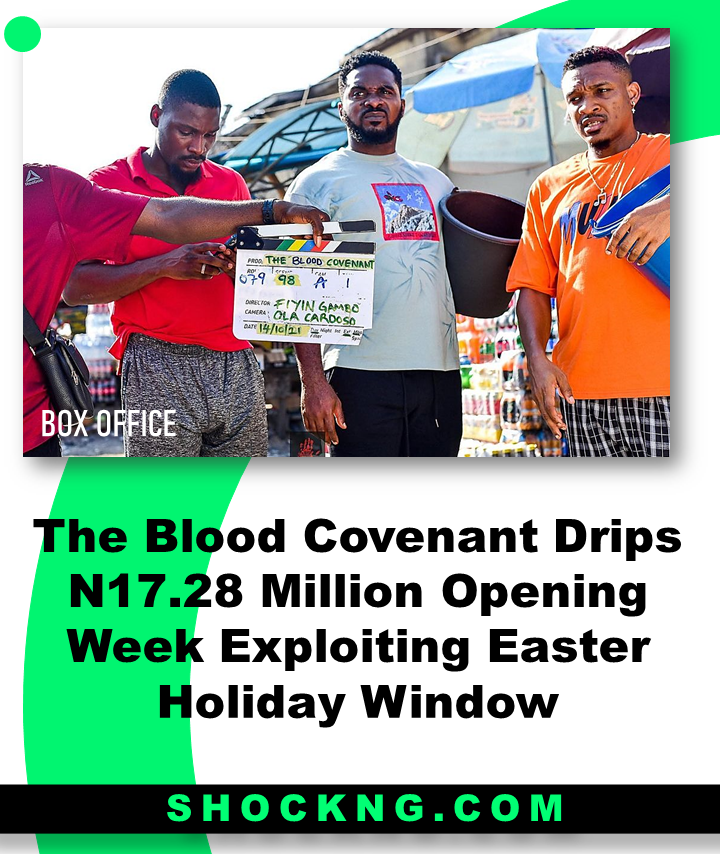 Tell Me More
The Blood Covenant follows the lives of Eddy, Jite, and Tunde, three ambitious young men in their late twenties struggling to make it in life. Tired of being looked down upon, they embark on a relentless quest for the high life, chasing easy money, fast cars, and fame; willing to do whatever it takes no matter what it costs them.
The film stars Tobi Bakre, Shawn Faqua, and Uzor Arukwe as the three young men and features stand-out performances from a powerful ensemble cast including Erica Nlewedim, Alexx Ekubo, Omowunmi Dada, Shalewa Ashafa, Chimezie Imo, and others.
Box Office
Opening on a strategic date that is a public holiday for consumers, the blood covenant was able to optimize its marketing plans for this period.
With this plan in effect, the title screened in over 55 cinema locations nationwide to pull a double-digit opening from April 15th – 21st however hopes for this same result are rather marginal.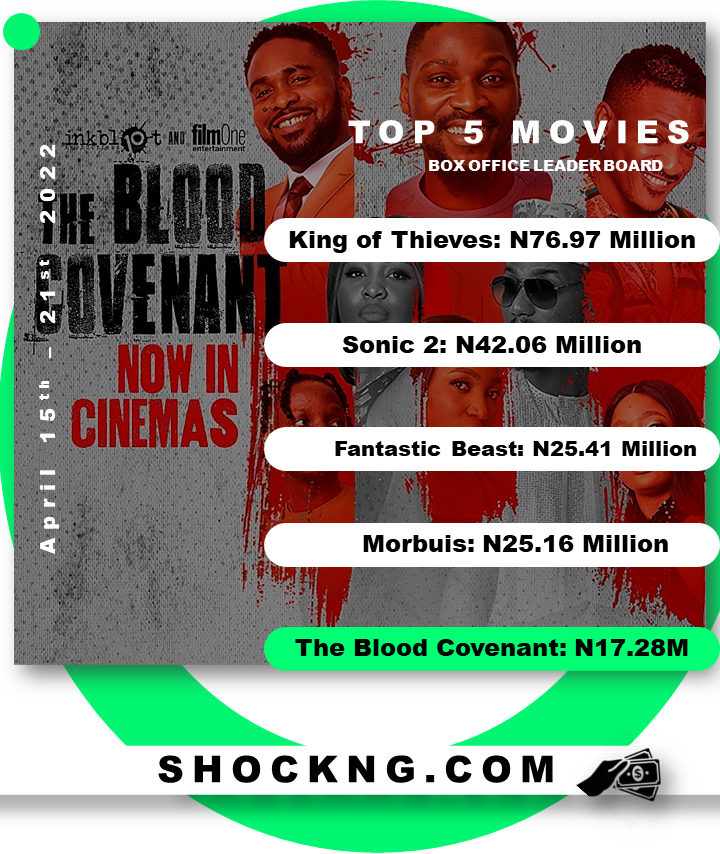 From the above, it is clear that "The blood Covenant" is facing some serious competition on the big screens. Despite its window positioning for the Easter holidays, the title didn't make the top 3 list.
Morbius, The latest Fantastic beasts and Sonic 2 are the foreign titles that edge out in ticket sales above N25M.
of course, Nollywood Epic is still dominating the leaderboard after 2 weeks and is less than N70 million shy of N200 million.
The latest data reveals the title did not maintain its 5th ranking on the charts. New Hollywood title "The Lost City" with a 12 million gross caused a shift in rankings and as of the writing of this post, the title has crossed the N20 Million mark and takes the 6th position
In Summary
This year would be quite a quantum year for the trio headed production company as it aims to drop 2 more titles before the end of the year.
Inkblot by the numbers at the year-end 2022 would be a very enlighting article to write about. And perhaps see what the big screen data says about this studio that has officially gone to the box office a whooping 18 times by the year 2023.
This is a SHOCK Exclusive – Thank you for reading
Shockng.com Covers the Business of Film/TV and the Biggest Creators in Sub Saharan Africa.
Let's be Friends on Instagram @Shock NG