The Story ⚡
A cast interview to better understand choices made during the production of Netflix's Blood Sisters directed by Biyi Bandele and Kenneth Gyang.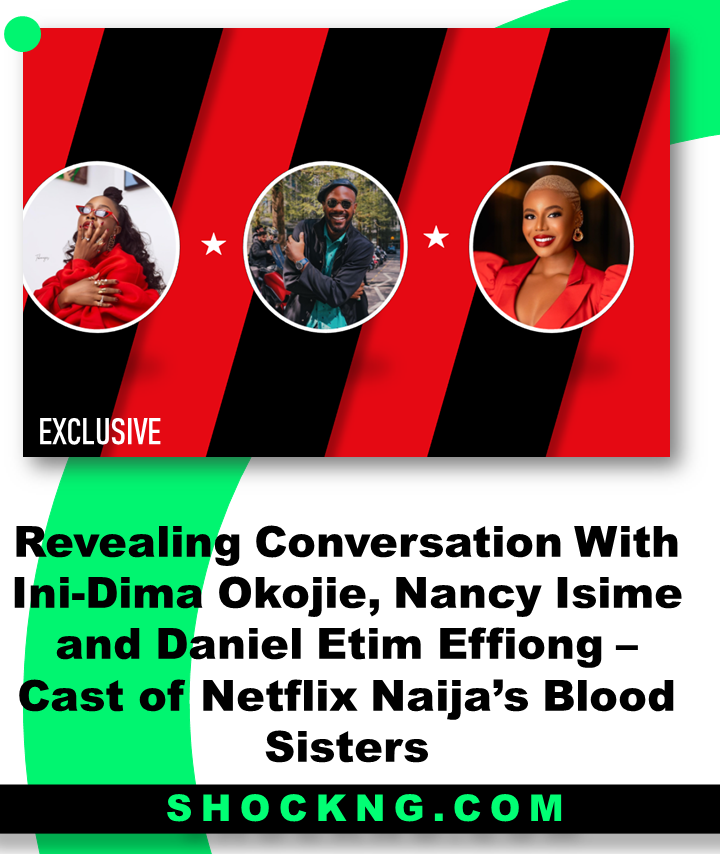 Key Highlights
if you listen to this exclusive interview, you will get the following.
–>Nancy reveals why her character was code-switching.
–> Ini dima reveals that she turned down an India series for this Netflix title.
–> Daniel shares his tools for being in the moment at the pivotal wedding scene where the murder event has been triggered.
Podcast Summary if you haven't tuned in yet
In the series, your character mixed her dialogue with pidgin. Was that originally part of the script?
Nancy: The entire script was in English. It was my idea to change things up.
I wanted to bring "Naija" to it because I know the show is going to a global platform. I needed to get people watching from wherever across the world to know there's something called pidgin in Nigeria and the majority of us speak in pidgin.
The script was written in American English. I loved that the director loved the idea, it made it look more authentic.
That's basically what I wanted to showcase through the character and trust me, the directors loved it.
We had to do a screen test beforehand to approve everything. The entire process was overwhelming but it's a personal idea and the effect was so worth it.
Ini Dima: The script was written in American English. I loved that the director loved the idea, it made it look more authentic.
How were you able to navigate through the wedding scene where the groom is missing which marks such a pivotal scene in episode one?
Daniel: As an actor, there are several tools I've learnt to use at my disposal.
The first tool is the script which is the most important. I read it and put it into acting.
The second tool is my body and physique coming to the scene to work it.
The third is my mind. My mind is the box of magic. I have all my memories, and personalities to work with. I've been married, been a best man, I have all of that to work with to create and that's all I used in that scene.
I brought in my memories from when I got married and the confusion I faced at that time.
You have to be in the moment when acting.
You have to lie to yourself that you don't know what happens after the scene you're acting.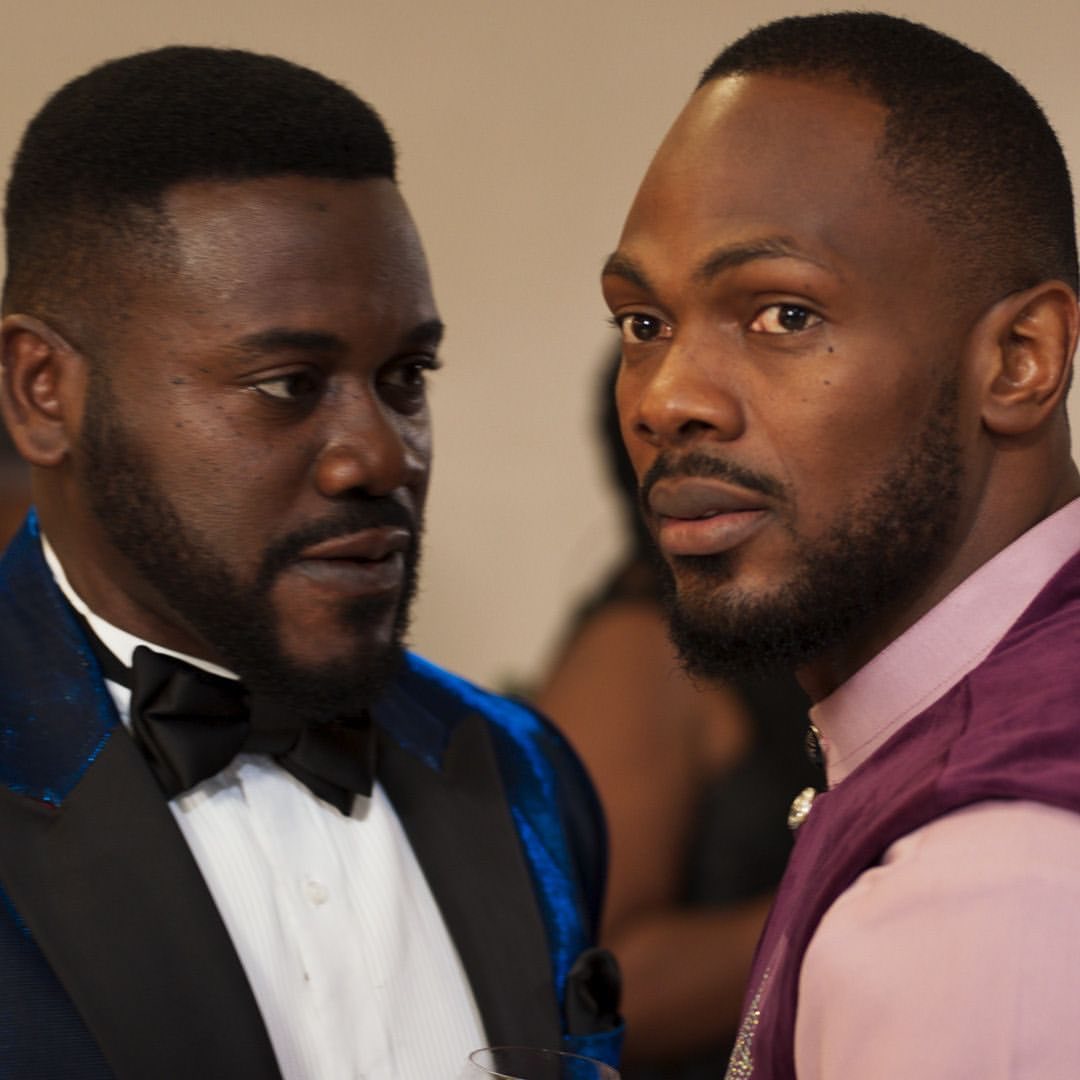 This is your second global title with Netflix. First is Namaste Wahala which has a great global metric on Netflix. How has this affected your trajectory as talent from Nigeria?
Ini Dima: It's so interesting because Namaste Wahala was a small budget film. Directed by a first time director, first time Bollywood actors come together to collaborate with Nollywood.
It was basically the director sharing her dream with us, funding it and hoping we could execute it well. It was supposed to go to the cinemas but covid happened and the title ended up being acquired by Netflix.
We got polarizing reviews. Some thought the movie was the best they have watched while some others felt it was the worst they ever watched. But for me, I had never experienced what I experienced with Namaste Wahala before.
Till tomorrow, people reach out to me from countries I didn't know existed.
In fact, I had to choose between blood sisters and a series shot in India for a Bollywood Studio. So, the result for me is crazy.
Sometimes, I get messages saying they're sorry about the reviews Namaste Wahala is getting and I'm like, are you joking?? – I'd do Namaste Wahala over and over.
Now, for blood sisters. The first time I read the script – I thanked God for bringing such an amazing script my way because I loved it.
I knew it was going to be special right from the audition and decided to give it all I had + the fact that it was going to a global audience.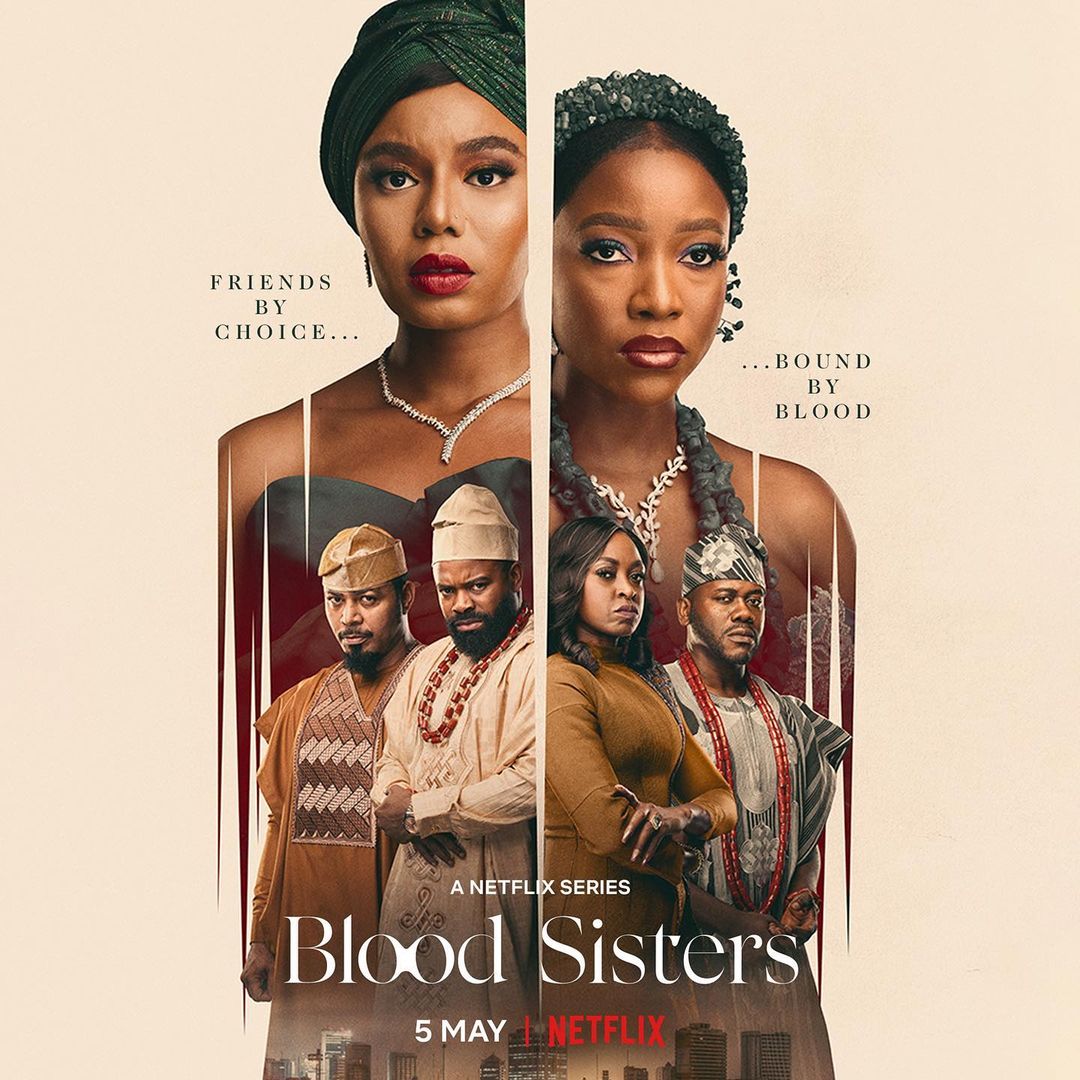 It's so easy to point out "Nollywood is this" negatively but see, even people that have everything at their disposal don't always get it right and that's to tell you it isn't easy.
Also, I feel like as an actor, when stars align and the whole team work together it's going to be a huge success.
Back to you Nancy – There's a particular scene you butchered a body. Can you kindly walk me through its execution?
Nancy: The most beautiful thing about being an actor is the prep that goes on with everyone else.
For the audience, it's the first time it hits you. But for us, it's been talks, preparations, and how do we go about it.
In the scene, it was revealed that I had taken off my clothes. At that point, what was going through our minds was to make sure viewers believed what we were doing.
As fantastic actors, everything was at our disposal. Getting to shoot that scene was one of the turning points in that movie. I loved it. It was collaborative.
The directors listened to us, they were open to ideas – Even in the part where it is written that we are to appear in underwear, we explained that it could be better in a way to make it real and they agreed with us.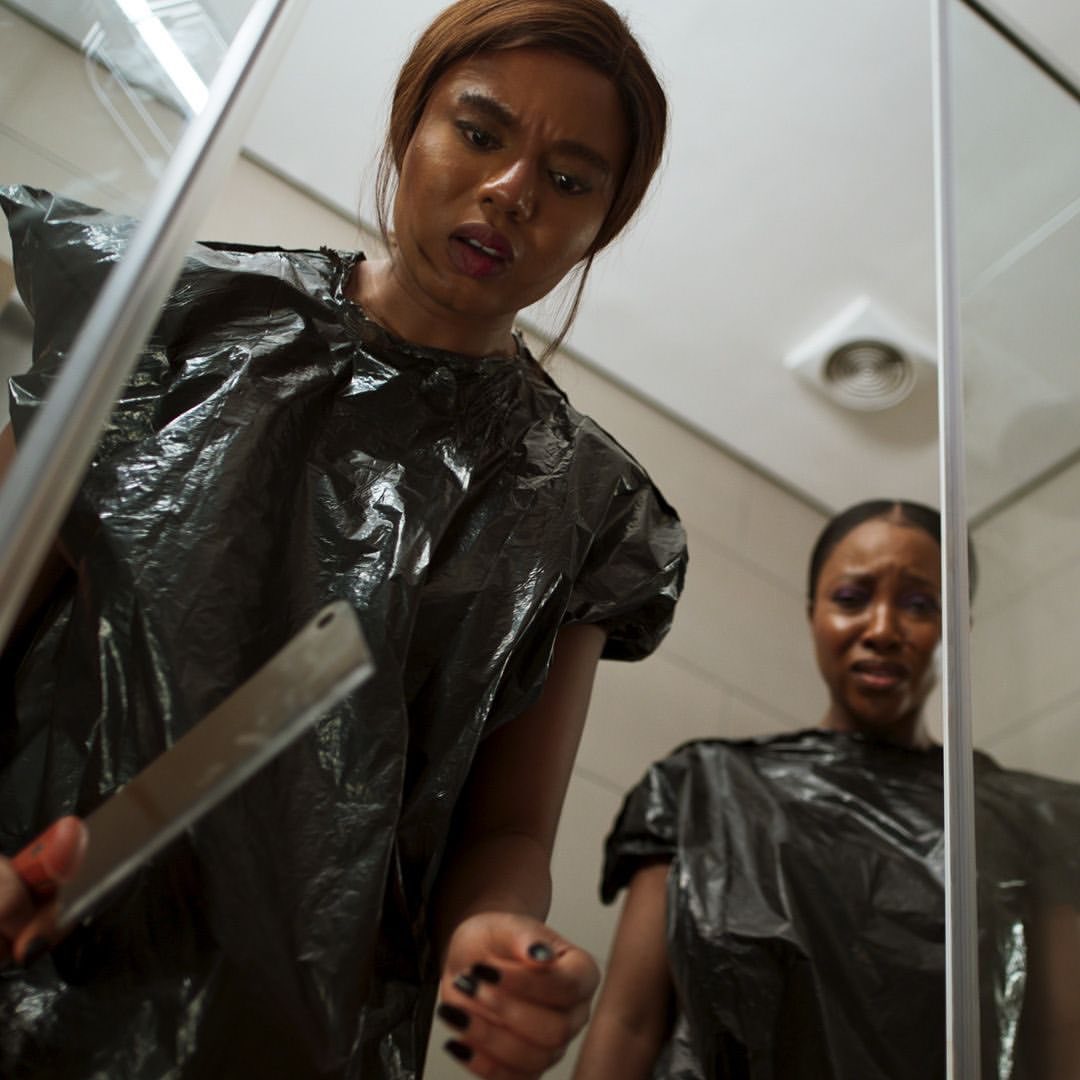 The experience we had while making blood sisters can't be expressed in words.
I'm sure when people see it, they would understand that even the waka pass, extras, PA's, everybody understood the assignment. Every single person on screen mattered.
When I watched it on TV, it didn't feel I was an actor in the movie, it felt like I was part of something big.
Final Question (My time is up) What does the title "Blood Sisters" mean?
Daniel: The title blood sisters is so layered.
It was about two people who were bonded by an act of spilling blood, the covenant of spilling blood. This act of spilling blood bonded them together and that's what the project is about.
Ini Dima: Asides from the literal meaning, I (Kemi) was everything she had (Sarah) and that made them sisters in a way.
** The above is a summary of the conversation that has been edited for length and clarity**
Press Play and Listen to the full exclusive interview below
This is a SHOCK Exclusive – Thank you for reading
Shockng.com Covers the Business of Film/TV and the Biggest Creators in Sub Saharan Africa.
Let's be Friends on Instagram @ShockNG