The Story ⚡
Chioma Ude's LaVida studios has secured a $50 Million Investment from Pan African Capital Holdings Limited.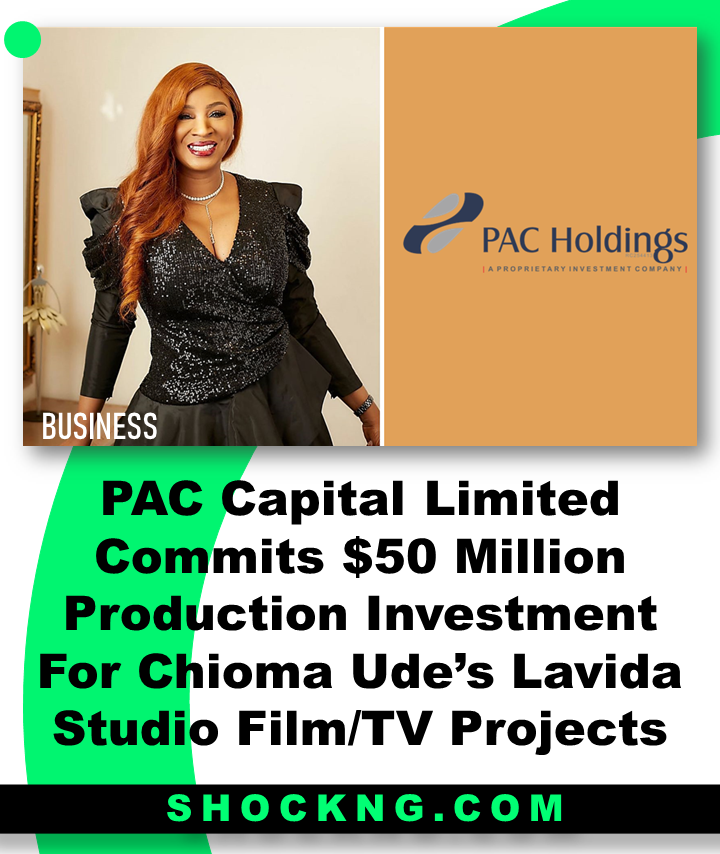 Tell Me More
Lavida Studios, a production outfit based in Lagos, Nigeria led by Chioma Ude announced on June 22nd 2022 that it has closed a $50 million investment. This fund committed by PAC Capital limited would focus on creating 10 projects in 3 years that include films and television properties that are aimed at making African stories for the global stage.
The funding is being accessed from PAC Capital's PanAfrican CCI Fund 1, a $100 million fund dedicated to financing film production and distribution in Africa.
Whilst the history of the studio is relatively unknown with no existing or collaborative projects credited to its name, Chioma Ude's history working in the entertainment business covers this gaping shortcoming.
In 2010, the annual African film festival was conceived and launched by Chioma Ude as a platform for filmmakers to train talents, connect storytellers and showcase African films from the continent with its attendees coming from all over Africa.
Its November 2021 edition, held in Lagos, was its busiest, serving as the perfect runway for Amazon prime to connect with the Nollywood ecosystem. Prime Video's James Farrell, International Head of Local Originals, and Ukonwa Kuzi-Orizu Ojo, Chief Marketing Officer flew in as Keynote speakers as well as some other key executives that used this event as means to scout for IPs and studios worth courting.
Although it seems the recon team from the streamer had quietly been in talks with the top talents and producers, the event was used as an official announcement that the company means business.
Deal Breakdown
A key part of this deal announcement is the partnership between Lavida Studio and Dentsu, The Story Lab spearheaded by Geneva Wasserman.
Geneva is the executive VP and head of scripted content at The Story Lab and she shares the strength of each partner which gives clarity on who brings what to the table.
"The combination of LaVida's partnerships with top Nigerian creators and Dentsu's global network and presence will serve as a bridge between these top content creators and the global market through this collaboration. We are honoured to bring these stories to the world."
Mike Ferry, head of The Story Lab, U.S. added, "It is partnerships like this one which really helps move the dial when it comes to discovering and elevating emerging talent. I'm so pleased we can be part of amplifying the diverse voices of Africa alongside our friends at LaVida and AFRIFF."
The deal was brokered by CAA (La Vida and Chioma ) with The Story Lab U.S. represented by UTA.
What Happens Next?
Chioma and her team are now on a $50 million investment clock.
How well would they execute on the fund? Can they get the right team to produce high-grade projects that can triumph on a global stage?
Prior performance via Envivo/Nvivo spells formless and gauges the bucket of confidence quite low.
With its Cisco partnership announced in 2017, the company launched at Afrrif in 2019 and labelled itself as a Nigerian technology-based media organization deploying amongst other infrastructure, a Content Delivery Network, with a capacity to host live TV, SVOD, TVOD and AVOD services to audiences across Africa and Africans in Diaspora starting with the nVIVO TV app.
Several shows commissioned via this platform barely made a dent on audiences not to talk of sparking delight to boost subscriptions for the app downloads. In 2022, it is unclear where all of this content is currently being hosted as it seems the app is no longer on play stores.
The last post on its official IG acct reads October 2020.
Stream Wars
New waves of international interest are on the horizon for Nigerian talent and its stories. How the industry rides on it would shape what happens in the next few years. Who also gets this investment matters dearly as they serve as either gate openers or gate crashers to the future of investments for the ecosystem.
Time would tell what type of bargain this exciting $50 Million investment would yield.
Thank you for reading
Shockng.com Covers the Business of Film/TV and the Biggest Creators in Sub-Saharan Africa.
Let's be Friends on Instagram @shockng