The Story ⚡
Ghana wants to become the "Cinema gateway to Africa" as its film authority inks landmark investment deal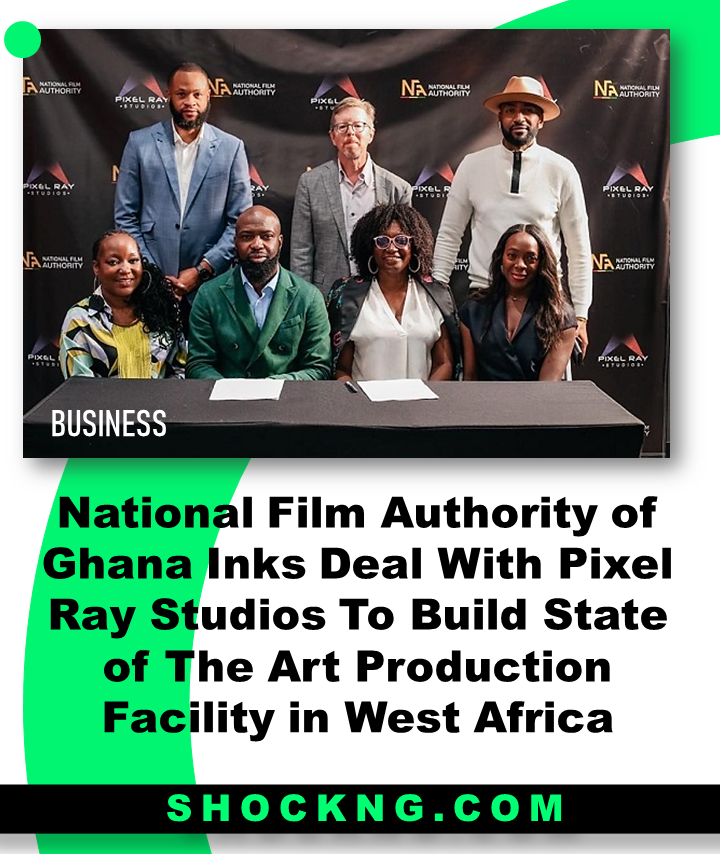 Tell Me More
The National Film Authority (NFA) has successfully concluded discussions with Pixel Ray Studios, a multimedia production company based in US to build over 200-arce full-service audio-visual studios together with other amenities in Ghana.
The studios will offer state-of-the-art production and post-production services to local Ghanaian, African and international film and content producers for the development of scripted and unscripted content, films, TV series, commercials, OTT content, podcasts, music videos etc.
"This partnership is timely as Ghana positions itself as a film hub, a friendly shooting destination, and a cinema gateway to Africa. Earlier in the year, the National Film Authority (NFA) of Ghana launched the 'SHOOT IN GHANA PROJECT' to enhance the agenda by promoting Ghana as an ideal location for film productions and attracting the international filmmaking community to make films in Ghana.
Ghana has great locations, it is very safe, and it costs relatively less to shoot in Ghana than in many other countries. Ghana is the second-largest producer of films on the African continent, according to the UNESCO 2021 report.
As the Africa Continental Free Trade Agreement (AFCFTA) headquarters, it is just right that Ghana opens its doors to the world of movie makers." said National Film Authority CEO, Ms. Juliet Yaa Asantewa Asante.
Pixel Ray Studios
The studio in this partnership agreement are led by founders that include entertainment entrepreneur Audu Maikori, ESQ (Founder, Chocolate City Group), Franklin "Twizz" David (Chairman, Twizz Talent Management), Ojoma Ochai (Managing Partner of The Creative Economy Practice at CC HUB), and Hollywood Production & Development Executive Danielle Johnson.
Esteemed Pixel Ray Board members include Oronde Garett (Partner at M88), Tamara Houston (ICONN Man) and Content and catalogue Executive Fotemah Mbah.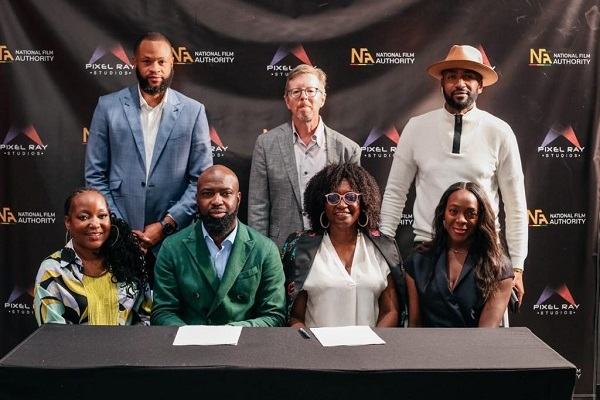 As announced at this year's Africon, a multi-day conference featuring top tier movers and shakers in the diaspora, hosted by Amplify Africa, the studio will offer state-of-the-art production and post-production services to local Ghanaian, African and international film and content producers; entertainment for local and international tourists through activities such as set visits; and visual and audio effects and animation services to local and international films
State of the Art Facility
10 sound stages on over 200 acres of property would be constructed in Ghana.
In addition to the sound stages, the multi-use facility will include state-of-the-art production space and equipment, as well as post-production suites with globally trained and locally based crew to serve all production needs.
The premier studio will have an estimated 150,000 square feet of production space.
International Positioning
With the world now turning its attention to African stories, domestic and international investments are beginning to tale place and shape the frontier to access this markets. The Ghanaian government is clearly setting itself up as the go to place for filming international projects and clearly takes the lead smartly using the AFTCA as a base to accelerate growth and attract foreign direct investment.
Whilst Nigeria is regarded as a force in film/TV Production via Nollywood, its government has taken zero interest in building necessary infrastructure to help local studios thrive. Policies such as co-production treaties, tax breaks, single digit loans barely exists leaving executives making films in bootstrapping state.
if Ghana gets its act right, may Nigeria can learn a thing or two from generating FDI with infrastructure such as this.
This is a SHOCK Exclusive – Thank you for reading
Shockng.com Covers the Business of Film/TV and the Biggest Creators in Sub Saharan Africa.
Let's be Friends on Instagram @shockng