The Story
Nollywood's Biggest film yet – The Black Book acquired by Netflix arrives this September. Meet the faces that backed the title.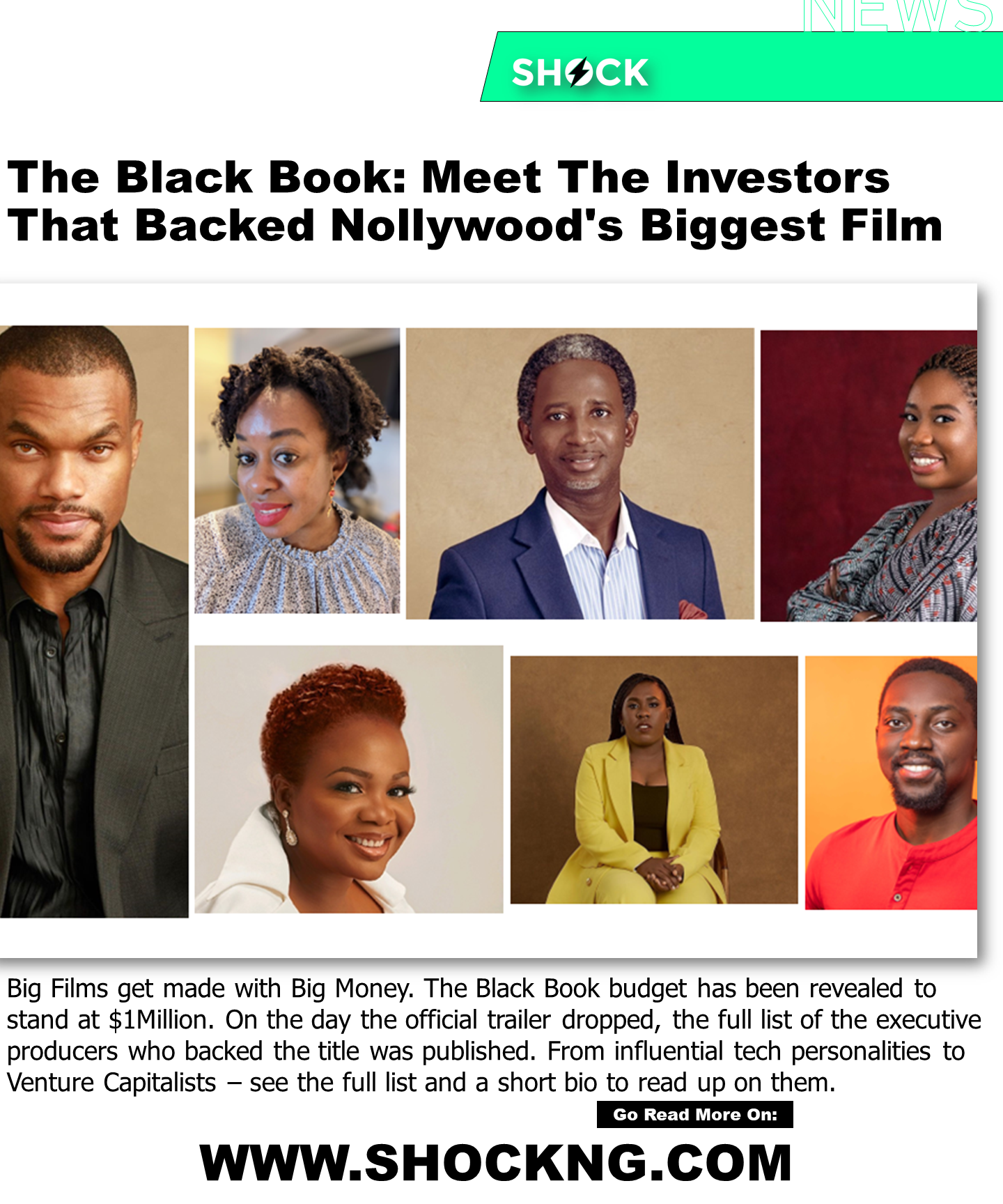 Tell Me More
Written by Bunmi Ajakaiye and Editi Effiong, The Black Book is the story of a bereaved deacon who furiously seeks justice after his son gets framed for kidnapping. This crime thriller features Richard Mofe-Damijo (RMD), Olumide Owuro, Sam Dede, Shaffy Bello, Ireti Doyle, Taiwo Ajayi Lycett, Ade Laoye, Ikechukwu Onunaku, Patrick Doyle and Bimbo Manuel.
The Black Book is a production of Editi Effiong's Anakle Films in collaboration with media streaming giant- Netflix. According to the crime-drama's director, The Black Book had a budget of one million dollars from a good number of investors, which include;
Editi Effiong
Editi Effiong, the executive producer of The Black Book, is also the founder of Anakle Films and Anakle Limited. He's a creative entrepreneur with an interest in digital advertising, technology and film.
Editi is a multifaceted creator, builder and thinker who resumed the role of a director in the making of The Black Book.
Uyai Umoren Effiong
Uyai is an engineer turned business consultant with a keen interest in how human-centred design can change the way businesses serve customers.
Uyai also co-produced Up North (2018), The Set Up (2019) and Days of Destiny (2021).
Kola Oyeneyin
Kola Oyeneyin is a Nigerian entrepreneur and activist. The founder and CEO of Venia Group, a venture creation and development company recognized by the London Stock Exchange. He is also a co-founder and partner at Volition Capital, a private equity company and Volition Blue LLC.
Kola is known for his social movement and his strong belief in Nigeria. He then founded GenVoices, an organization set up to prepare young people for political engagement. GenVoices had over 49 chapters across Nigeria and was globally endorsed by the United Nations.
His desire to mentor the young generation drove him to start Adullam Network, a non-profit initiative to raise and mentor 100 young men aged 18-35.
Adesubomi Plumptre
Subomi is a Nigerian SEC-licensed fund manager who co-founded Volition Capital Investment Limited, an asset management company that helps Africans build wealth and financial stability.
Volition Cap, established in 2018 has initiated a $30 million fund dedicated to financing real estate and agricultural projects in Africa.
Ezra Olubi
Ezra Olubi is a Nigerian entrepreneur who is the co-founder and Chief Technical Officer (CTO) of PayStack, which was acquired by Stripe in 2020 for $200M making it the most successful exit in the Africa tech scene.
He is known as one of the pioneers of the online payment system in Nigeria and now a major player in Nigeria's tech space who recently received a national award.
Bienose Tito Ovia
Tito Ovia is a public health enthusiast passionate about improving the quality of healthcare in Africa. She is the former co-founder of Helium Health and also the daughter of Jim Ovia, Zenith Bank chairman.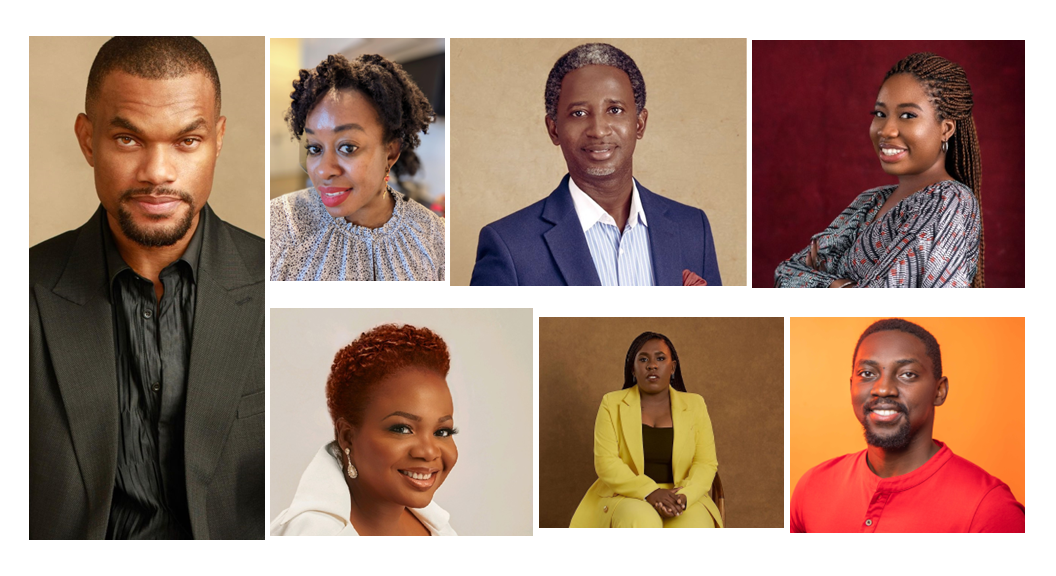 Odunayo Eweniyi
Odunayo Eweniyi, the co-founder and COO of PiggyVest, is a Nigerian business executive and activist. She is also the founder and partner of FirstCheck Africa.
Somto Ifezue
Somto Ifezue is the co-founder and Lead Product Engineer at PiggyTech and co-founder at PushCV.
Joshua Chibueze
Joshua Chibueze, the co-founder and CMO of PIggyVest and a co-founder and marketing head at PushCV. Joshua is a tech entrepreneur and customer success engineer who has a way of solving problems with unorthodox solutions.
He is also a product marketing and digital strategy consultant with over 10 years of industry experience working for multinationals, SMEs and several startups.
Joshua Chibueze has been named in the Forbes Africa Under 30 list for Technology (2019).
Toyin Adewunmi
Toyin is a commercial-focused HR professional with over sixteen years experience of progressive experience across a broad range of HR functions including Business Partnering, Talent Acquisition, Learning and Development and HR Strategy Development.
Toyin is also an award-winning creative producer with a gift for story conceptualization. Her recent project STRAIN won Best International Film 2020 at the Urban Film Festival, Miami, and Best Screenplay 2021 at The African Film Festival Dallas.
Gbenga Agboola
Gbenga Agboola is a Nigerian software engineer and entrepreneur. He is the CEO and co-founder of Flutterwave, an organization committed to changing the landscape of payments in the African continent.
Gbenga contributed to the development of fintech solutions at several tech companies and financial institutions including Paypal and Standard Bank.
Kola Aina
Kola Aina is the founding partner at Ventures Platform, an early-stage discovery venture capital fund championing the next generation of African entrepreneurs.
As a venture capitalist, Kola identifies and invests in early-stage technology companies focused on the disruption of financial services, healthcare, education, agriculture and media. His current investment includes Mono, PiggyVest, Reliance HMO, Paystack and The Black Book.
Olumide Soyombo
Olumide Soyombo is the co-founder of Bluechip Technologies. He is a staunch believer in business, with a strong faith in tech-based startups right from a young age, which has earned him investment in over 60 businesses, several of which are ranking millions in revenue.
Nadayar Enegesi
Nadayar is the co-founder and CEO of Eden Life. He also co-founded Andela and managed its developer learning infrastructure for 5 years.
Nadayar is an avid builder of technology with a passion for getting things done excellently. He's referred to as an 'angel investor', which is no surprise that he contributed to the Nollywood biggest movie.
Prosper Otemuyiwa
Prosper is a software guru, who started as an expert in software development at age 23. He is currently the co-founder and CTO at Eden Life and Co-founder at forLoop Africa.
Oladunni Abiodun
Oladunni Abiodun is a software engineer at Microsoft.
Richard Mofe Damijo
Richard Mofe Damijo popularly known as RMD, is a Nigerian actor, writer and producer. He was a former journalist and also a former commission for Culture and Tourism in Delta State in 2009. He is the Lead actor in the new movie The Black Book, playing the role of the father seeking justice for his son. RMD also received a Lifetime Achievement Award at the 12th Africa Movie Academy Awards in 2016.
TANGENT
With its rapid growth and increasing global recognition, investing in Nollywood is a unique and potentially lucrative opportunity for both local and international investors. The film industry's rise has been nothing short of remarkable, and this growth has been made possible by both internal and external investors.
Although international investors are highly sought after, Nollywood's significant growth has been made possible due to its local investors, from corporations such as Multichoice to individuals and independent studios financing Nollywood products.
On successfully raising funds for The Black Book, the filmmaker Editi Effiong states:
"I was the biggest investor in the project. Nothing builds investor confidence like having skin in the game. Before this project, I had fully bankrolled most of my projects. The Black Book was the first time I went into a project knowing we'd be raising a round.
To convince the friends I asked to come into the project as investors, I made the first money commitment and started work. I didn't have all the money, but seeing me plough ahead to convince the first investor, and seeing the first guy jump in convinced the second guy."
Key Background
Anakle Films founded by Editi Effiong has grown to become a household media company with the reputation of producing distinct Nollywood movies. This reputation has earned them a threshold of audience actively waiting for the release of the next 'big thing' from Anakle.
An excellent example of their active audience can be seen in the two-time highest-grossing movies Up North (2018) and The Setup (2019), which were produced by Editi Effiong.
Up North was the first Nollywood production starring a sitting governor, Abdullahi Abubakar of Bauchi state and an Emir, the film was also the highest-grossing movie in 2018.
In Summary
The Black Book's Global debut is on the 22nd of September 2023, and it will be interesting to see how Editi Effiong's directorial debut will appeal to audiences.