The Story⚡
Sheila, a brand-new web series is set to launch on YouTube on 29th October 2023.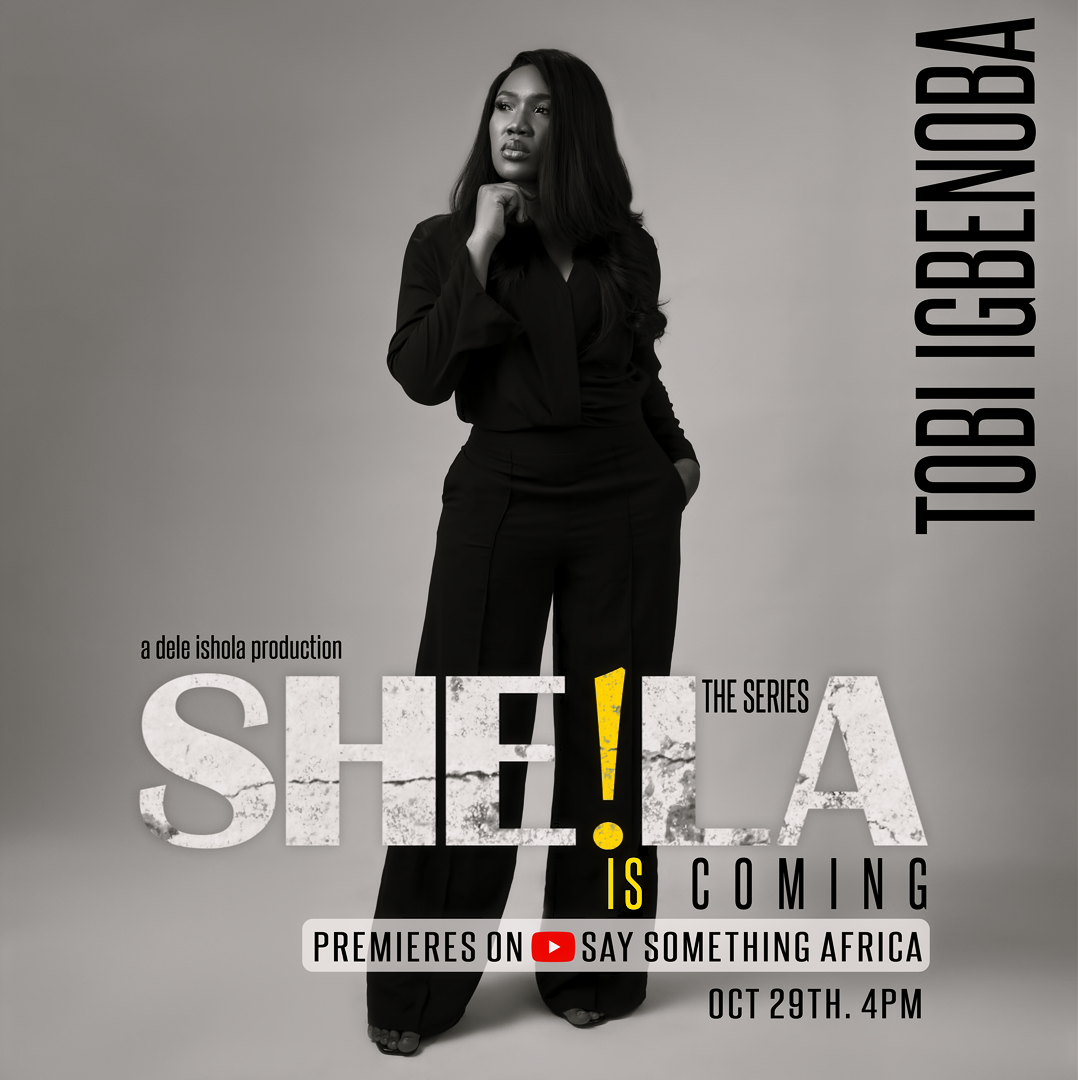 Tell Me More
Nigerian filmmaker, editor and colourist, Dele Ishola is finally releasing Sheila, a compelling story that follows a woman's journey of self-discovery, pushing her to reevaluate the person she once was, the person she has become, and the individual she aspires to be.
The first episode of the 12-episode series will be released on 29th October 2023 on the Say Something Africa YouTube channel.
Among the director, Dele Ishola's production credits include a short film, The Other 360, and a yet-to-be-released web series which he produced along with Adaugo Falcon Uzoma and Wale Adetula.
Sheila is set to be your next binge-worthy experience. You can also follow the excitement on social media using #SheilaTheSeries.
Synopsis:
"Sheila" takes viewers on an enthralling journey into the life of a woman who, despite her numerous flaws, has managed to build a reputation as a pain and source of frustration to those around her. Sheila Bankole, portrayed by the talented Tobi Igbenoba, is rude, uncouth, and mean, using her abrasive personality as a shield to conceal a dark past she prefers to relegate to her daydreams and nightmares.
As a successful businesswoman, Sheila has crafted what she believes to be her "perfect little world," where she wields ultimate control over her life. However, a series of unexpected events shatter this illusion, setting off a chain reaction that thrusts her into a race against time.
Cast
Sheila – Tobi Igbenoba
Tobore – Micheal O. Ejoor
Alik – Tega Olose
Clement – Omodia Okhueleigbe
Ufuoma – Tomi Ajala
Nwose – Victor Godfrey
Morayo – Cheryl Ukpong
Morayo's Mum – Godiya Astro
Sheila's Dad – Okechi Enyi
Martha – Tessy Brown
Martha's Mum – Perpetua Adeyemi
Danjuma – Riyo David
Dr. Ejiro – Olive Amaechi
Gate Keeper – Damilola Soares
Story:
Tosin Abiodun and Dele Ishola
Crew:
Executive Producer – Dele Ishola
Producers – Adaugo Falcon Uzoma, Dele Ishola
Director – Dele Ishola
Production Manager – Adaugo Falcon Uzoma
Director of Photography – Dele Ishola
1st AD – Dare Osawe
Writers:
Head Writer – Dele Ishola
Writers – Tunray Femi, Ogochukwu Uzoma
Script Editors – Obidara Ifejika, Tosin Abiodun, Aaron Iluholo Samuel, 'Segun Odejimi
Music:
Murphy Obed
Patrick "Pmynor" Gyang
Sound:
Sound Recordist – Shina Lawal, Oladimeji Dimsod
Production:
Gaffer – Kenny Omoniye, Kayode Abolade
Welfare – Dare Osawe
BTS – Afolabi Jubilee
Best Boy – Pius Samson
Props – Adaugo Falcon Uzoma
Makeup / Effects – Michael Olotu
Production Assistant – Onome Odueme
Script Supervisor – Dare Osawe
Post Production – Dele Ishola, Aaron Iluholo Samuel
In Summary
The web series' Genre is Fantasy / Drama with the number of Episodes set at 12