The Story ⚡
Contact, one of the 24 films chosen for the NBA film for fans follows Tokunbo, a basketball player who loses the use of his legs following a road accident claiming his fiancée. Contact touches on love, loss, and resilience in the face of obstacles.
In this interview, we sit with Adesua Okosun, the Director of this short film, as she walks us through the highs and lows of creating this inspiring piece. Shot in just two days, Contact is currently available on the NBA website.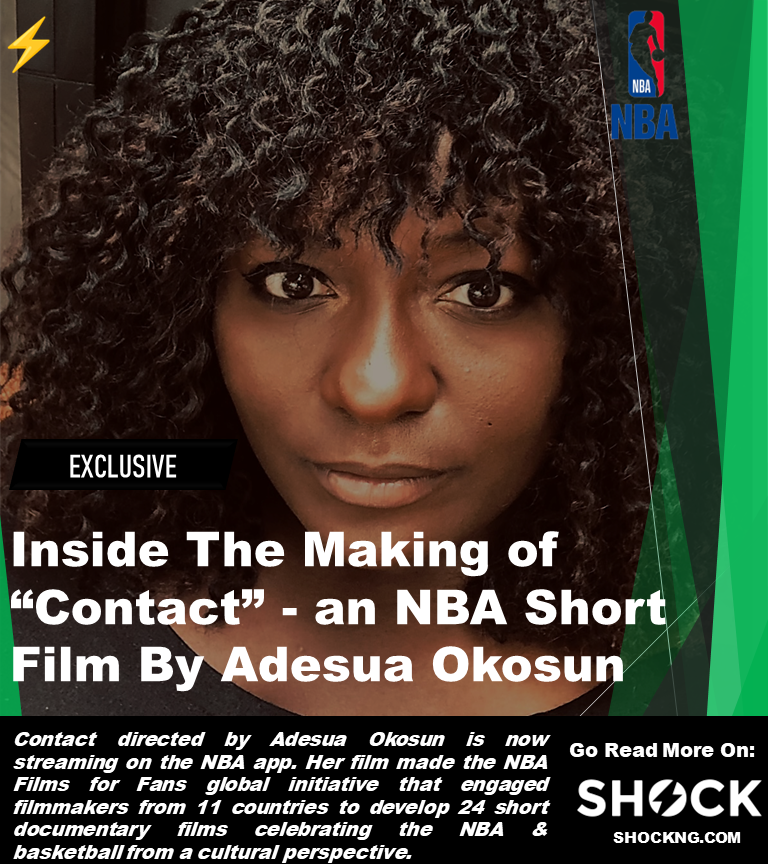 Key Background
The National Basketball Association (NBA) announced the launch of "NBA Films for Fans," a global initiative that will engage filmmakers from 11 countries to develop 24 short documentary films celebrating the NBA and basketball from each of their respective cultural perspectives.
With a production budget of between $25000 to $35000, seven of the participating filmmakers from Australia, Brazil, Canada, India, Senegal, the UK and the U.S. debuted their films at an exclusive red-carpet event on Friday, Feb. 17 at Soundwell in Salt Lake City, Utah as part of NBA All-Star 2023.
The films will provide fans with a deeper outlook into the milestones and moments that shape the league's global influence from the perspective of these creators with diverse backgrounds.
The filmmakers were given unlimited access to the NBA's video archives and the films will receive promotional support from the league throughout the remainder of the 2022-23 season.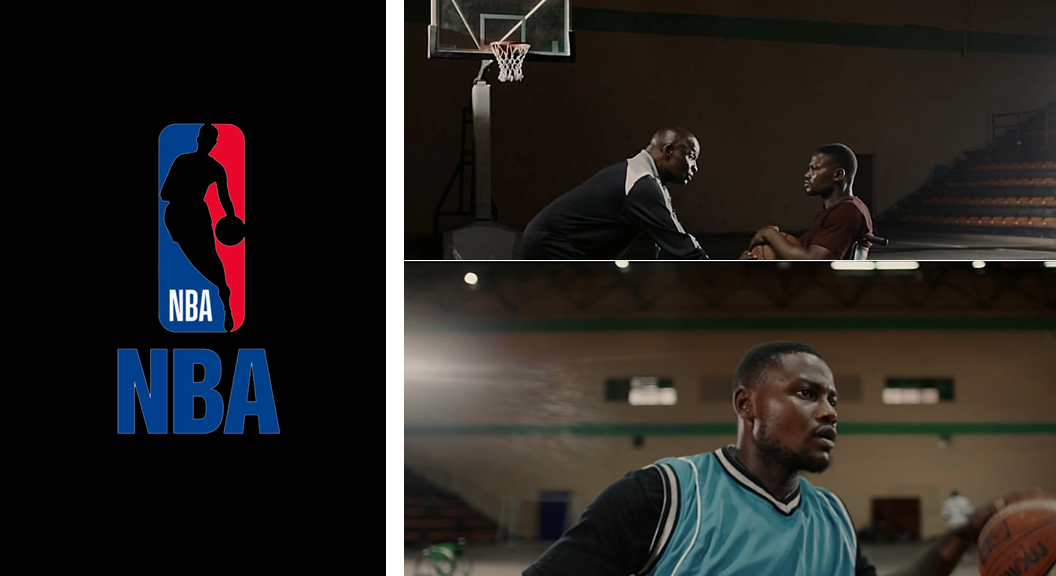 Walk me through your journey to creating this short film for the NBA
An opportunity came to submit a story for the NBA project and at this time, I'd already written a story about a Hausa girl who wanted to play basketball but couldn't.
The story was turned down because they felt it was too generic. So my co-writer and I came up with Tokunbo's story; a story of someone on the outside but going through a situation that makes him discover this other side of life.
This story was something I always wanted to do with or without the attached project.
Why a story about Tokunbo in a wheelchair?
You know, the good thing about us (Nigeria) is that even the NBA does not have a handicapped team, so that's what stood out to them, that's why they picked the story. They had never seen it.
I think that in itself is just what's fascinating. How these people go every other day to the stadium to practice and play with the hopes that one day something great will happen. They borrow equipment like wheelchairs from the government. So you see this resilience in them that most of us don't have.
They have to create a community for themselves. You see this community of handicapped people So I took Tokunbo, who to me represents any of us who will be saddened if an accident takes away our ability to be able to do what we've always loved to do. It's an overview of someone's life.
A lot of these basketball players were not born disabled, so the perspective of the film is someone from our side "outside" going inside and experiencing things from a different perspective than they are used to.
Let's talk casting. How did you go about it?
I've always wanted to work with Tina Mba, I've seen her on some projects.
Her character in the film needed to show tough love and she was perfect for it. Jammal (Ibrahim) also played Tokunbo seamlessly. Because of the nature of the film, Jammal had to practice with a wheelchair for two weeks. He was in that wheelchair for two weeks.
He was authentic and put in the work. He was with the male basketball team every other day watching and learning from them.
Then the coach we used in the film also happens to be the real coach for the team. He was nervous before the shoot, and for me, that was my homework; I needed to prove to myself that I could also be natural in my directing, it was a big challenge for me and we delivered.
Belinda Yanga was also a natural, I saw her in Juju Stories and she just stood out to me.
We were given two weeks to submit this film, and they announced and told us we need to shoot and submit it within a month. We had so much to do that we shot the film in just two days, which was not really my style but I had to do what I had to do.
Abba T Makama is on board for this film as a producer?
Yes. He's like a friend who turned into a mentor. He supported and guided me on this work. It was great because it's not everyone that has the kind of opportunity that I have to have him. I feel so blessed to have him.
Talking about location, where was the film short? And did you have any challenges sourcing for locations?
Yes, we had challenges. We loved this particular space in Lekki, but there were so many restrictions as to what we could do. I found out about that one on the first day of shooting. It was the line director who helped in looking for another location.
We got lucky and were able to find a space. And you know, it's quite problematic when you're trying to shoot where other people have shot before because you have to give the audience a new visual. We had to do the painting and some other things on the wall just to ensure that we got something new to the ears of the viewers.
After finding out that your story was chosen, were there guidelines you had to follow to submit the film?
Yes. There's a scene where the main character is watching a game, that clip was actually from a real NBA game. We needed to have some basketball players be mentioned in it but what we didn't realize was that we need approval from these players to use their names in films. That took like forever. We had to do a lot.
Eventually, we got approved to use the audio of an original game that had happened a week before the film was shot. I think the guidelines were straightforward. Don't put the name of anyone who hasn't given you approval.
Have you ever played basketball?
Well, I did in high school. But my brother played well and I used to following him around. He was more inclined to sports and was so obsessed with Michael Jordan. I think I learned to get obsessed with Michael Jordan from him because I kept on watching him.
.The fact that I was once into basketball made it easier to tell the story. The cool thing about it is the title "Contact" is actually a term in the Paralympic basketball game.
The coach explained it in the film, it means the chair and your body are one during the game, don't think I'm wheeling this machine, you're a part of the machine, and it's part of you, and if you don't see it as one you will not be able to play this game. I think it's just a powerful way of accepting one's circumstance and making the best out of it.
I had to start reading about basketball terms and what they mean, I wanted to be as accurate as possible. It took a lot of research, the whole team started reading about things on basketball just to get the film right.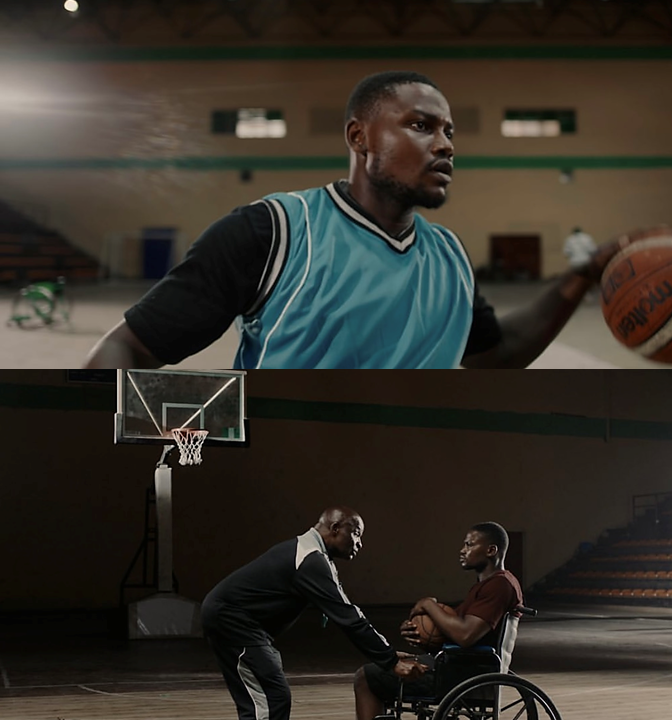 Did you work with any other organization or body to bring this film to life? What kind of support did they provide?
We didn't work with any organization aside from the Blackverse team and the basketball team, and I think that was all I needed.
My production company Blackverse is a functioning machine. We've proven that we can do this. We're all a group of filmmakers, we challenge each other, and we love working with each other. I've been working with my team for five years and nobody is ever in a rush to do what they can't do. they've been fantastic.
Apart from my team and the basketball team, the team at the stadium was also supportive. We didn't have any outside organization on the project because we weren't allowed anything that could cause issues. At the stadium, we were even careful not to show any labels. We had to use a lot of VFX to editing out the labels of banners in the location we used.
What's the one thing that stood out for you while shooting?
The opening scene is my favourite.
If you've seen a lot of movies, there's always this morning scene and you just know something bad is about to happen. Since I was nine I'd always wanted to make a scene like that. When I watched Romeo and Juliet, at the beginning of these films, the opening scene always looks peaceful and calm, just the way it was in Contact. Like it's a fantasy world and he wakes up in reality and he sees that he's had an accident and lost his fiancée.
I've always wanted to make something like that. I just wanted to be in that kind of mournful space. Tragedy always happens, and that was a way for me to explore it.
Since the short film was released, what kind of reactions have you received from the audience so far? How has it been received in Nigeria and other parts of the world?
It's been a really good reaction, to be honest. Personally, I don't watch the movies I make till a lot of time has passed. I think one of the mistakes we make is that we think that the audience does not notice some little things or that they do not care.
They spend their time watching the film, so they have to care. It gives me joy when people give cool comments about some things we did. And sometimes people give comments that you as the filmmaker never even thought of when you were making the film. Art has a way of interpreting itself to different people.
Overall we've been getting really good feedback on the film.
Can you set a timeline from when you knew you were going to shoot when you started shooting when you submitted it, and when it was released?
I really cannot remember, this was last year. I sent in the story in August/September, and we heard back in November. The first timeline was crazy, after we heard from them in November, they asked us to submit the film in two weeks.
Then they realized that timeline was unrealistic, so they gave us more time. By January we were done with the film, but we experienced a lot of delays due to waiting for different approvals.
We finished everything about the film and submitted it in February, it also premiered in February at the All-Stars game. Altogether, from the scripting and development to the final submission, it took us about 3 months. The film was supposed to have been released the week of the NBA games but it didn't come out till two weeks after the games. One film was picked from each continent.
You have done a lot of documentaries and short films. Should we expect a documentary from you next?
Yes. We're currently working on a film in partnership for a feature film with Ikorodu Bois. It's going to be a feature film and I'm excited about it.
Thank you for this conversation
Thank you.
Stream Contact via this link below:
https://www.nba.com/watch/video/contact-nigeria?plsrc=nba&collection=nba-films-for-fans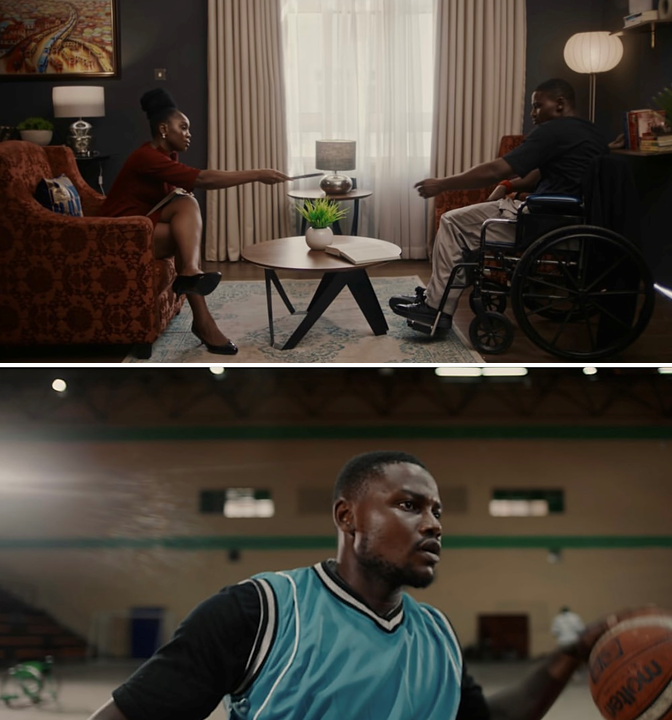 Thanks for Reading.
Shockng.com covers the big creators and players in the African film/TV industry and how they do business.
Let's be friends on @Instagram