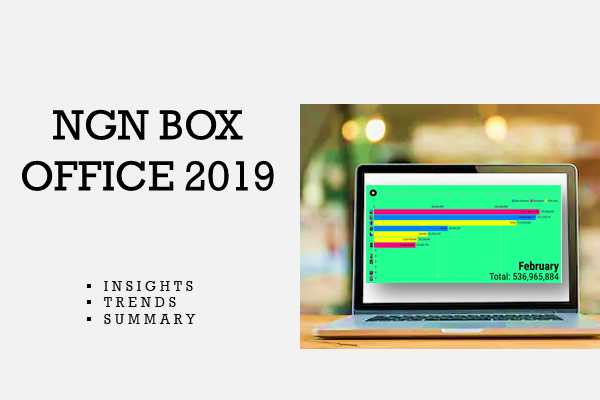 The year 2019 was indeed a remarkable run for cinema exhibitors in Nigeria with over 6 billion Naira generated in revenue.
Significant growth has been recorded in comparison to previous years and more milestones have been met especially in domestic titles revenue share, more titles crossing over the coveted 100 million naira mark as well new screens being built in the country.
With this momentum, one would project that 2020 would have been a much more stellar year with strong titles both domestic and foreign smashing previous records but oops – the global pandemic happened that made cinemas to be shut for more than 10 (Ten) weeks with zero revenue generated.
Hopefully, our new normal might fully kickoff this June and we will see how the numbers pick up again.
Enough words, let's play the interactive 2019 data tapes – you can pause/play with the toggle button at the top left corner and also move the needle to the specific box office months.
Top 40 Movie Titles Released in NGN BOX OFFICE 2019

What you just watched is how the top 13 out of 40 movie releases both domestic and foreign titles made their spot at the end of the year 2019
Taraji P Henson's What men want dominated the box office up until mid-February
Female lead ensemble Captain Marvel and Alita Battle Angel titles took the lead in Q2
Avengers Endgame, Lion King and the Hobbs & Shaw (fast and furious spin-off ) made a huge gross dent in the early third quarter of 2019
Nollywood Titles such as Sugar Rush, Merry Men 2 and Your excellency debut in the Detty December period with their earnings spilling to 2020
NOTES: Over 13 titles made above 90 million Naira with only four grossing over the 200 million naira mark in #NGNBoxOffice 2019

Let's spice things up a bit with the same data but with category emphasis on their distributors
Distributors are the companies that have the exclusive rights for a movie title in a country/region.
This automatically makes them the middle man between the international distributor and Nigerian cinema owners.
Check out who made some huge returns in 2019
For genre, it is very obvious that sci-fi and action takes the majority of box office market share revenue due to the fact that Nigeria has a huge growing population of young adults
Nollywood hasn't quite tapped into this demographic yet based on the films released year on year
Focus on domestic Titles
Here is a look at the domestic titles that made the top 20 in 2019
From this top 20 Nollywood Movies on this chart, we grouped them into four genres namely: Thrillers, Action, Drama and Comedy
Here is what we discovered
The comedy genre titles opened and closed the year with decent gross earnings
Drama Titles were easily displaced by star-studded comedy titles
Living bondage sequel from Play Network topped the charts, Elevator baby (low-budget marketing but massive returns) and Knockout blessing debut December 27 in jam-packed screentime
The 3 above mentioned domestic Thriller titles performed excellently in 2019 and therefore shows potential of unlocking more earnings if done right.
Gold statue from Veteran Director Tade Ogidan debut at the wrong time, foreign competition choked its potential earnings.
Film One is supreme in terms of domestic distribution, others should take a cue of their marketing model
The top 20 Nollywood movies generated over N1 Billion Naira revenue in 2019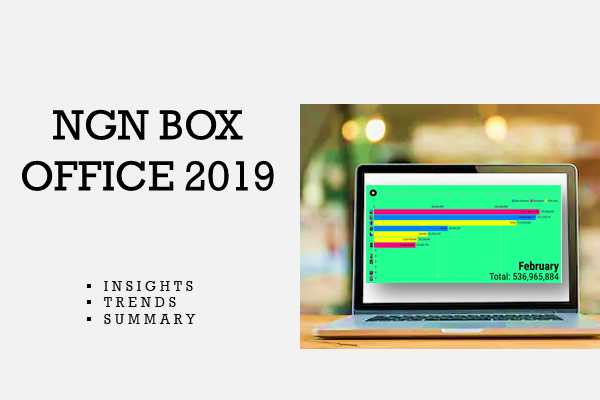 Thank you for reading this post. Let's be friends on twitter, our handle is @shockNG