The Story ⚡
Elections are finally over.
Nollywood is back on track to begin 2023 with back-to-back releases for the big screen, streaming platforms and TV.
Here are 13 projects we are tracking, why they excite us and everything you need to know about them.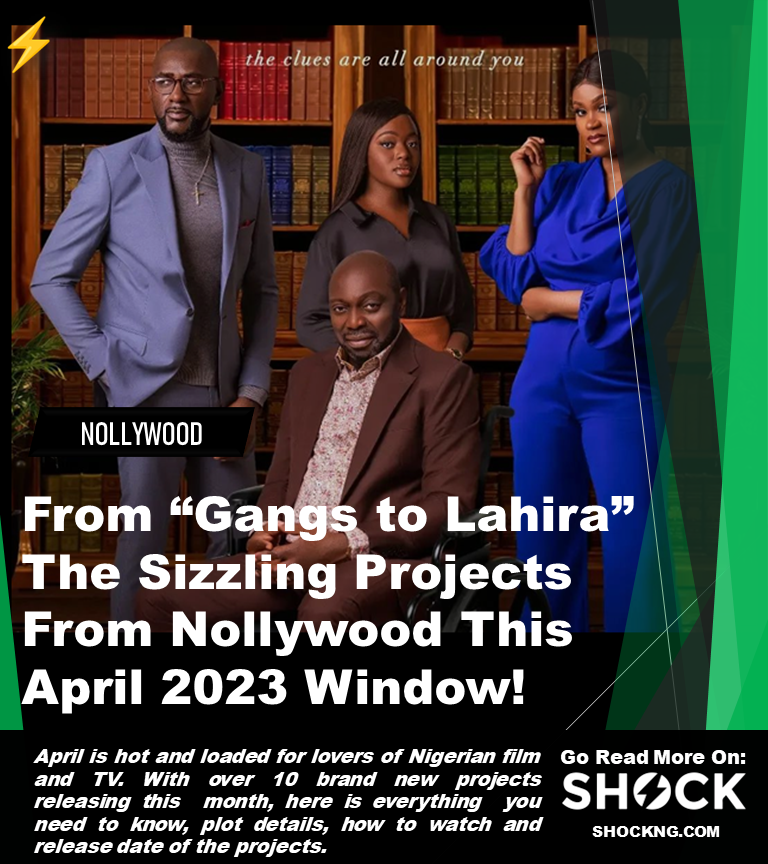 Gangs of Lagos
Set in the bustling streets and neighbourhood of Isale Eko, Jade Osiberu's Gangs of Lagos paints the story of a group of friends who each have to navigate their destiny.
This film with its action-packed trailer has had people buzzing with its intense and raw action clips. The crime thriller features a star-studded cast, including Adesua Etomi-Wellington, Chiké, Tobi Bakre, Bimbo Ademoye, Chioma Chukwukwa and many more.
Interestingly, Gangs of Lagos is Amazon Prime's first African original movie, which will premiere exclusively on the streaming platform on April 7th.
A Simple Lie
When Boma tries to win back her ex by telling him that she has cancer, her simple lie soon spirals out of control.
Directed by Biodun Stephen and written by Mannie Oiseomaiye, A Simple Lie stars Bukunmi Adeaga-Ilori, Bisola Aiyeola, Emmanuel Ikubese, Kachi Nnochiri and many others.
Following a 2022 big-screen release, A Simple Lie will see a Netflix release on the 7th of April.
Honey Money
Honey Money follows the story of Tobiloba who is a young man in his late 20's from a humble background. When he starts showing up at home with things he shouldn't afford, he's faced with strong opposition from his parents. Unknown to them, he belongs to a notorious gang.
The VSL production produced by Vincent Okonkwo and Directed by Ekene Mekunye has been billed to debut in cinemas from April 28th
Jay Jay: The Chosen One
Jay Jay: The Chosen One is a 13-episode animated series that reimagines the childhood of Nigerian football legend Augustine "Jay-Jay" Okocha, who played for the Nigerian national team between 1993 and 2006 and led the country to Olympic victory at the 1996 Atlanta games.
The series is voiced by a talented Nigerian cast, including teen actor, Prince Unigwe, who voices the character of young Jay Jay, Chinedu Ikedieze; Samuel Ajibola; Eric Obinna, Mena Sodje, Lexan Peters and Pamilerin Ayodeji
Release date 6 April 2023, on Showmax.
Domitilla
Zeb Ejiro's Domitilla, released in 1996 is gearing up for the big cinema premiere of its remake, Domitilla: The Remake.
This drama piece which starred Ann Njemanze as Domitilla, Sandra Achums as Judith, Ada Ameh as Anita, and Kate Henshaw as Jenny is set to premiere on the 7th of April 2023 and features four lead acts which are Ejiro Onojaife, Teniola Aladese, Uzoamaka Aniunoh, and Onyinye Odokoro.
Other creatives on this project are Stan Nze, Deyemi Okanlanswon, Chiwetalu Agu, Chima Okafor and many others.
The Two Aishas
Arabel's production company title – The Two Aishas will debut this April.
The 2 Aishas aren't your typical friends, they share the same faith and social status but have diverse behaviours, characteristics, parental upbringing and demeanour. They are the definition of opposites attract.
This piece stars Rahama Sadau, Maryam Booth, Ogara Akeem Adeiza, and many more
Release date April 24 2023
Different Strokes
Directed by the award-winning filmmaker Biodun Stephen and distributed by FilmOne Entertainment, Different Strokes is a story of 4 friends with 1 goal however achieving it will take more than just having a common goal.
Expect to see Mercy Johnson Okojie, Shaffy Bello, Jim Iyke, Adedimeji Lateef, Deyemi Okanlawon, Etim Effiong, Jide Kosoko, Lilian Esoro, Prince Harida, Bukunmi Adeaga–Ilori, Blessing Jessica Obasi, Emem Ufot, Lilian Afegbai and Mosun Oduoye on the big screens for this film.
Release date March 17th, 2023.
Introducing The Kujus Again
The Kujus are back!
Another Biodun Stephen-directed film will hit the cinemas this April; Introducing The Kujus Again.
After the 2020 release of part 1, the creatives behind the film are gearing up for the release of Introducing The Kujus Again, the sequel to the initial film.
The cast of this drama includes Bisola Aiyeola, Timini Egbuson, Femi Jacobs, Kunle Remi, Ronke Odusanya, Sophie Alakija and many more creatives.
Release date April 21st 2023
The Olive
A second season of The Olive is upon us!
A story which follows the life of a grieving widower, 'Anayo', who is left to raise his three children after the demise of his wife. But everything is not as it seems, as secrets of his wife's double life surface after an accidental discovery.
Starring Ibrahim Suleiman, Theresa Edem Isemin, Chico Aligwekwe, and many others.
This series is produced by Esse Akwawa, co-produced by Betty Nicholas, and directed by Ajayi Tolu.
Release date April 7th
Lahira
Africa Magic's new military-inspired 13-episode drama series Lahira, sheds light on the issues of terrorism and insurgency in Northern Nigeria.
The story follows the incredible journey of a young girl who is forced to flee her village with other girls after it is destroyed by armed men. Just when you think things can't get any worse, they are abducted by insurgents and taken to an unknown location.
Will they be able to escape and find safety? You'll have to tune in to find out!
Don't miss the premiere of Lahira on April 4th, exclusively on Africa Magic Showcase DStv channel 151 at 21:00 WAT.
Gone Blank
Directed by Richard Omos Iboyi, Gone Blank presents Mr Adams who fakes partial amnesia the moment he discovers a life-threatening plot between his wife and his driver, only to discover that the few people he trusts with his life have self-driven goals that he should be more heedful of.
This drama piece stars Segun Arinze and is produced by Ifeanyi Macmillan Ukaeru.
Release April 14th
In Another Life
Starring Meg Otanwa, Uzor Arukwe, Nkem Owoh, Clarion Chukwurah and many others, In Another Life directed by Belinda Yanga-Agedah and shot by Shittu Taiye, is a romantic drama that follows the story of a wife and working mother who finds herself living the life she always wanted after she inadvertently makes a wish on her 35th birthday but soon discovers that the grass isn't always greener on the other side.
Release April 7th 2023
The Bloom Boys
Timini Egbuson, Bolanle Ninalowo, Shaffy Bello, Fehintola Olukotun, Mc Lively and Tobi Bakre will feature in Ishaq Ilyas of Linar and Shrewd Films' The Bloom Boys.
The synopsis reads
Despite being from a noblesse-high society family, Kemi's and her influential mom desperation to get her married to a Billionaire's son could not be differentiated between Love and Obsession. She let down all her family assets for her psycho-path boyfriend and also betrayed her bloodline which later led to a lifetime of regret. However, Tosin (Kemi's brother) Akintola and his friend; Derek built a multi-million dollar revolutionary app that slightly saved the Akintola's name after a complete year of the media trends and spread tarnishing their image for the murder of Dozie Okafor, a leading tech bro in the society.
Release date April 28th 2023
In Summary
Out of the 12 titles set to be released this month of march.
6 are headed to the big screens, 4 will debut on streaming platforms like Showmax, Prime Video, YouTube and Netflix. Lahira is a tv show that will air only on Africa Magic Showcase.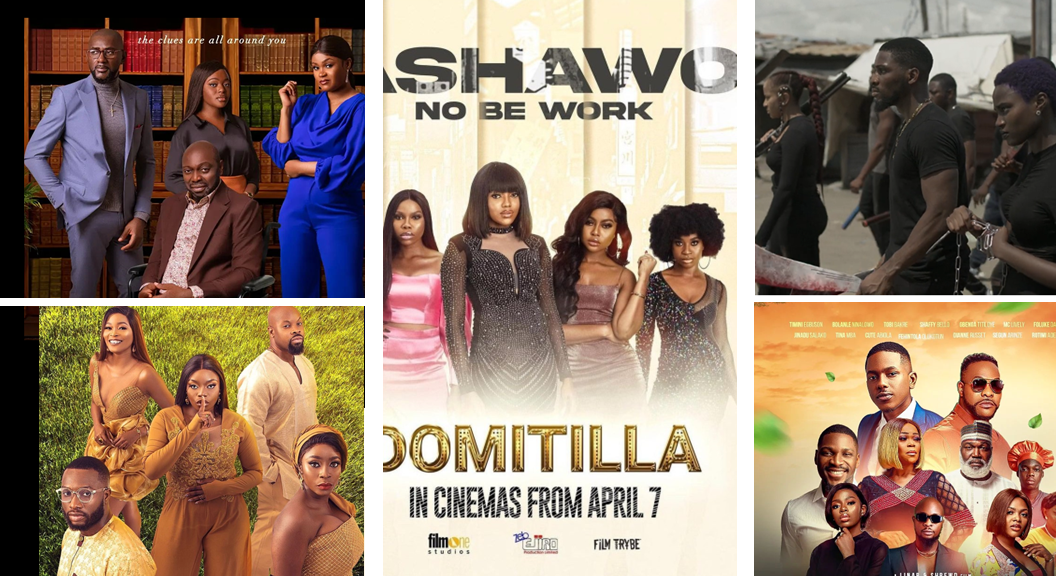 Thanks for Reading.
Shockng.com covers the big creators and players in the African film/TV industry and how they do business.
Let's be friends on @Instagram