The Story⚡
The Netflix South African TV series "Fatal Seduction" has gained massive popularity, amassing over 100 million views across global markets.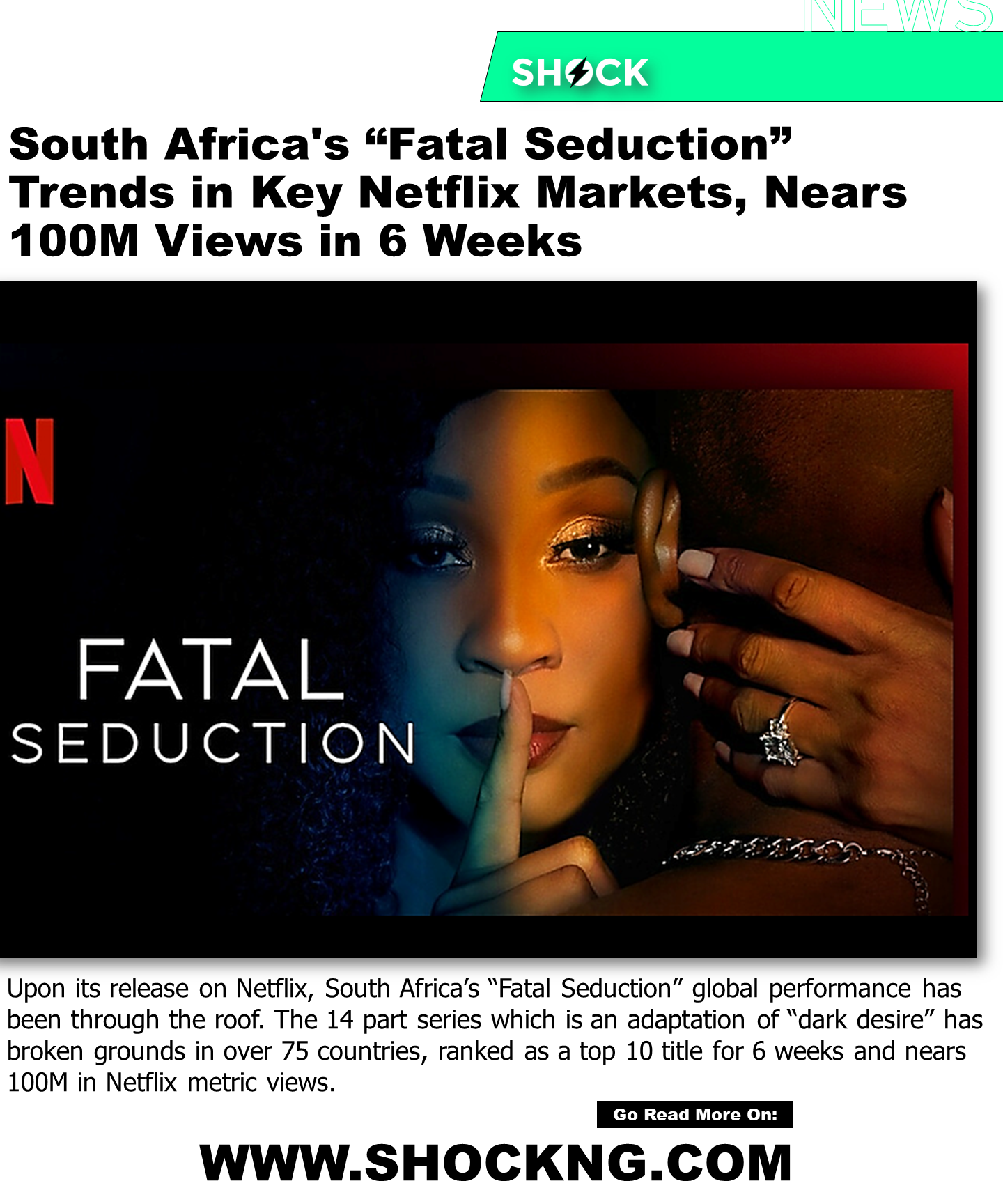 Tell Me More
In 14 gripping episodes, "Fatal Seduction" follows the story of a married woman's fateful weekend trip that sparks desire but ends tragically, raising doubts about those close to her.
With Vol 1 which was released on the 7th of July 2023 and Vol 2 on the 4th of August 2023, the show has stormed into the top ten on Netflix in over 70 countries.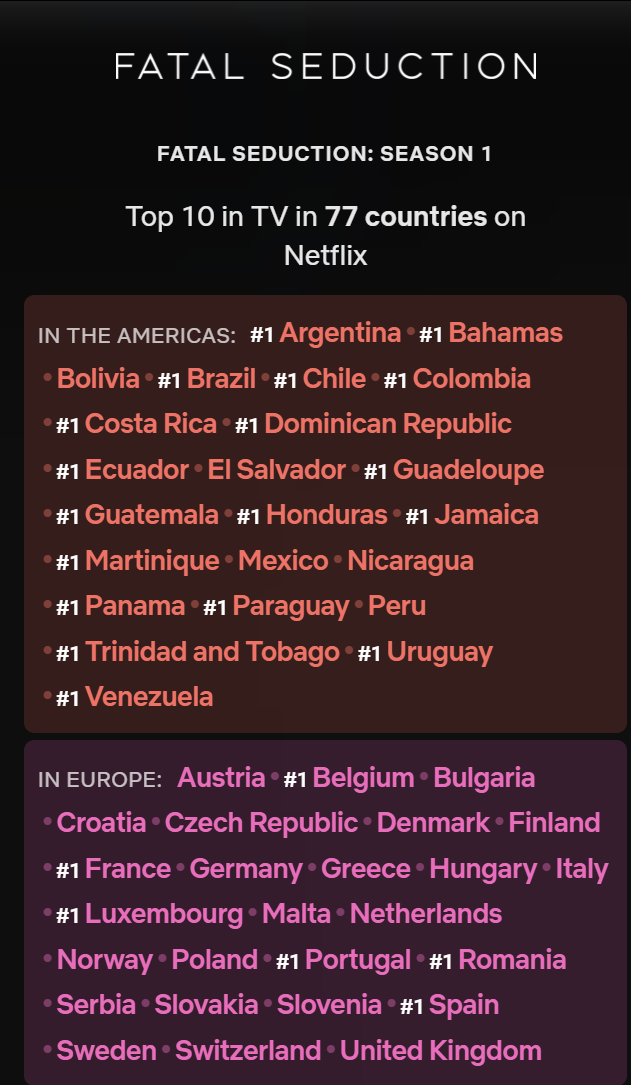 Fatal Seduction is based on the Mexican drama series Dark Desire created by Leticia López Margalli and is produced locally by Ochre Moving Pictures with executive producers Robbie Thorpe, Stan Joseph and Lodi Matsetela.
The producers are Irfaan Fredericks, Johnny Mabeba and Ilse van Hemert.
Series directors are Catherine Stewart and Johnny Barbuzano and the series is written by Steven Pillemer, Dami Elebe and Sydney Dire.
Key Cast includes Kgomotso Christopher, Thapelo Mokoena, Prince Grootboom, Nat Ramabulana, Lunathi Mampofu, Ngele Ramulondi, and Frances Sholto Douglas.
The show's journey to become a sensation has been remarkable. According to Netflix's public data, the series has consistently been on the top ten charts for 6 weeks, pushing its views metrics to over 90m.
See below week-on-week views before the title dropped off the top 10 English charting rankings.
Week 1: 19.1m
Week 2: 24.8m (43.9m)
Week 3:12.1m (56m)
Week 4: 6.4m (62.4m)
Week 5:13.6m (76m)
Week 6: 20.2m (96.2m)

Tangent
Cross-cultural Movie/TV adaptations have evolved into a captivating aspect of the entertainment business.
These adaptations involve taking a storyline from one country and presenting it in another while ensuring the essence of the original story remains intact. This process requires a delicate balance between cultural relevance and universal appeal, aiming to create a connection with audiences around the world.
Notable examples like "The Departed," adapted from the Hong Kong film "Infernal Affairs," and the transformation of "Seven Samurai" into "The Magnificent Seven," showcase the evolution of this practice.
With the world becoming more interconnected, cross-cultural adaptations have shifted from merely adapting to cultural preferences to striking a balance between local authenticity and shared human experiences. This evolution highlights the power of storytelling to bridge cultures and emotions in a global cinematic landscape.

Key Background
Steven Pillemer is a highly experienced South African writer, actor, and director with a rich history in theatre. He has contributed to over 800 episodes of popular soap operas and dramas like "14," "isiBaya," "Zabalaza," "Golddiggers," "Greed and Desire," and "Scandal," handling roles such as head writer, storyliner, and script editor.
In addition to his television work, Pillemer has ventured into original dramas, notably "Harvest," which earned a Best Drama nomination at the 2018 South African Film and Television Awards, and "Housekeepers," which premiered in 2018. He's also made his mark in the world of film, having sold three feature scripts, including "Pop Lock 'n Roll," which premiered in 2017.
Pillemer's creative reach extends further as he co-created the sci-fi fantasy Netflix series "The Brave Ones." His diverse contributions underline his talent in crafting engaging stories that resonate with audiences across different mediums.
In August 2022, Netflix hired Pillemer to the Africa team based in Amsterdam as Manager, Content – Netflix, Africa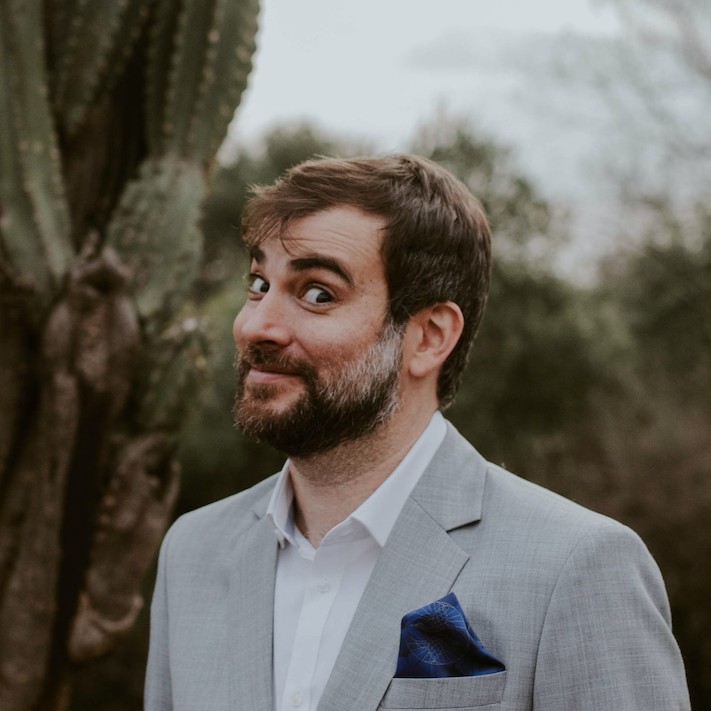 In Summary

With growing viewership on Netflix, "Fatal Seduction" is poised to remain a viewer favourite and lends credence to content viability from the African Market.
The success of this show also highlights South African filmmakers as a market ready for more adaptations and originals that can perform exceptionally well irregardless of geography or cultural barriers.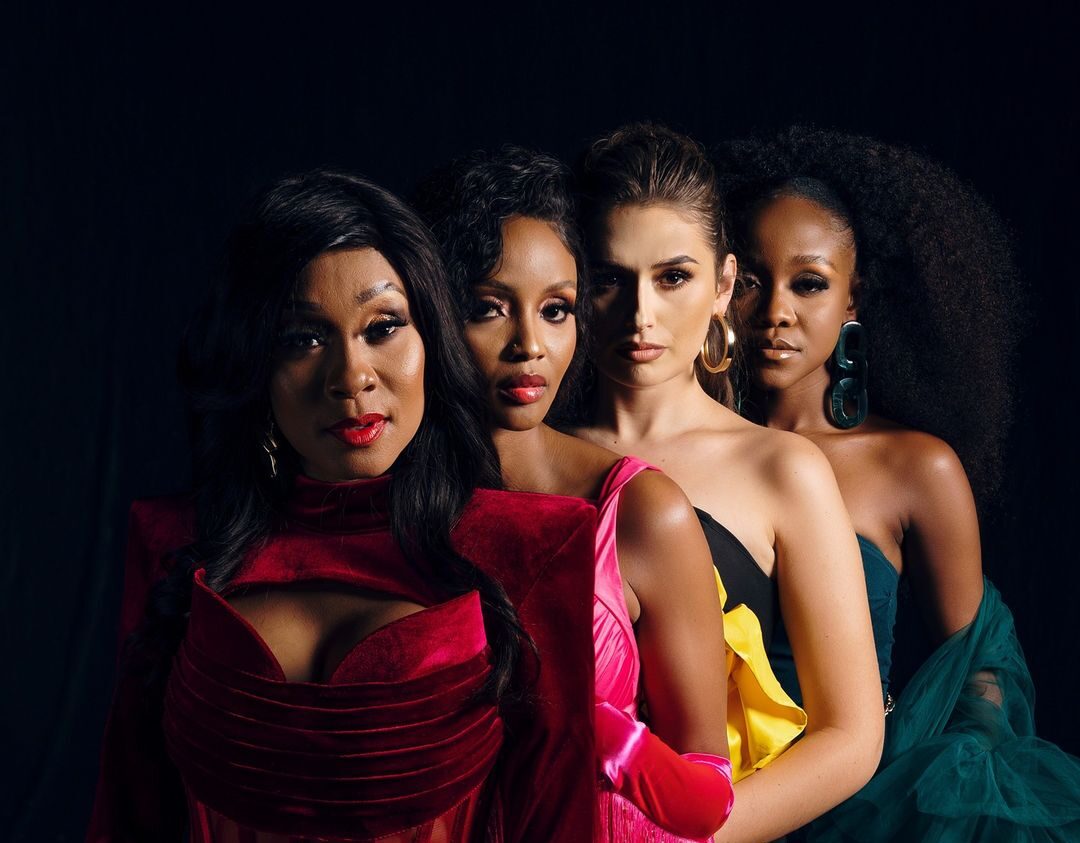 Thank you for reading
Shockng.com Covers the Business of Film/TV and the Biggest Creators in Sub-Saharan Africa.
Let's be Friends on Instagram @shockng