The Story⚡
Hollywood's Elemental and Nollywood's Daddy hold the 11th and 16th place on the GBO board, respectively. This, obviously has not been a good run for these distinct films. Is genre a problem at the box office or is the issue promotion or distribution?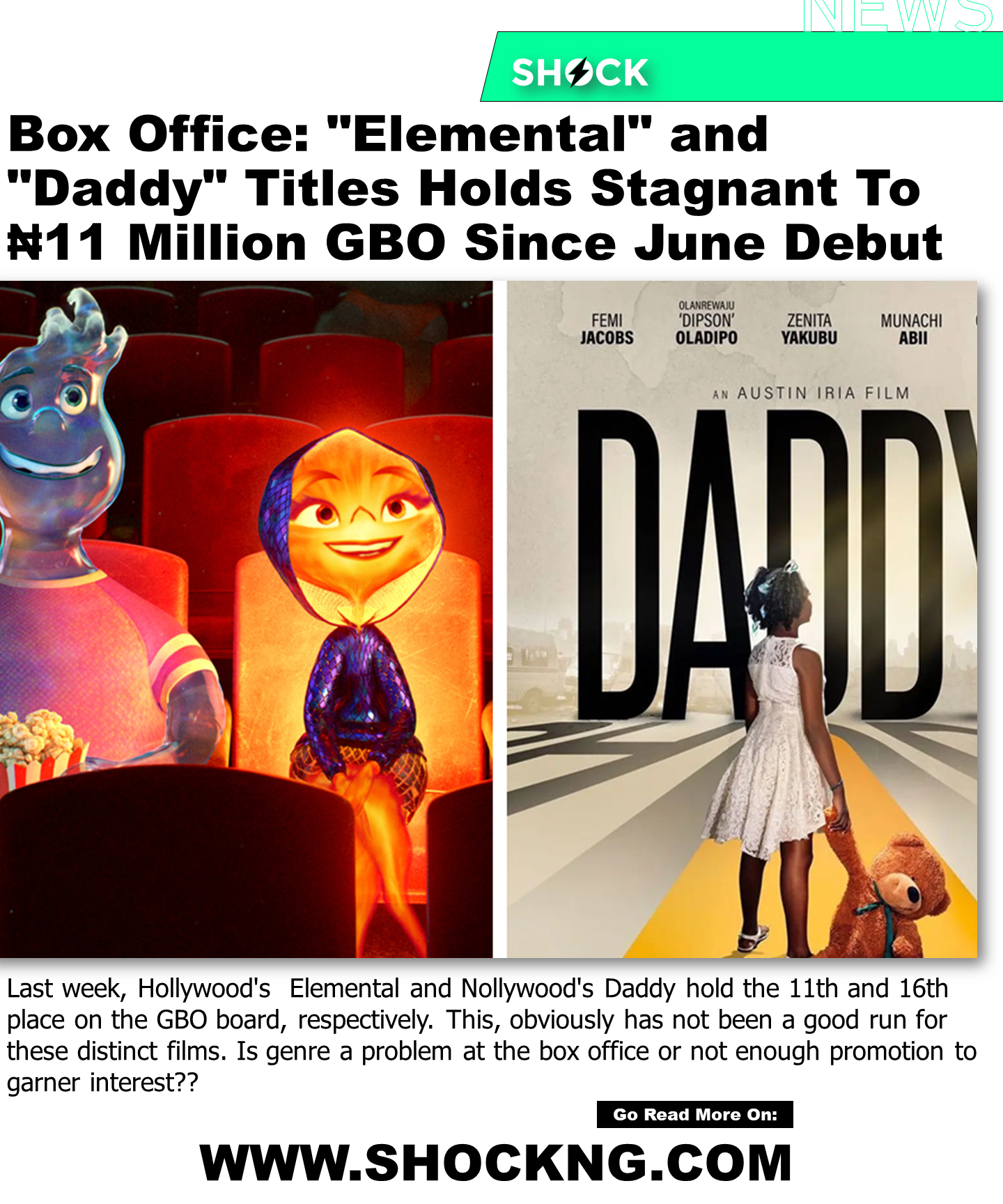 Tell Me More
"In a city where fire, water, land, and air residents live together, a fiery young woman and a go-with-the-flow guy discover something elemental: how much they actually have in common."
Directed by Peter Sohn with story by Peter Sohn, John Hoberg, Kat Likkel, Brenda Hsueh, Elemental is an animated film distributed by Walt Disney Motion Pictures with a total film budget of $200 million.
Elemental features the voices of Leah Lewis, Mamoudou Athie, Ronnie del Carmen, Shila Ommi, Wendi McLendon-Covey, and Catherine O'Hara. After a few weeks at the box office and a June 16th Nigerian release date, the film has so far grossed $320.7 million.
Daddy, on the other hand, is an emotionally-charged film that explores the multifaceted nature of fatherhood. Released June 9th 2023 to cinemas across Nigeria, the film is directed by Austin Iria, produced by Isi Blacc, and distributed by FilmOne Entertainment. Daddy was released a week before Father's Day, in celebration of fatherhood.
Starring in this drama is Zenita Yakubu, Olarenwaju "Dipson" Oladipo, Femi Jacobs, Munachi Abii, Charles Inojie, and Nonso Odogwu.
Daddy" is a production of Dayz of Creation Studios, Lopalaa Studios, Dx Integrated Media and D.O.C Workshop.
The competition on the big screens is growing rapidly. Although Elemental has been successful in other cinemas overseas, making $318.9 million at the global box office, this success was not translated at the Nigerian cinema.
Over a 5-week period, Elemental witnessed a flash cume of ₦11,431,843 at the Nigerian box office in 18 Cinemas, while Daddy made a flash cume of ₦12,283,967 in 44 Cinemas in Nigeria over a 6-week period.
Following this metric, can it be concluded that the Nigerian audience is not geared to the animation genre? Or was this low revenue as a result of the film's marketing or lack thereof?
On the other hand, if Daddy follows the streamer pipeline, will it do better at a streamer than at the box office?
Obstacles
Admittedly, both films witnessed some tight competition at the box office, one of which was Mission Impossible: Dead Reckoning Part One, which made an impressive ₦78.99 million in 66 cinema locations in the country, in just 3 days of its release.
Other competitors that could have shoved Elemental and Daddy off its path to greatness are Love Lust and Other Things (₦30M) , Big Love (₦50M), Spider-Man Across The Spider-Verse (₦28.46M) and Indiana Jones and the Dial of Destiny (₦21.135 M).
The future of both films at the box office is rather bleak, as there are 3 big anticipated titles gracing the big screens this period, making the competition a lot stiffer.
Key Background
Peter Sohn is a big-budget American animator, filmmaker, and voice actor, best known for his work at Pixar Animation Studios. Some projects in his portfolio include The Good Dinosaur (2015) Budget $175–200 million and Box Office $332.2 million and now Elemental. He has also been the voice of Emile in Ratatouille (2007), Squishy in Monsters University (2013), and Sox in Lightyear (2022).
Austin Iria is a Nigerian filmmaker who entered his directorial debut with his first big screen project, Daddy.
In Summary
With the amount of work put in place in terms of marketing and distribution, will Daddy and Elemental have the fortitude to compete with #OrisaBarbHeimer in addition to other highly grossing titles?