The Story ⚡
So Far, Nollywood Movies released in Q3 and Early Q4 have been pummeled by international titles.
With less than 28 days to go, Aki and PawPaw headed to the big screens might be Nollywood's last hope of getting a huge hit.
Tell Me More
Nigerian Comic star actors Aki and Pawpaw, real names Chinedu Ikedieze and Osita Iheme are both set to star in big-screen movies to be released this December period.
Starring in over a hundred movies, Chinedu and Osita are some of the most popular faces in Nollywood.
During the peak of the DVD era, the duo acting as the same mischievous characters reached over 20 Million homes across Africa and captured hearts with their delivery of comedy and
Then came social media. Used as Memes, their clips posted on the internet went viral and has been a culture node ever since.
Over the past years, the actors are now seen as a Nigerian meme export used every day by the world, this means the star power of Chinedu and Osita keeps rising and evolving year on year.
Executive producer Charles Opaleke and Ayodeji Makun (AY) have seen these remarkable breakthroughs and have decided to bring the stars to the big screens.
Aki and Pawpaw Reloaded: Charles Opaleke diligently follows his nostalgic strategy by buying rights of the famous "Aki and pawpaw" title from the owners and sets up a remake for the hardcore fans to relieve the comic experiences.
Release Date – Dec 17th 2021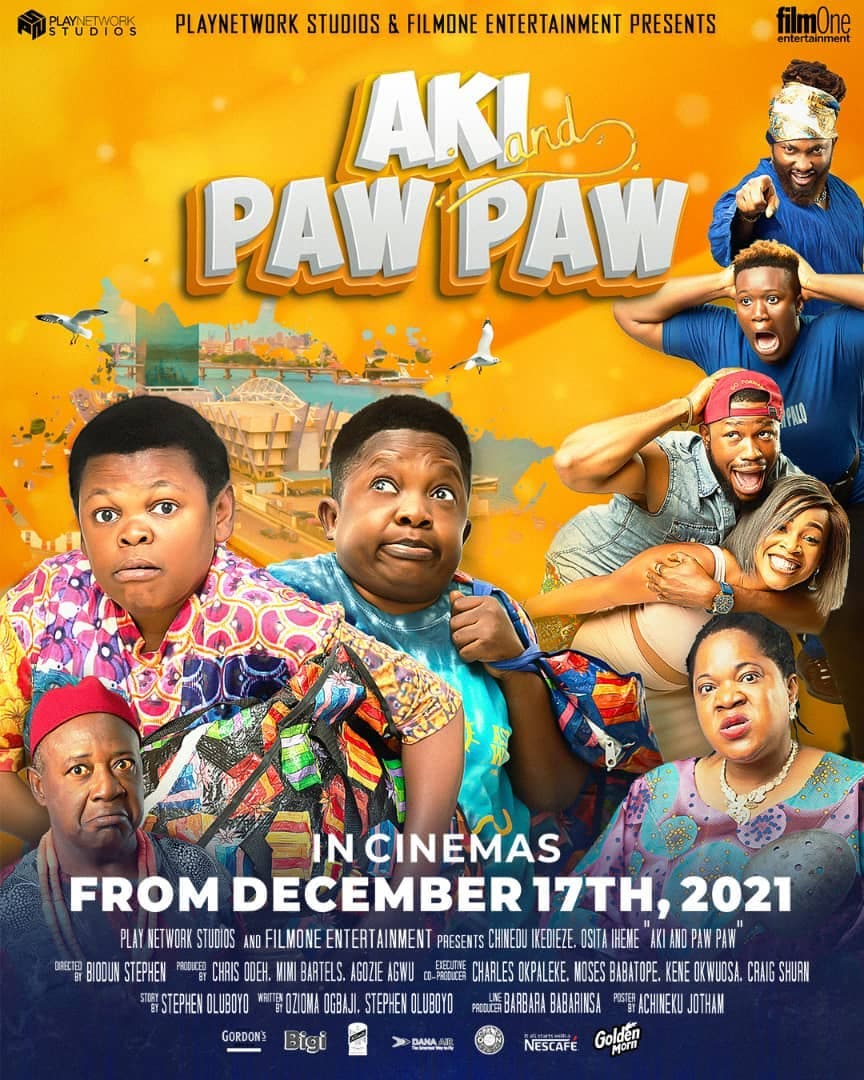 Christmas in Maimi: Ay brings 1/2 of the duo to star as a co-lead in Christmas in Miami – a 2021 update to the Akpos franchise.
A glimpse of the trailer sees the film painted as another crazy adventure of Akpos. The trio of AY, Osita Iheme and Richard Mofe Damijo goes to Miami to represent Nigeria and the story is already what you'd expect from a comedy film.
Release Date – Dec 24th 2021
Press Play to Watch Trailer.
These two movies are distributed by film one and have kicked off extensive campaigns on the streets to pull lovers of these comic acts to cinemas this December.
Competition
As mentioned in our opening line, Nollywood movies have been pummeled hard by international titles.
November box office data reflects how Eternals, Venom 2 and No Time To Die have dominated market attention and have given little chance for Nollywood titles to thrive.
No Fresh Nollywood title was able to pull a #1 Number overall top spot in November. Asides from that, overall cume sales are falling below 75 Million weekend to weekend.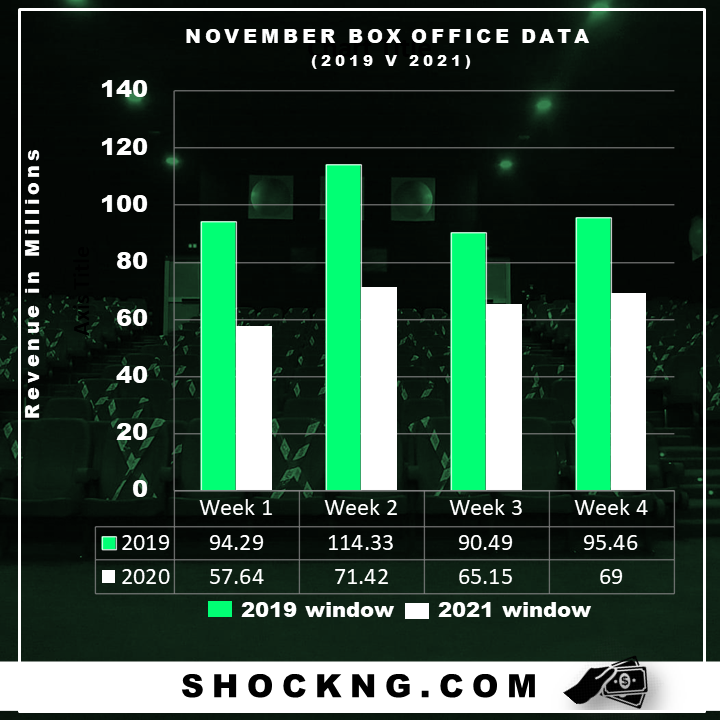 if you compare this to 2019 November data, it is totally poor.
In Summary
Poor November '"Nollywood" Box Office is A Grim Warning For the December window.
The last days of the exhibition calendar is underway. Can Aki and Pawpaw Save the window just like Funke Akindeles's Omo ghetto did in the last year??
Come 31st of December 2021, the data will surely reveal answers.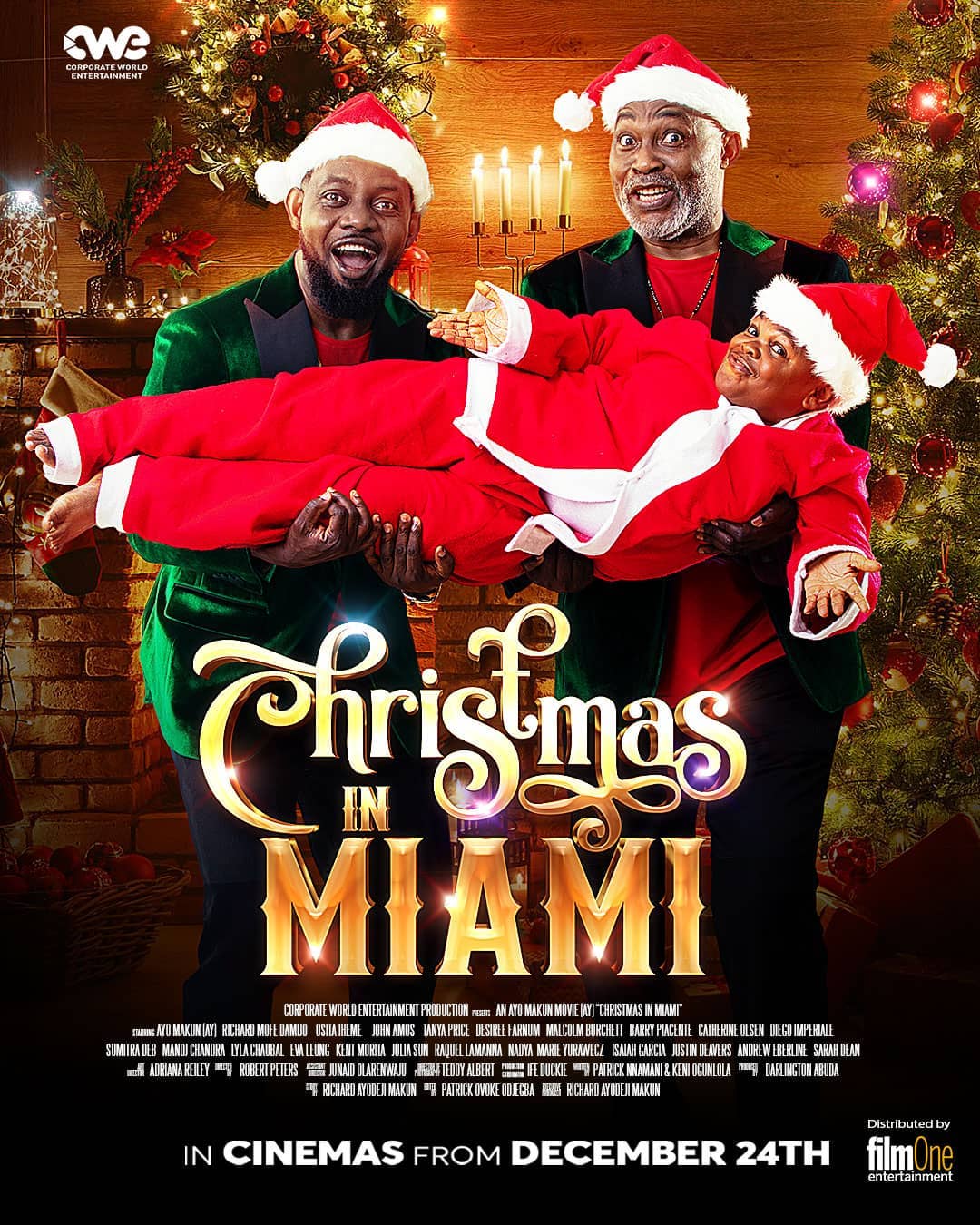 Thank you for reading
For Film/TV Executives, Shockng.com Covers the Business of Storytelling and the Biggest Creators in Sub Saharan Africa.
Let's be Friends on Instagram @ShockNG