The Story ⚡
This is how moviegoers spent in cinema between 20th – 26th of May, 2022.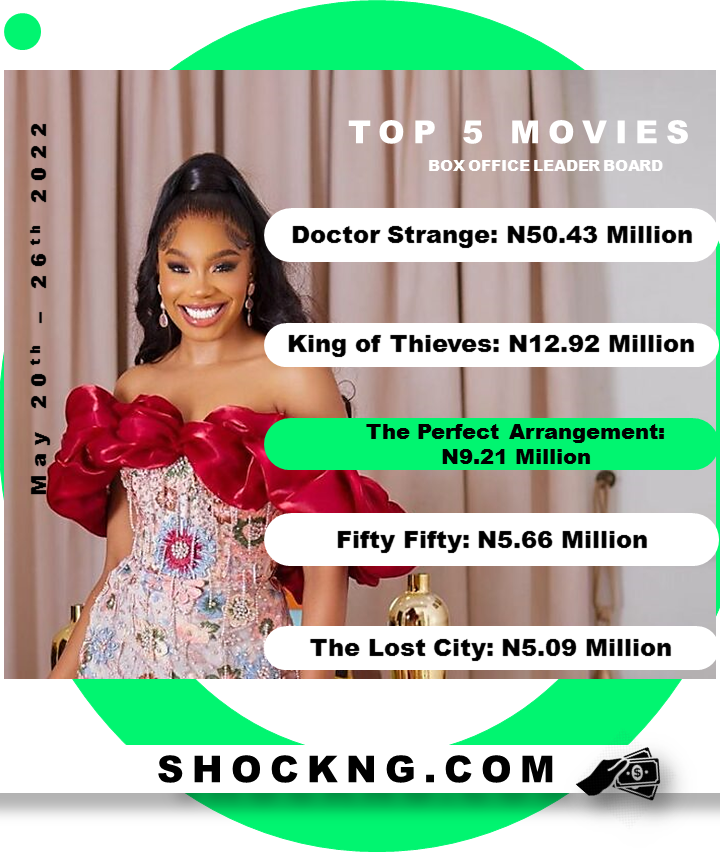 Tell Me More
The Lost City, directed by Aaron Nee and Adam Nee, takes the fifth position. After showing for five weeks now, the film made a weekly ticket sale of N5.09 million naira, raising its total ticket sale to N54.22 million naira. Since its debut, the action/adventure has remained among the top five earners.
Ghallywood movie, Fifty Fifty, emerges fourth. The film stars Anthony Woode, John Dumelo, Majid Michel, and Yvonne Nelson, and made a weekly gross of N5.66 million naira. This is coming one week after its release.
The Perfect Arrangement, directed by Chinaza Onuzo, ranks third. The movie, which tells the story of Tade – a free-spirited scion of a respected family who later began to develop feelings for two brothers – made a ticket sale of N9.21 million naira, pushing its cume revenue to N20.50 million naira.
Having run in cinemas for seven weeks, the Yoruba epic movie, King of Thieves, takes the second slot. The film, which has consistently been among the top five earners each week, made a 2-digit sale of 12.92 million naira. King of Thieves is only about 13 million, close to hitting N300 million naira following its successful April debut.
Marvel's Doctor Strange in The Multiverse of Madness retains its position as number one on the board. With an impressive sum of N50.43 million naira made last week, the movie has made a flash revenue of 312.68 million naira. This is nothing less of a smashing success.
This is a SHOCK Exclusive – Thank you for reading
Shockng.com Covers the Business of Film/TV and the Biggest Creators in Sub Saharan Africa.
Let's be Friends on Instagram @shockng