The 1% of the 1% Nollywood movie drama The Bling Lagosians debuted in Nigerian cinemas on June 28th with loads of buzz.
No Expense!! We repeat no expense was spared for the marketing of this film. From Radio jingles, TV ads and even an extraordinary movie premiere. The executive producers followed the Hollywood style Hook, Line and Sinker.
But the big question really is did this money move pay off ? To be candid. Yes it did but comes with a huge future problem for cinema audiences like us. We will tell the problem at the end of this post.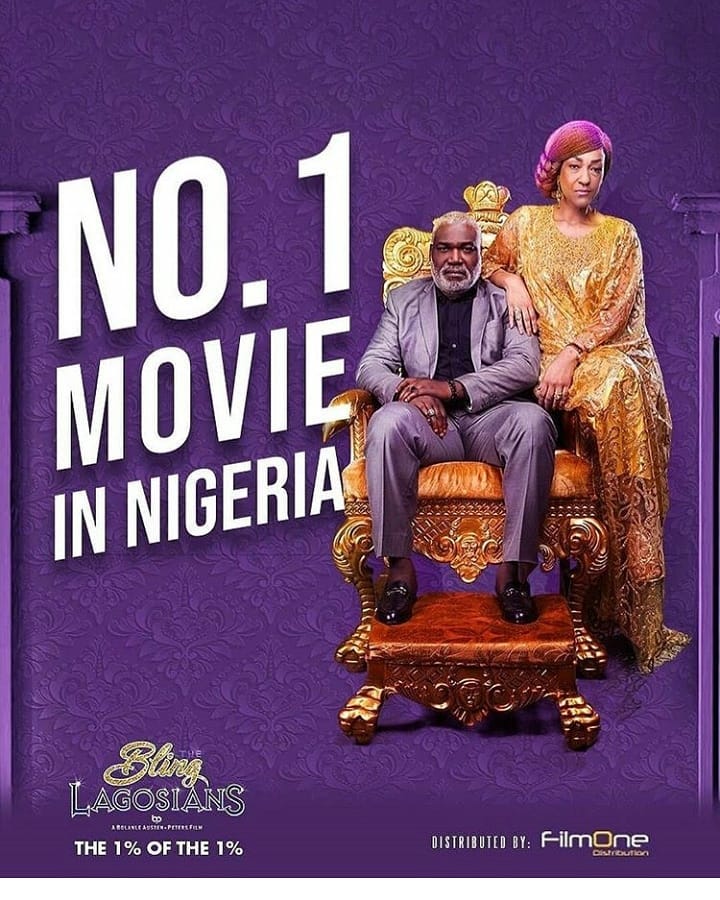 According to latest box office reports, the movie grossed over 23 million Naira for just its opening weekend. Making the movie top five in its debut week and proportionally making the movie a must see at the box office.
The box office results upon comaprison are quite stellar as no Nollywood movie this year 2019 has crossed the weekend gross mark figure of 10 million Naira. This makes The Bling Lagosians to be the first to do so.
Weekend Gross (23, 403,042) + Pre-Screenings figures = Total Cume(27,077,942)
The movie is directed and produced by Bolanle Austen-Peters who is well known for her cutting edge stage play productions. The cast includes Elvina Ibru, Gbenga Titiloye, Sharon Ooja, Jide Kosoko, Toyin Abraham, Monalisa Chinda, Denola Grey, Alex Ekubo, Sharon Ooja, Helen Paul, Broda Shaggy.
Now lets take a quick overview of what popular online reviewers are saying.
REVIEW ROUND UP.
Let's start with Cinema Pointer from Instagram who categorically labels this movie as Mildly Recommend. He also calls the movie a dud- bomb that cannot blow. "This movie has no soul. It is a sad example of how misdirected Nollywood's understanding of its audience is. As a drama, it is not gripping. As a comedy, it is not funny. Rather, as its title connotes, 'The Bling Lagosians' is all bling-bling and nothing more" Read HERE
Next is FRANCES (Diary of a Movie lover), a female nollywood critic — The humor wasn't forced and I genuinely found Ekubo and Brother Shaggy funny. I couldn't help but laugh out loud when Ekubo said …"the country is hard, people need to laugh", which I think is one of the major reasons people flood the cinemas whenever there's a new Nollywood Rom Com showing. The visuals were really good and I loved how the sets were so flamboyant and flashy backed up with a great soundtrack. The over the top the costumes were really beautiful especially for Ibru's Mopelola and Ooja's Tokunbo. The story isn't anything new or mind-blowing and there were a lot of parts that were supposed to have more influence than they did like the climax but it fell really flat and was quite predictable. Read HERE
MAMAZEUS also has this to say…."The new movie is a delightful mix of renowned stage and screen actors who deliver an above par performance with some of my favorites being Elvina Ibru and Alex Ekubo. Sharon Ooja doubles up her acting game on this one, all thanks to the character she plays. Tokunbo is totally different from Sharon's typical roles.
I foresee Ibru becoming a producer's delight after this film judging by how she interprets her role. It's beautiful to see how she takes hold of her lines and delivers them with such gravitas, it's hard not to appreciate her experience as a stage actor. Read HERE
Wilfred Okiche (YNaija) – If there is anything that The Bling Lagosians is, it is obvious. Surprises aren't quite surprising, and actors are taken straight out of central casting, playing recycled versions of characters they have excelled in elsewhere. Think of Titiloye as playing a version of his Battleground personality. Elvina Ibru's take on the kind of women she no doubt, grew up observing, is the chunkiest role on display even if it ultimately leads nowhere and she plays it with all the subtlety of Meryl Streep in August: Osage County. As a producer from the Asaba wing of Nollywood, Alexx Ekubo is doing entirely too much, adopting a thick, unconvincing Igbo accent. Read HERE
Please what's #TheBlingLagosians about?

'cause this is Me after watching it: pic.twitter.com/BD6RBuTHoh

— Daniel (@danielokey_) June 28, 2019
Finally from Tha Revue: when a film spends so much money on marketing and focus on affluence and splendor the plot of the film suffers and that's exactly what happened in The Bling Lagosians. The plot of the film was rather convoluted and the attempt to connect all the subplots at the end of the film didn't exactly jive. A few loose ends were left hanging and this made the film feel unresolved and unfinished. Iimmediately, I saw the synopsis and trailer for The Bling Lagosians, I could just imagine someone watching the success of Crazy Rich Asians and thinking, Hey! I think we can replicate this level of wealth in a Nollywood film.
To that extent I must give it to The Bling Lagosians because the level of opulence and flamboyance on display was unprecedented and over the top. All facets of the film including the locations, vehicles and attires reeked of pure luxury living and extravagance that pervades a family with unmatched wealth in the City of Lagos. Read HERE
we are almost done, but let's tell you what this box office boom will definately cause. it is The rise and rise of the hated Nollywood Formula.
Chances are if you already an ardent follower of Nollywood, then you should know this formula by now.
Hey there, Thank you for reading this post. Do you want to know what the secret Nollywood formula is….
well, follow us on Twitter (@ShockNG) and send us a DM we will tell you.