The Story ⚡
February 25th 2022 is the big-screen debut of Cake directed by Prosper Edesiri Arhawho.
Here is everything you need to know about the making of this title that signals the beginning of the family-friendly slate of films from Native film works and Michelangelo productions rolling out from this year.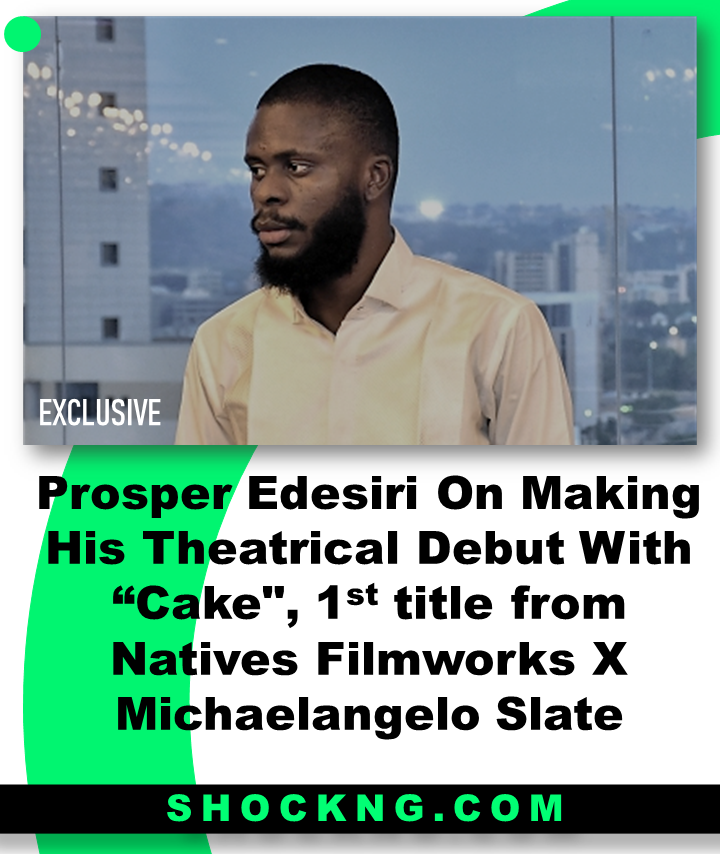 Tell Me More
CAKE is a quirky romantic comedy that follows the hilarious ride of "Tomiwa Akinlolu", a talented baker who is caught in a love triangle with two beautiful women.
The film stars Tope Tedela, Sophie Alakija, Folu Storms as the main characters, supported by Big Brother Naija alumni Saskay, Patience Ozokwor, Emmanuel "Koloman" Jibunor and Philip Asaya.
Tongryang Pantu credits as Producer, Ronke Gbede(Screenplay) and Music by Ava Mohmoh
Cake is part of the pictures that leverages a focused human capacity development initiative to highlight the creativity and skill of a new set of movie directors telling meaningful stories to entertain families.
This initiative will back a slate of 12 films to be released through a collaboration of Natives Filmworks and Michelangelo Productions that is set to be Family Friendly.
The film is distributed via Film One.
Quick Q and A with Director of Cake: Propser Edesiri Arhawho
How do you feel about this big opportunity to work on this slate?
I feel so blessed and privileged to be among the directors of this family-friendly movie. It's a dream come true and I'm glad to be part of this project backed by Steve Gukas (Native film works) and Dotun Olakunrin (Michaelangelo productions)
Share with me the journey of this selection process and why do you think your name made the final 12?
I started filmmaking in my final year at the university where I bagged a degree in Mass Communication from Delta state university.
I became a full-time filmmaker after my NYSC and since then I've been making films.
So, when the opportunity to show myself, I put my all into it and was happy it paid off eventually. In terms of resources, there were limited types of movies I could do but I didn't have the adequate resources in terms of finance to execute those movies.
Take for instance, you want to shoot a wedding film, do you have enough resources to get a wedding hall?
This was the position I was in before I got the backing from being part of the chosen 12.
Another reason I applied to be a director was because of the company behind it. I've always admired Steeve Gukas, he associates himself with excellence.
I'm not so sure about this but I think I got the opportunity to direct this piece because of my stories. I tell stories in terms of messages and lessons I try to pass across. I try as much as possible to appeal to my audience. I see filmmaking as a tool for change, I see it as a means to tell a story people get to learn from after watching.
Your movie is the first to be released, did you see it coming?
I honestly didn't know my movie would be released first. It was during production I found out my movie would be the first.
I was just focused on making the film.
The dates seem rushed, are you guys ready?
We are fully ready for the cinema.
There is no premiere for this title and it begins its run on the big screens from this Friday.
On that, do you think the market looks at premiere buzz to judge if they will watch the film?
we have been doing a lot of marketing since the date announcement and I believe that will get people to go out and get tickets.
Did you make your research on movies that get to the box office before directing Cake?
I don't know if the scriptwriters did but personally, I didn't do that.
The story would speak for itself.
How was the process of pitching done
After all the directors were onboarded, the script was shared with us.
One important thing is the ability to connect with the story.
The title of the film caught my interest and upon reading, i connected with the story which made it easy for me to work with the script.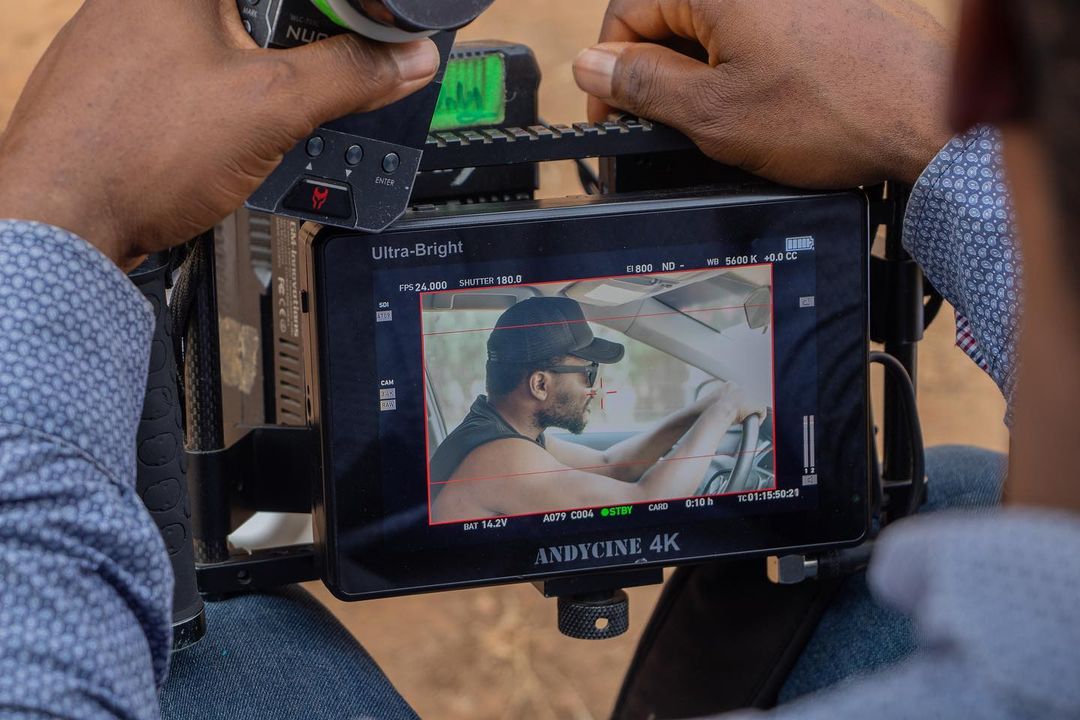 Whose acting performance should we be looking forward to?
To be honest, you should look out for all the casts, they are all amazing and good actors. Sophie Alakija, Saskay, Folu storms, Tope Otedola, Patience Ozokwo.
We all connected in a special way that made the movie a success.
Anyone you particularly enjoyed directing?
As i said, they all were amazing.
The project is produced by one of the most admired producers Steve Gukas. I think because of this everyone brought their A-Game and I was super glad.
Do you think the industry is growing?
Years back, nobody believed in Nollywood and the value of our content, but now, a lot of good things are happening now.
We are getting the recognition we deserve.
What do you think is making Nollywood lag behind?
Nollywood doesn't have government support. Also, in terms of finance, the required budget needed to fund a movie isn't always available leaving it for companies or certain people to sponsor.
Most times in Hollywood, they have a studio system with the industry environment usually set up to make a movie but in Nollywood here, you mostly have to travel to Lagos or Abuja to shoot a film and market the film too.
There are many talents in Nigeria, amazing writers but film investors and established producers aren't ready to spread their wings, they would rather pick that writer that lives in Lagos/Abuja rather than the one in Yobe or Kaduna that is very talented and can write good stories.
We need the resources to bring out the dreams in young talents.
We actually have huge output in this region ground but no adequate resources to back them up.
Which streamer is getting this title after its run in cinemas?
For now, it's the cinemas but later on, we should be looking at other streaming platforms.
What Next After "Cake"?
Prior to this opportunity, I've been making short films to test my creative abilities.
I didn't have enough resources to make feature films. This opportunity is a huge one and takes my career to a new level.
Now, I can begin to take on projects and open to writing/directing commercially.
My contract to this slate was just for cake but I'm definitely up for another collaboration in the coming years.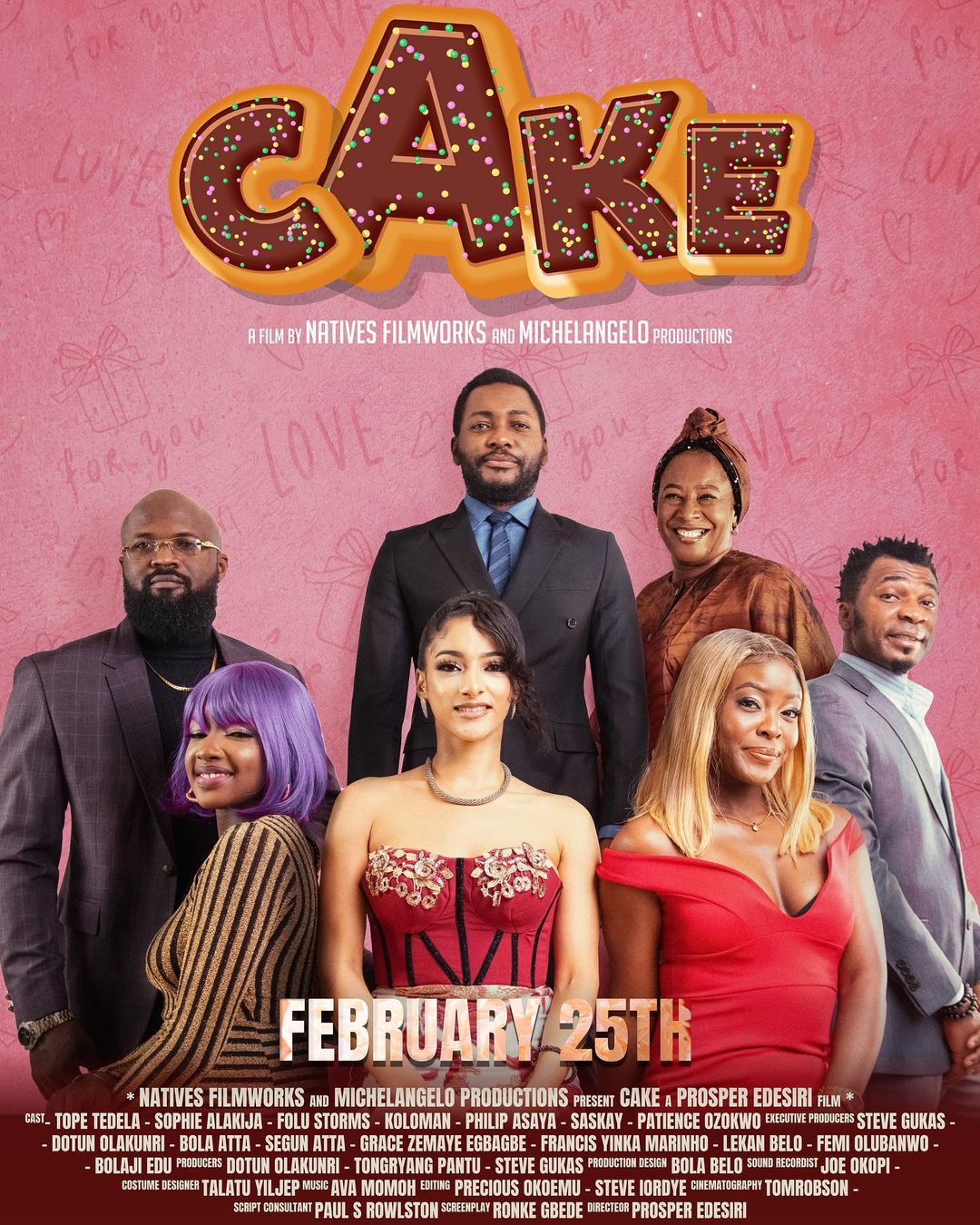 This is a SHOCK Exclusive – Thank you for reading
Shockng.com Covers the Business of Film/TV and the Biggest Creators in Sub Saharan Africa.
Let's be Friends on Instagram @Shock NG