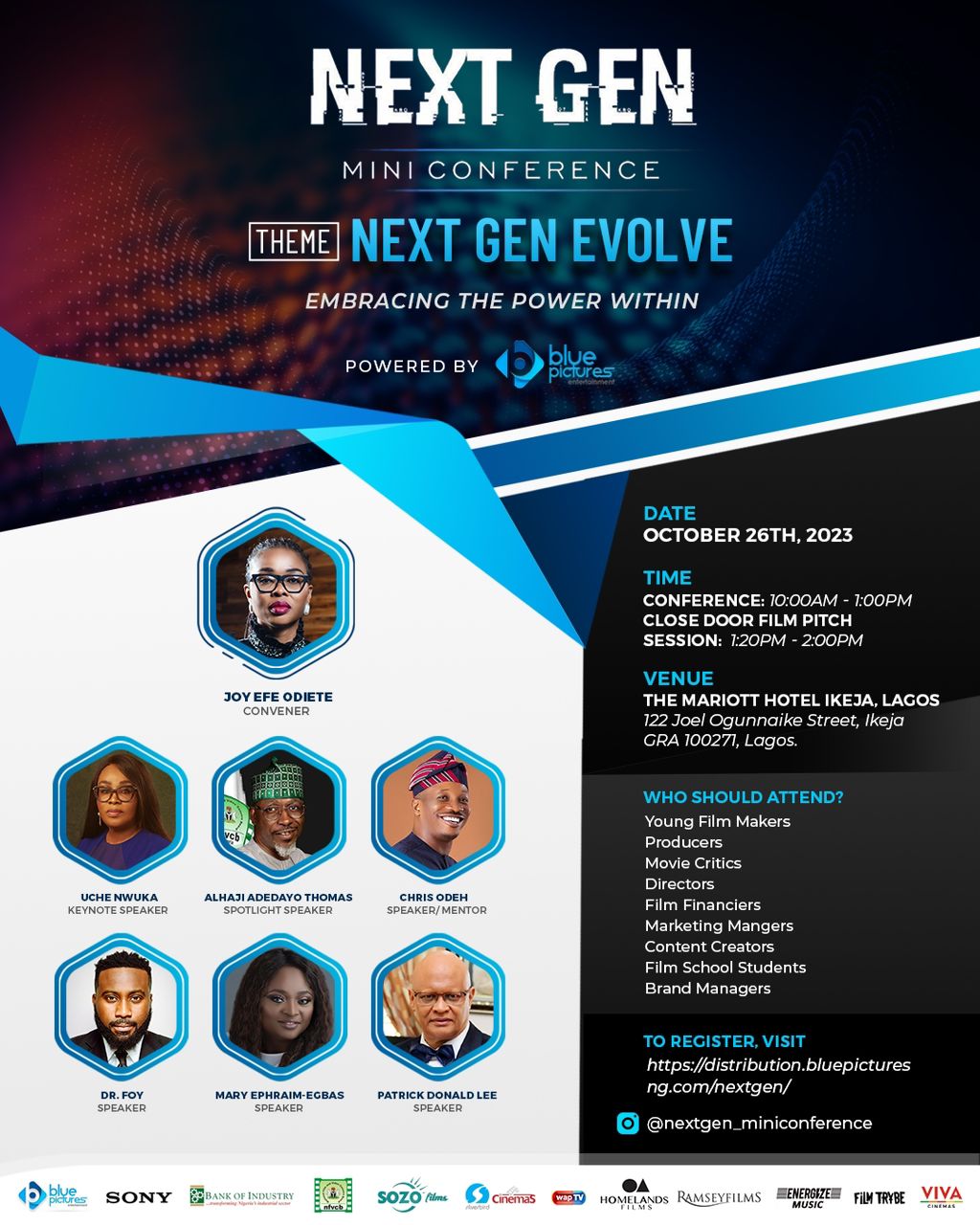 West Africa's foremost film distribution company, Blue Pictures is set for the second edition of her biennial industry interactive forum, 'Next Gen Mini Conference', designed to give wings to aspiring professionals in the film and content creation business.
Slated to take place from 10 am on October 26, 2023, at The Marriot Hotel, Ikeja, this edition with the theme, 'Next Gen Evolve'. The Summit targets students and future professionals in areas like film producing, movie critiquing, directing, film financing, marketing and content creation.
Some of the notable professionals billed to speak at the day-long industry event include: Adedayo Thomas (CEO, National Film and Video Censors Board), Uche Nwuka (Director, Bank of Industry), Patrick Donald Lee (Executive, Viva Cinemas), Chris Odeh (Senior Producer, Sozo Films), Mary Ephraim (President, Homelands Films) as well as Tochukwu 'Dr Foy' MacFoy (Founder, Energize Music).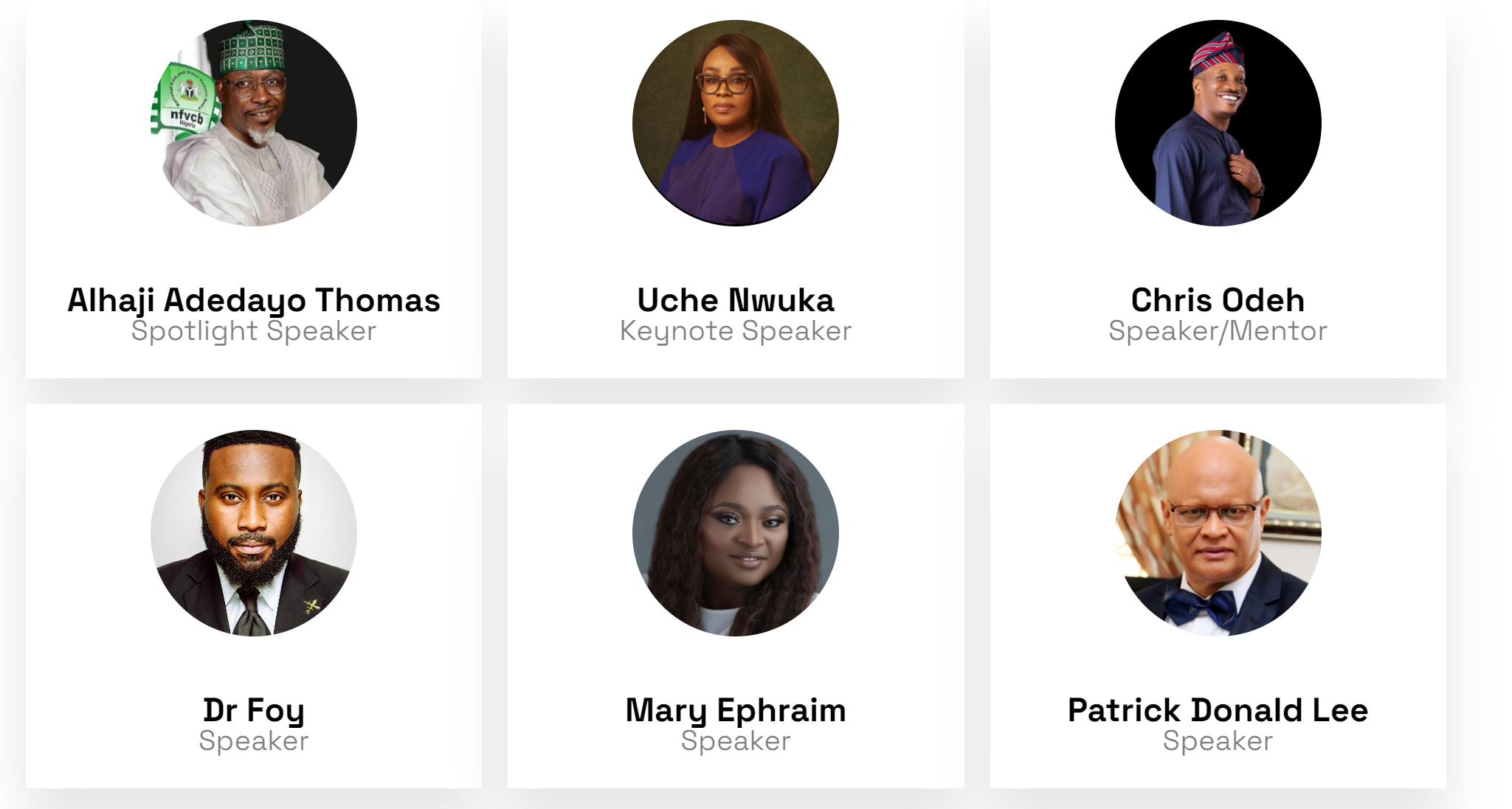 What To Expect?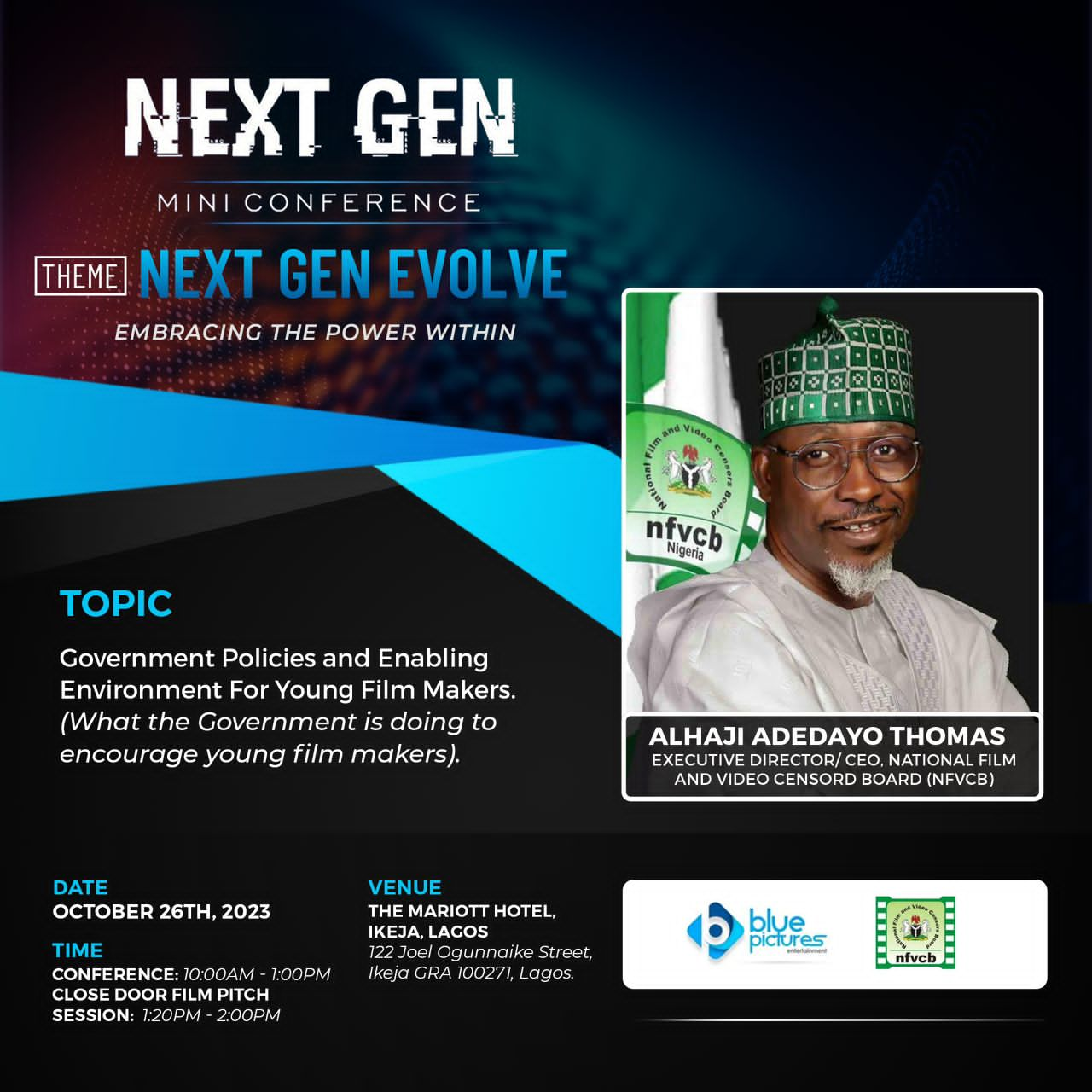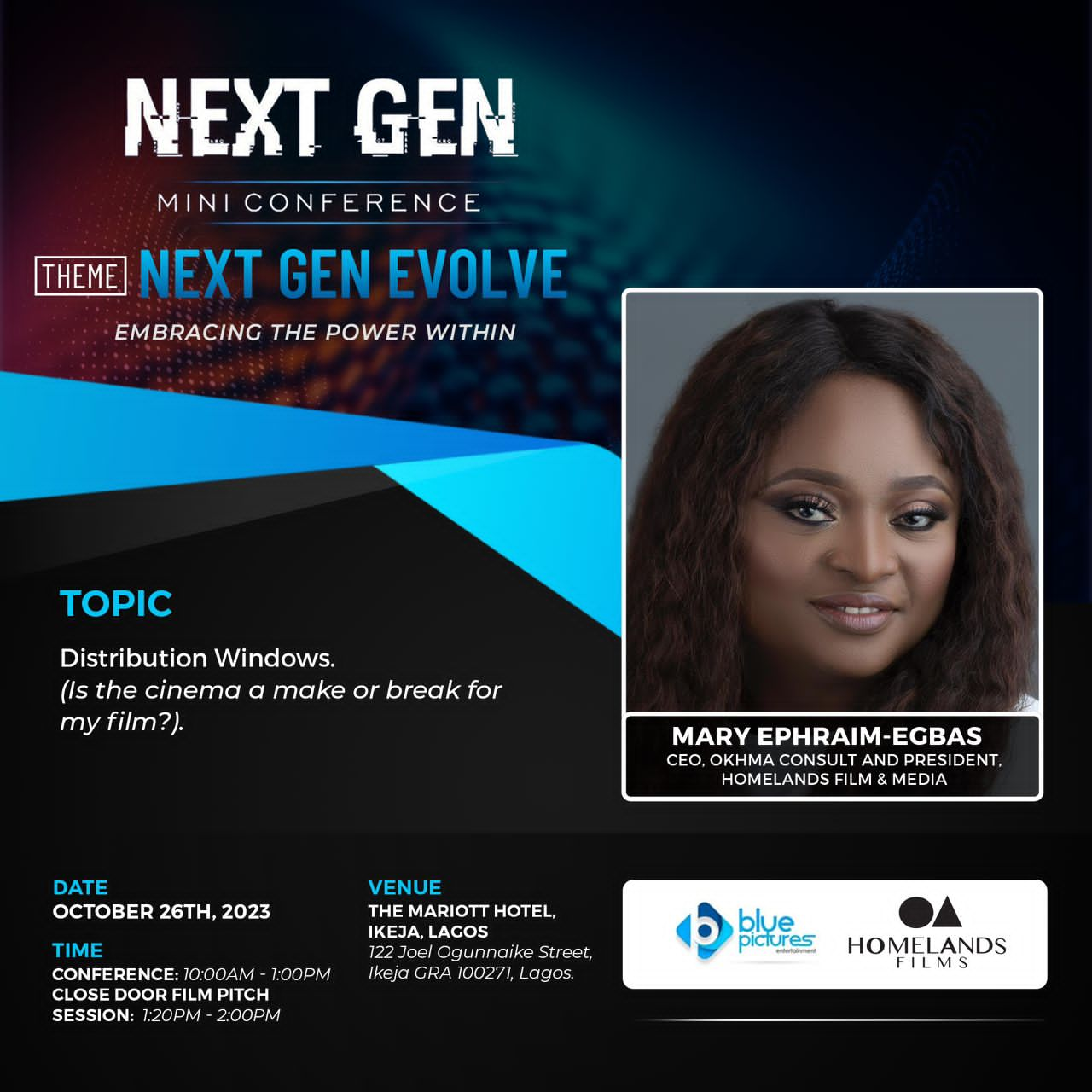 How to Attend
Participation is free, guests are requested to register via the event portal – HERE
Meet The Convener
Joy Efe Odiete is an award-winning film distributor and CEO of Blue Pictures in West Africa. She is a renowned local and international Independent film distributor/film sales agent.
She has been a sub-distributor to Warner Brothers Pictures, Walt Disney Pictures, Black Sheep Entertainment & other Independent studios in the US, UK and South Africa for 19 years and counting.
Her works as a film distributor have recorded major successes for foreign studios with franchise titles like Harry Porter, Star Wars, Thor, Avengers, Batman, Iron Man etc. She has also worked with Nollywood greats and behind such Nigerian box-office hits like, The Return Of Jenifa, Phone Swap, Maami, Last Flight to Abuja, The Mirror Boy, and Anchor Baby amongst others. Her company, Blue Pictures has also partnered with Netflix, Amazon and some major airlines.
The convener of the initiative and Chief Executive Officer of Blue Pictures, Joy Efe Odiete, who said the conference is open to brands for sponsorships and partnerships enjoined Nigerian youths to visit the online portal of the event at: https://distribution.bluepicturesng.com/nextgen/ for free registration to participate at the event, created by Blue Pictures to help youths understand their way around the film industry.
In a press statement on why the conference matters she shares, "The essence of the conference is to provide a platform for the youths to interact with personalities that have the wherewithal to sharpen their careers in the film business. It was inspired by my experience when I joined the industry because there was nobody to lean on for mentorship. So this conference is designed to provide the support starters would need to fit into the industry.
We hold it biennially, so we could have time to prepare those with successful pitches before taking on a new batch"
In Summary
Aside from offering creative Nigerian youths the opportunity to network with established film professionals, one of the highlights of the programme is the 'pitch session', where possible co-production deals would be struck for making and marketing of film and TV content ideas.