The Story⚡
Genevieve Nnaji's latest title to premiere at TIFF.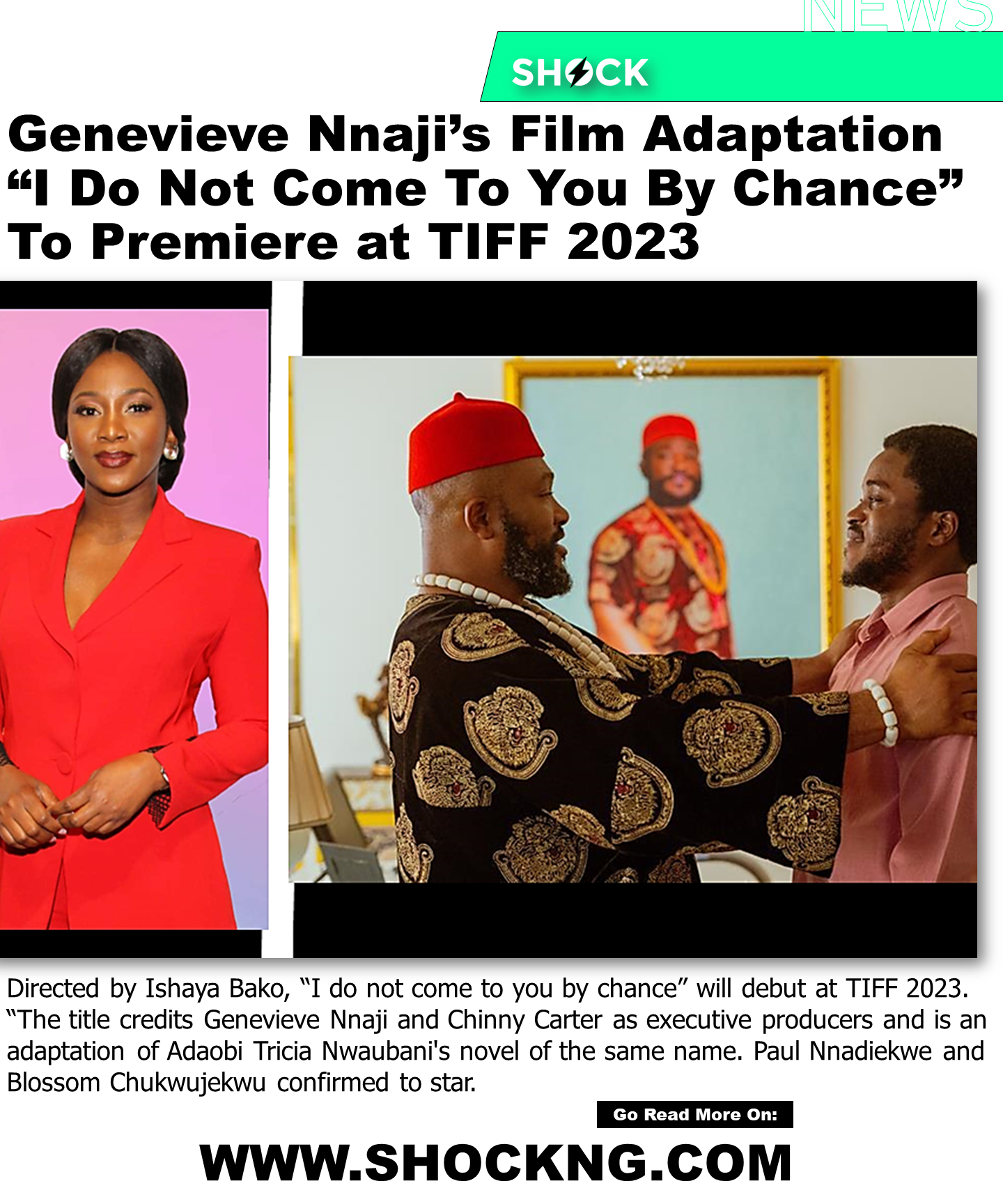 Tell Me More
I Do Not Come To You By Chance has been unveiled by The Toronto International Film Festival (TIFF) as part of the line-up for its Centrepiece programme, with 47 titles screening from filmmakers representing 45 countries.
The title is a book adaptation of Adaobi Tricia Nwaubani's 2009 debut novel, I Do Not Come to You by Chance. This African contemporary novel tells the story of a young man burdened with family responsibilities and the extent he goes for his family. It gives us an insight into the world of Nigerian email scams and the people behind the operation.
The film adaptation in its first look stars Paul Nnadiekwe and veteran Blossom Chukwujekwu. Other key members of the cast are Emeka Nwagbaraocha, Jennifer Eliogu, Sambasa Nberibe, and Beverly Osu. The title is directed by Ishaya Bako with Femi Awojide as director of photography. It is co-written by Chika Anadu and Ishaya Bako.
I Do Not Come To You By Chance will be Filmmaker Genevieve's return to cinema after her 2018 title, Lionheart, was acquired by Netflix. She serves as co-producer on this project with Chioma Onyenwe and Chinny Carter.
Showtimes
Time Zone: WAT
1. Thursday, September 7, Press & Industry, 9:05 PM
2. Saturday, September 9, TIFF Bell Lightbox, 5:30 PM
3. Sunday, September 10, Scotiabank Theatre Toronto, 3:30 PM
4. Wednesday, September 13, Scotiabank Theatre Toronto, 3:05 PM
5. Saturday, September 16, Scotiabank Theatre Toronto, 6:05 PM
Key Background
In 2018, Genevieve Nnaji's last title, Lionheart was released on Netflix after it has been acquired by the streaming service on the 7th of September 2018 as the first Netflix original film produced in Nigeria.
Prior to its release, the title also premiered at the Toronto International Film Festival in Canada. The flick, which was Genevieve Nnaji's directorial debut, was Nigeria's entry for the Best International Feature Film at the 92nd Academy Awards. This was the very first time that the country will be submitting any film at the prestigious award. On the 4th of November 2019, the film was disqualified by the Academy because it failed the language criterion of being dominated by English rather than Igbo, which is spoken for about ten minutes.
The title follows the story of a lady who has to work with his uncle to reclaim her father's stake in his company. It was written by Genevieve Nnaji, Chinny Onwugbenu, C. J. Obasi, Ishaya Bako, and Emil Garuba. It was produced by Chinny Onwugbenu with Yinka Edward as the cinematographer. It starred Genevieve Nnaji, Pete Edochie, Nkem Owoh, Onyeka Onwenu, Kanayo O. Kanayo, Phyno, and many others.
In Summary
For now, nothing is known about whether the title will be going to the box office or a streaming platform after its journey at the festival. Shock will be the first to let you know when this decision is made.