The Story⚡
This August, Nigerian movie consumers will have an interesting lineup of sizzling hot titles that includes a lineup of action-packed epic, comedy dramas and even a new cinematic world of fantasy to excite kids and parents.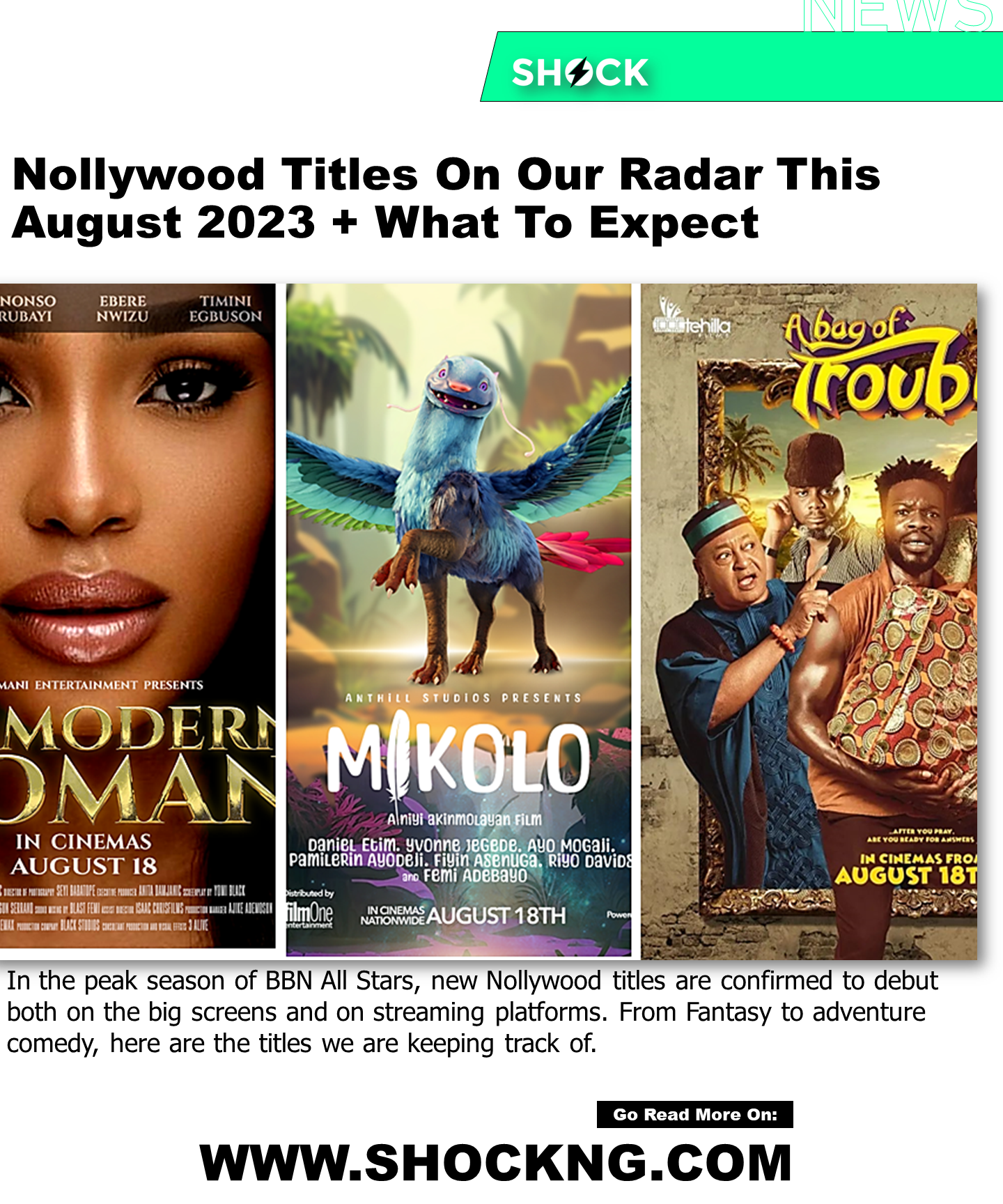 Tell Me More
Nollywood is gearing up to join the big Hollywood guns in the upcoming August big screens battle. Currently screening at the big screens are Barbie, Oppenheimer, and Mission Impossible: Dead Reckoning Part One. This August, five new Nollywood titles will be joining the NGN box office and two new titles will join the streamers' and they are:
A Bag of Trouble
Directed and written by Mazi Chimex, A Bag of Trouble tells the psychological story of a struggling young man whose world comes to a halt after receiving a token of gratitude from a wealthy politician. Suddenly finding himself rich beyond his imagination, he must fight the figments of his mind and the evil he perceives closing in, or slide back into the tough world he knows that knows him too well.
Produced by Collis T. Miller, this drama-comedy stars Broda Shaggi in the lead, Sabinus, Hafiz Oyetoro, JideKosoko, Bimbo Oshin, and a host of others to complete a star-studded lineup.
Release date August 18th, 2023.
Mikolo
The long awaited Anthill Studios' Mikolo will be gracing the big screens this August. Mikolo is a kids-centred cinematic Nollywood release that explores themes such as family, friendship, society values, animal love and family adventure.
Leading the cast in this first of its kind big picture are Nigerian Teen actors Pamilerin Adegoke (12) and Fiyinfoluwa Asenuga (8), other principal casts include Yvonne Jegede, Daniel Etim Effiong, Riyo David, Yomi Elesho and Ayo Mogaji.
Release date August 18th, 2023.
The Modern Woman
Directed by Yomi Black, The Mordern Woman follows the story of a young woman's carefully balanced life, torn between career, family, and love. She spirals into chaos when she faces the devastating loss of her pregnancy. In a fight to reclaim her identity, she must navigate a treacherous path towards self-discovery, challenging societal norms and embracing her own truth.
The title is directed by Yomi Black and the director of photography helmed by Babatope Seyi. Leading the cast are Sharon Ooja, Timini Egbuson, Bimbo Akintola, while Ebere Nwizu, Chinoso Arubayi, Juliet Ibrahim, Nene Nwanyo, and Kammel Audu will star in the feature film.
Release date August 18th, 2023.
Kesari (The King)
"He who wields unimaginable powers. A legend, a ruler, forever acclaimed."
Kesari (The King) is a Yoruba movie produced and directed by Ibrahim 'Itele D Icon' Yekini. The movie stars Ibrahim Yekini, Mr. Macaroni, Deyemi Okanlawon, Yvonne Jegede, Femi Adebayo, Odunlade Adekola, Bolaji Ogunmola, BoMa, Lateef Adedimeji, Adebayo Salami, Femi Branch, Yinka Quadri, Dele Odule, Kevin Ikeduba, Kola Ajeyemi, Martini Ogbebor and many others.
Release date August 25th, 2023.
Akudaaya
Written, produced, and directed by Olamide Akinmolayan, Akudaaya The film tells the story of a man who is given a rare second chance to change his fate. As the plot unfolds, the audience is left pondering: How will he choose to make use of this extraordinary opportunity?
Lead in its cast is Nollywood veteran, Sola Sobowale, Olumide Oworu, Razaq Owokoniran, Hafiz Oyetoro, Yomi Fash-Lanso, Bukunmi Oluwashina, and many others.
Release date August 4th, 2023.
Jagun Jagun
Directed by Tope Adebayo and Adebayo Tijani Jagun Jagun is a period piece that follows a young man determined to become a powerful warrior, he joins an elite army, encountering the wrath of a maniacal warlord and the love of a fierce woman.
The action-adventure is written by Femi Adebayo and Adebayo Tijani and stars Nollywood legend, Femi Adebayo, Ibrahim Yekini Itele, Fathia Balogun, Debo Adebayo, Lateef Adedimeji, Bukunmi Oluwashina, Muyiwa Ademola, Odunlade Adekola, Adebayo Salami, and Yinka Quadri.
Release date August 10th, 2023 on Netflix.
Desecration
An extramarital affair threatens Dr. Daniels' perfect family when his free-spirited conquest wants more and would go to great lengths to achieve it. Daniels' perfect family when his free-spirited conquest wants more and would go to great lengths to achieve it.
Produced and directed by Niyi Towolawi, Desecration stars Rita Dominic, Joseph Benjamin in lead roles, and also features Nicola Alexis, Max Cavenham, Angel Agala, Rykardo Agbor, Ken Smart, and Moji Bamtefa.
Streaming on Prime Video from August 1 2023
The One for Sarah
As a fashion designer recovers from trauma, her quest to regain her self-worth takes a few twisty turns through a series of relationships.
The trino studio title will debut on Netflix on August 11
The Rise of Igbinogun
Igbinogun is an epic Nollywood movie with a-list actors like Damilare Kuku, Shaffy Bello, Tina Mba, Akin Lewis, Eyinna Nwigwe, Blossom Chukwujekwu and Femi Branch.
Streaming on Netflix on August 25th
Tangent
The big screens are about to witness a fierce competition in the second half of the year. Big Hollywood titles are currently racking up numbers as well as return audiences, inspite of this, Nigerian titles are not being left behind. Inkblot's Big Love which displaced The Flash and Transformers in its opening week and made over ₦30m in 10 days. Love, Lust and Others Things finally cracked the number 1 spot during its debut and Odunlade Adekola's Orisa has officially pulled the highest opening 7 days.
Marketing goes a long way in the success of these titles, It will be interesting to see how these titles, especially in the peak season of Big Brother Najia, direct attention to itself in the days and weeks leading up to cinema release.
In Summary
Streaming titles will have to fight current titles on the top 10, but for the box office, these August releases will also have to compete with the Big 3 #OrisaBarbHeimer
Follow us on Instagram @shokcng and keep track of performance updates.