The Story ⚡
The Batman hits theatres on Friday, sending Robert Pattinson on a moody adventure as the Dark Knight detective.
However, can ticket sales hit an all-time high beating the last DC's flick that showed in West Africa?
Tell Me More
Feb 23rd, 2017 Matt Reeves officially signed on to direct and produce The Batman.
"I have loved the Batman story since I was a child," Reeves said in a statement.
"He is such an iconic and compelling character, and one that resonates with me deeply. I am incredibly honoured and excited to be working with Warner Bros. to bring an epic and emotional new take on the Caped Crusader to the big screen."
Matt Reeves's task was to come up with a fresh take on Batman after many previous movies. So he turned to the noir roots of the comic and classic movies to craft a chilling, apocalyptic movie that's more serial killer chiller than superhero adventure.
The hunt for the Riddler (Paul Dano) sees Batman working with Selina Kyle (aka Catwoman, played by Zoë Kravitz) and GCPD Lieutenant James Gordon (Jeffrey Wright), with backup from Bruce Wayne's beloved butler and mentor Alfred Pennyworth (Andy Serkis). Their journey takes them into Gotham's corrupt depths, unleashing mobsters, murder and mayhem from the horror-influenced opening scene to the exciting ending.
Box Office
Yes, DC films that screen in this exhibition market doesn't rival that of "Marvel" but they do have some decent numbers. The highest-grossing DC title recorded is James Wan's Aquaman which cracked more than N450 Million in sales when it debut in December 2018.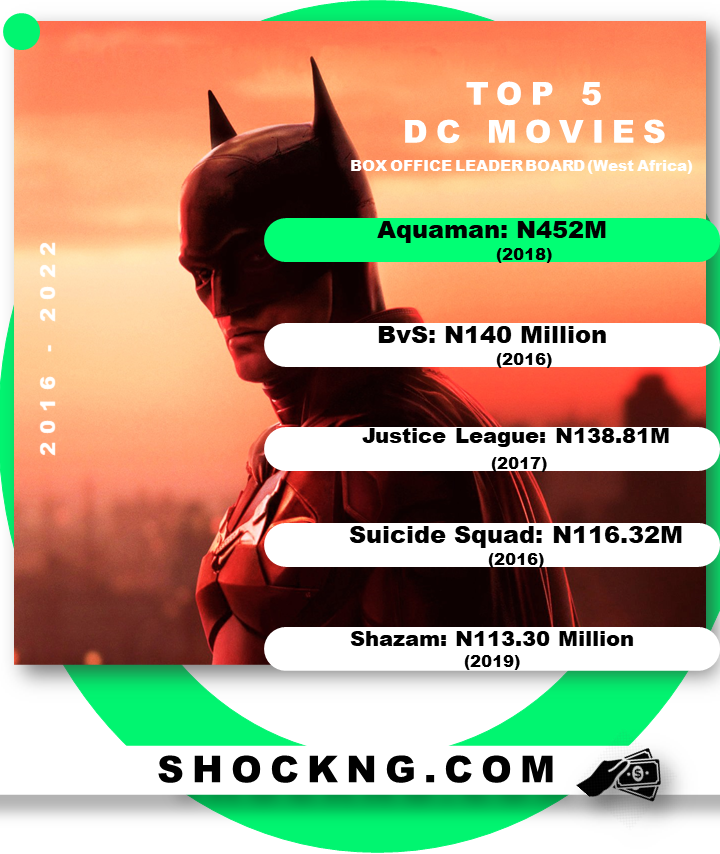 The data above shows the top 5 films made by DC ranges from N113.30 – N452 Million from the year 2016 – 2022 according to available data.
Batman that debuts March 4th 2022 seems to build a huge buzz and just might be able to crack some new numbers for the DC Franchise.
Below is the global data that shows the top 5 DC hits in the global theatrical market.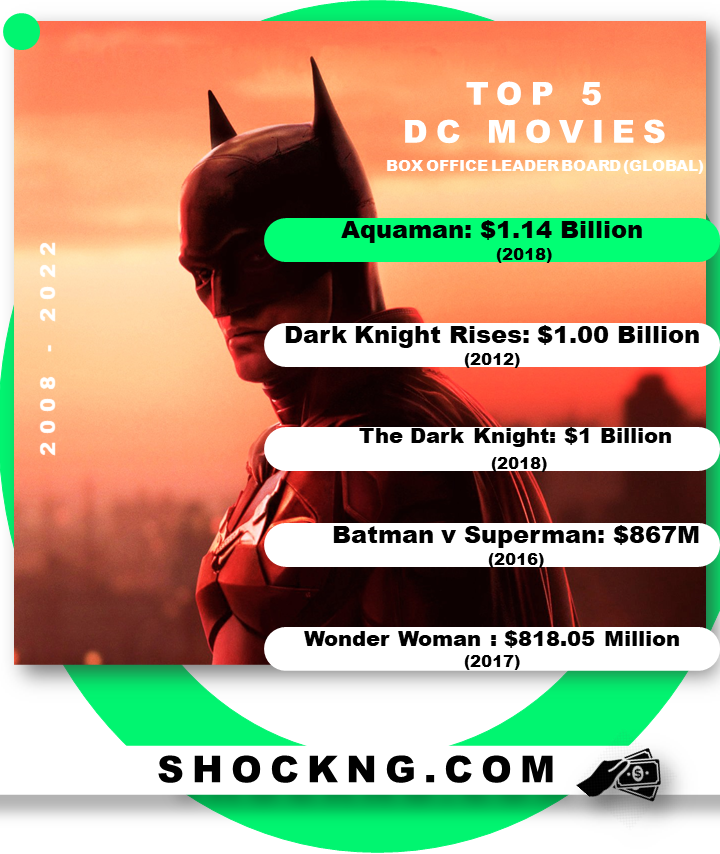 Opening Weekend
Let's talk numbers. Box office analysts have posited that batman will deliver the biggest opening weekend since Sony's Spider-Man: No Way Home, which debuted to record-breaking numbers back in December.
The darker DC flick is conservatively estimated to make between $100 million and $125 million in its opening weekend, which is roughly around half of what No Way Home made in its first three days.
There is, however, a realistic chance that it opens to around $140 million.
Here in this market, we project that the title should roughly pull more than N50 Million after its first 7-day run.
if it will break new records, ticket sales need to smash the N100 Million mark in just 7 – days.
N100 Million in 7 days
Only 6 titles have been able to deliver N100 Million in just 7 days and truly earn their Blockbuster status.
Avengers Endgame
Spiderman Far From Home
Omo Ghetto: The Saga
Aquaman
Hobbs and Shaw
Lion King
In Summary
Can Batman deliver? Would the DC hype land some blockbuster numbers?
Follow us on Instagram now to track these numbers as they come in.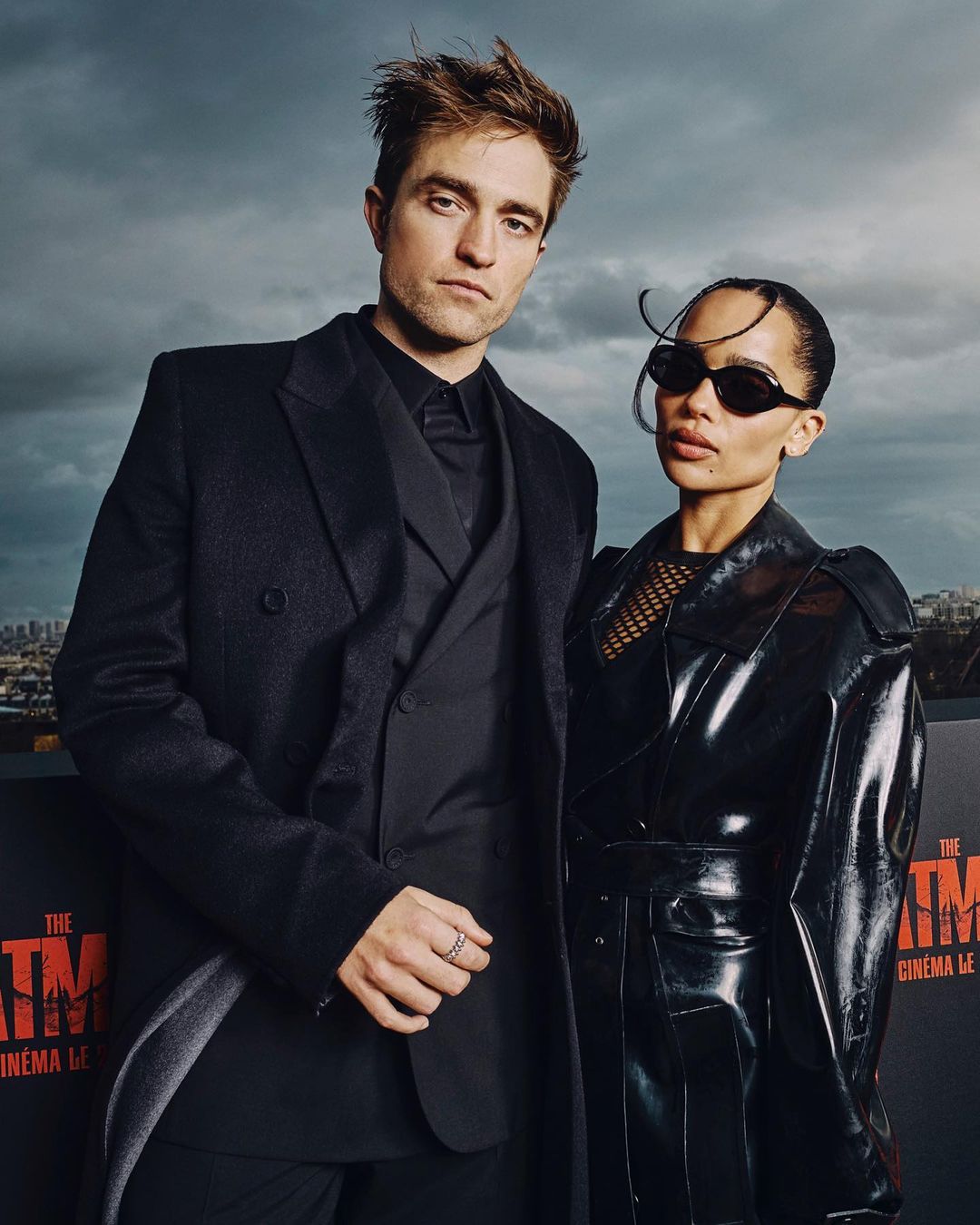 This is a SHOCK Exclusive – Thank you for reading
Shockng.com Covers the Business of Film/TV and the Biggest Creators in Sub Saharan Africa.
Let's be Friends on Instagram @Shock NG